Our partnership with C&A and C&A Foundation
In 2015, Save the Children entered a multi-year international partnership with global retailer C&A and their corporate foundation, C&A Foundation. Together, we want to ensure fast life-saving emergency aid to families and prevent future emergencies through preparedness and resilience. Everything we do helps to improve the lives of mothers and children.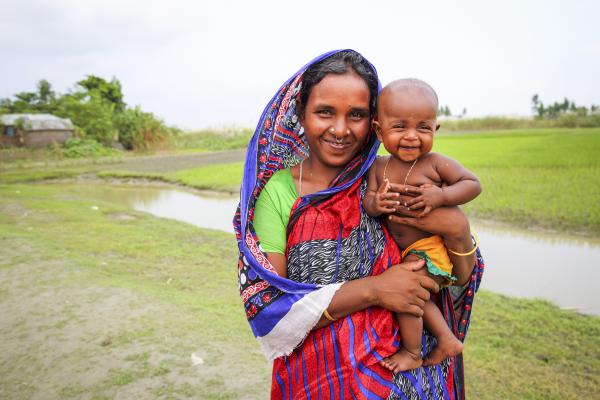 About the partnership
Whenever an emergency occurs, mothers and children are the most affected. C&A Foundation supports Save the Children with an annual donation of €3million. This helps in two ways. 
First, when disaster strikes, we reach children and their families with immediate, vital and life-saving aid such as clean water, food and shelter. We also set up child-friendly spaces where children are protected, can learn and play and just be children again. We further support authorities in affected communities with the necessary measures to allow schooling to continue as soon as possible after an emergency. We support children affected by disasters in their home countries, as well as thousands of families who have been forced to leave their homes due to conflicts, disasters and poverty.
Secondly, C&A Foundation supports Save the Children to ensure mothers' and children's voices are heard and that they become more resistant to crisis, risks and disasters at work, at school, at home and in their communities. They are participating in the development of effective disaster preparedness work in various disaster-prone countries around the world. In addition to the five country pilot projects in Mexico, India, Brazil, Bangladesh and China, the programme consists of a cross-country learning and a research element to make disaster preparedness programming more efficient and effective within and beyond Save the Children.
Leslie Johnston, Executive Director C&A Foundation said:
At C&A Foundation we are working to make fashion a force for good. Part of this means helping to strengthen communities in regions where we live and work. Through our partnership with Save the Children we are working with mothers and children not only in times of crisis, but we also help them to prepare to deal with future crises. In doing this, we are helping build stronger children, stronger women, stronger families and, ultimately, stronger communities.
Helle Thorning-Schmidt, CEO Save the Children International, said:
Children and mothers are especially vulnerable in times of conflicts, crises and disasters. Since the beginning of our partnership in 2015, C&A and C&A Foundation have been dedicated partners in our efforts to empower mothers and children in crisis around the world. We sincerely thank them and all of their staff and customers for their continuous support.
Achievements for children and their families
In 2016, C&A and C&A Foundation along with their customers and employees have supported Save the Children's Search and Rescue Vessel «Vos Hestia» in the Mediterranean, as well as the overall refugee emergency response along the entire migrant route in Europe. C&A Foundation has also contributed to Save the Children's emergency responses after the floods in India, Bangladesh, Nepal, China and Vietnam, the severe droughts in Cambodia, India and Vietnam, the cyclones in India and Bangladesh, Hurricane Matthew in Haiti, as well as our emergency aid after the earthquakes in Italy and Indonesia.
In addition to our immediate help, the disaster risk reduction and resilience programme in India, Bangladesh, China, Brazil and Mexico ensures that mothers' and children's voices are heard and that they are better prepared in case of an emergency. Through capacity building activities mothers and children achieve a sustainable improvement of their everyday life: they assume a more active participatory role in their communities, and their increased knowledge and resilience decreases the impact of future disasters.
The emergency responses and disaster risk reduction programmes fully or partially funded by C&A and C&A Foundation in 2016, have helped over 1 million people in crisis or at risk.
Involving C&A customers
Through on- and offline campaigns, as well as donation boxes in C&A stores around Europe, C&A customers have raised additional funds for Save the Children's emergency responses. During the 2016 Christmas season for example, gift cards and wrapping paper were sold in several C&A stores throughout Europe. For each item sold, C&A Foundation donated €1 to Save the Children. Thanks to C&A's fantastic efforts, the maximum amount of €450,000 was raised for children and their families on the move.
C&A and Save the Children also do additional activities to create awareness and raise further funds. In many of the C&A stores across Europe, customers can gain a detailed overview of the partnership and Save the Children's humanitarian work through our face-to-face teams. These teams are present at selected C&A stores in Germany, Switzerland, Spain, Italy and the Netherlands throughout the year and actively engage customers to inform about the partnership and the work Save the Children does in order to improve children's lives. 
Read more
For more information, please contact:
Save the Children: