Our partnership with GSK
In 2013, we formed an ambitious and strategic global partnership with GSK. Using our combined expertise, resources and influence we aim to help save one million children's lives.
Working together we can do more to improve children's health, and have a stronger voice supporting children's rights and need for healthcare, than if we worked alone.
Our innovative partnership goes beyond the traditional corporate-charity model. As well as providing critical investment, GSK brings its global expertise in the research, development and supply of medicines and vaccinations. This combined with Save the Children's global expertise in meeting the needs of remote and marginalised children and families has resulted in a pioneering and powerful collaboration that is already improving the health of some of the world's most vulnerable children.
The partnership implements and supports a range of programmes that are directly helping to save children's lives. Including critical health interventions within two Signature Programmes, one in the Democratic Republic of Congo (DRC), the second in Kenya. These were created and are implemented in conjunction with the respective national Ministries of Health.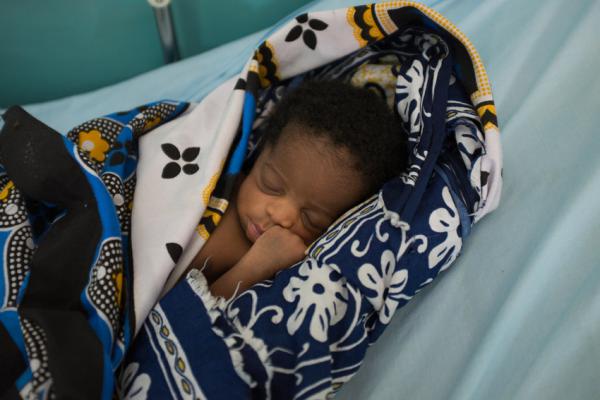 Our progress
The partnership is starting to deliver measurable results. By June 2017 the global partnership had reached over 2.6 million children – 97,695 children under-five have been fully immunised, 187,873 children have been treated for diarrhoea, malaria or pneumonia, and over one million children have been screened for malnutrition. We are upgrading health centres, training and equipping community health workers, empowering communities to understand the benefits of improved healthcare and using our united partnership voice to advocate for improved access to healthcare.
Innovation is at the heart of the partnership, as demonstrated by the commitment to research and development of medicines to help save the lives of mothers and babies in developing countries. Neonatal sepsis is a bacterial blood stream infection that can prove life threatening to newborns. The transformation of an everyday antiseptic into a medicine, with the aim of saving newborns in the world's poorest countries, is a key milestone in the GSK and Save the Children Partnership. Together, we have developed a gel which is a reformulation of chlorhexidine, an antiseptic used in a GSK mouthwash, for the prevention of umbilical cord infections that could lead to neonatal sepsis.
GSK employees are contributing their time, expertise and enthusiasm to support the partnership with Save the Children through volunteering and fundraising. GSK's internal employee engagement programme is called Orange United. The partnership with Save the Children is the only partnership GSK promotes to its employees globally. By November 2016, GSK employees had raised £2.6 million every penny of which will be matched by GSK.

 Account manager details and contact
Account contact: Arabella Moore
Head of Account Management
Ar.Moore@savethechildren.org.uk
Link to partner website
Find out more about GSK: