Our partnership with GSK
Save the Children and GSK have formed an ambitious and innovative partnership to help save the lives of 1 million children.
Together, we plan to develop flagship programmes to tackle child mortality and models that can be adopted, scaled up and replicated in other developing countries. This process has already started in the Democratic Republic of Congo and will begin in Kenya later in 2013.
By combining our expertise, resources and influence we will transform child health in some of the world's poorest countries. Our partnership will focus on increasing access to health workers, medicines, vaccines and better nutrition for the hardest-to-reach children and those whose need is greatest. We will also use our combined global influence to call for improved policy and practice, and increased international investment, in children's health.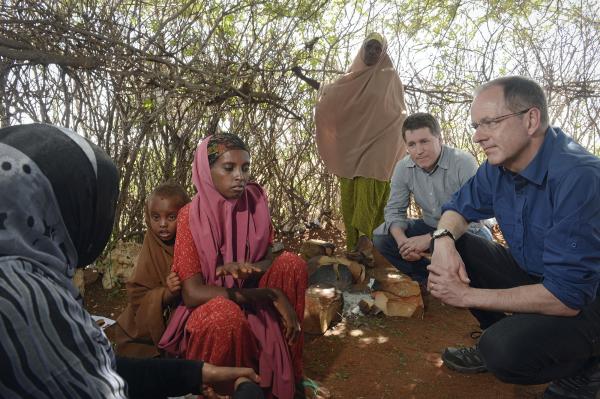 Mutual business benefits
Working with many different parts of GSK's business, we will develop a comprehensive strategy to transform children's health in developing countries and to tackle leading causes of childhood deaths.
As part of our partnership, GSK will accelerate the development of life-saving new medicines for children, leveraging Save the Children's child health expertise and on-the-ground experience. For example, an antiseptic commonly found in mouthwash will be reformulated for cleansing the umbilical cord stump of newborn babies. This has the potential to prevent thousands of babies' deaths from infection during their first few weeks of life.
We will also work together, and in partnership with others, to: widen vaccination coverage for the poorest children, for example through greater use of mobile technology solutions; research a new low-cost product to combat malnutrition; and to increase investment in health workers in the world's poorest communities.
GSK's global workforce is united in raising funds for – and awareness of – this inspiring cause, with the ambition to raise £1 million a year, which will be matched by GSK. GSK has committed to donate at least £15 million in total over the course of our partnership.
A partnership of this scale gives us an opportunity to do something amazing – to save the lives of 1 million children, and to transform the lives of millions more. At GSK we are motivated by developing innovative, life-saving medicines and getting them to the people who need them. By joining forces with Save the Children, we can amplify these efforts to create a new momentum for change and stop children dying from preventable diseases. I hope this partnership inspires GSK employees and sets a new standard for how companies and NGOs can work together towards a shared goal.
Sir Andrew Witty, CEO, GSK
Account Manager details & contact
Account contact:
Caroline Whatley
Senior Account manager
c.whatley@savethechildren.org.uk
Link to partner website
Find out more about GSK: