Our partnership with Reckitt Benckiser
Reckitt Benckiser (RB) and Save the Children unite to help stop children under five dying from diarrhoea – through a unique approach of combining innovative technology with expertise in implementing life-saving programmes, we will together tackle one of the biggest killing diseases of children under five globally.
In April 2013, RB and Save the Children announced a new global focus to their existing partnership, with an initial three-year funding of £23.5 million ($35.5 million) and a goal to target the devastating global death rate in children under five from diarrhoea by 2020; a preventable illness.
Through our joint programmes, we'll save thousands of children's lives. RB will invest money where it will have real impact – in research, product innovation and long-term behaviour change. We will work with experts to explore how we can change attitudes and behaviour towards hand washing. Our actions will make a lasting difference to children around the world.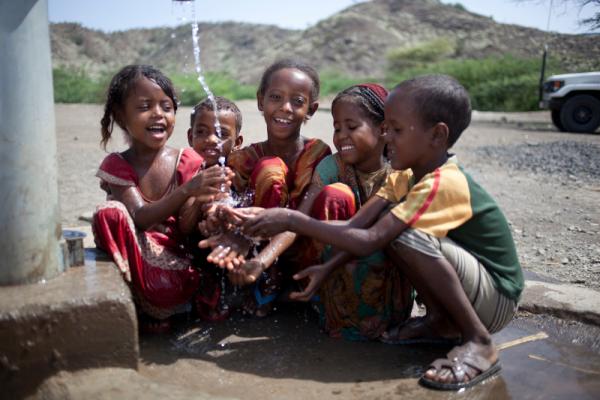 Mutual business benefits
Our partnership combines RB's global expertise in hygiene, health and innovative technology with Save the Children's expertise in delivering life-saving treatments, bringing us a step closer to achieving our mutual vision where no child under the age of five dies from preventable causes. The partnership has continued to evolve with the needs of RB's business, while remaining aligned to Save the Children's organisational priorities.
RB's innovative technology will play an important role in helping to reduce the number of cases of diarrhoea in under-fives. By developing new, innovative products, for example a low cost 'de-germer', RB aims to support mass reach hand-hygiene campaigns and create safer home environments for babies and children, helping families to live healthier and happier lives. Furthermore, these products could help increase the efficacy of family health kits and clean delivery newborn kits, while new enzyme technology could boost the efficacy of household water treatment and safe storage systems. In addition to providing expertise, RB are committing to a multi-million pound investment to achieve its vision by 2020, and involving its 36,000 employees around the world in the initiative.
Businesses like RB have a responsibility beyond results and our larger role is to do more for the world. We want to make a difference by providing innovative solutions for healthier lives and happier homes. And our growing partnership with Save the Children will go some way to creating lasting improvements in the health and hygiene of vulnerable children and families globally. Together, we want to help stop diarrhoea being one of the biggest causes of death in children. This is ambitious – but we believe that with the knowledge and strength of our partnership, it is achievable.
Rakesh Kapoor, CEO, Reckitt Benckiser
RB and Save the Children's global partnership launched in 2003 and has to date raised £11 million, reaching 1 million children through health and hygiene programmes.
Link to partner website
Find out more about Reckitt Benckiser: