Our partnership with RB
RB and Save the Children unite to help stop children under five dying from diarrhoea – through a unique approach. We've been working with RB (formerly Reckitt Benckiser) since 2003. So far, the partnership has raised £29.5m and directly impacted the lives of more than 1.5 million children. In 2013, we launched a major new global initiative to stop children dying from diarrhoea.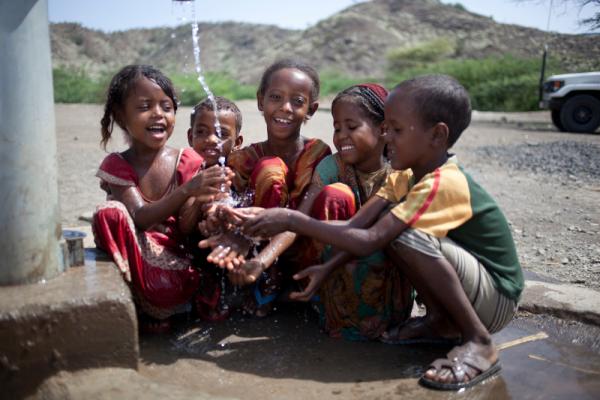 Healthier lives, happier homes
RB and Save the Children have united to stop children under five dying from diarrhoea. Our collaboration combines Save the Children's long-standing experience of delivering life-saving treatments on the ground with RB's expertise in product research and development.
Each year, around 567,000 children die from diarrhoea – it's the second biggest killer of children under five. Our ground-breaking and sustainable 'Stop Diarrhoea' program will provide treatments for diarrhoea. It will also focus on prevention and control through vaccinations, improved sanitation, innovative and affordable products and improvements to hygiene practices.
RB CEO Rakesh Kapoor said: "Businesses like RB have a responsibility beyond results and our larger role is to do more for the world.
"We want to make a difference by providing innovative solutions for healthier lives and happier homes. Our growing partnership with Save the Children will go some way to creating lasting improvements in the health and hygiene of vulnerable children and families globally.
"Together, we want to help stop diarrhoea being one of the biggest causes of death in children. This is ambitious, but we believe that with the knowledge and strength of our partnership, it is achievable."
Already, RB has developed two innovative new hygiene and sanitation products to help combat diarrhoea: a low-cost multi-purpose antibacterial soap that can be used for hands, clothes, surfaces and bathing, and a 'toilet powder' to improve hygiene in pit latrines. RB will reinvest all revenue from these products into fighting diarrhoea.
Justin Forsyth, Chief Executive of Save the Children, said: "This ground breaking innovative partnership between Save the Children and RB will harness the research and expertise of RB with Save the Children's on the ground experience to stop children dying of diarrhoea. It will pioneer how the private sector and NGOs can accelerate change for children."
Employee involvement
RB's 60 offices around the world play a significant part in the company's global commitment to Save the Children. In 2015, employees and RB contributed an incredible £6.5m to fund our global Stop Diarrhoea programs, as well as supporting programs locally.
Fundraising activities included the bi-annual Global Challenge in India. Forty-two RB employees took on a four-day trek, as well as spending two days improving hygiene facilities at a local school. In total, they raised an incredible £230,000.
Find out more about RB: