CATHY LEE APPOINTED AS FIRST ASIAN PATRON OF SAVE THE CHILDREN;
Save the Children Hong Kong is pleased to announce today Mrs. Cathy Lee will be the first Asian patron of Save the Children, one of the oldest and largest non-profit organizations in the world. Mrs. Lee will be the patron of Save the Children Hong Kong and will use her role to highlight and address children's issues in Hong Kong, China , Asia and globally.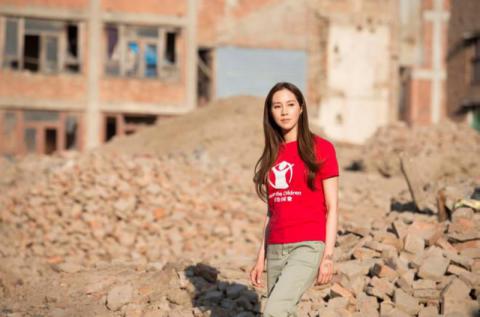 The announcement of her role came on the one-year anniversary of the earthquake, which killed almost 9,000 people, left a million children without classrooms and destroyed more than 600,000 homes. Through generous support of donors worldwide, including Hong Kong, Save the Children was able to respond quickly in providing vital healthcare, water and hygiene support, food, and temporary shelter. In addition, Save the Children has built 586 temporary learning centers (TLCs), enabling almost 200,000 children can continue their education.
During Mrs. Lee's recent visit to Nepal, she visited one of the TLCs in a rural village and met with families living in temporary housing. She noted that the enormity of the need in disaster struck areas where more investment and work is needed to continue the reconstruction program, especially since three million people are still without permanent shelter and many marginalized groups are still in need of relief.
Noting the urgency of respond to many recent natural disasters around the world, including Nepal, Ethiopia, Japan, Ecuador, etc., as well as the enormous need for sustianable program developmemt on education, health, protection towards children, Mrs. Lee announced that she would donate HK$16 million to Save the Children Hong Kong. She also encouraged the public to make lasting changes for vulnerableChildren around the globe.
"I am pleased to be a Patron of Save the Children Hong Kong because I share their concern for the safety and well-being of all children," Mrs. Lee said, "especially those most marginalized, deprived and facing humanitarian crises. I hope the donation will inspire people in Hong Kong and around the world to join our hands to help the children in need."
Messages welcoming Mrs. Lee as Save the Children's newest patron were received from Sir Alan Parker, Chair of Save the Children International, Princess Viktoria de Bourbon de Parme, Patron of Save the Children Netherlands, and Anne Mulcahy, Board Chair of Save the Children US. "We are very honored and excited to have Cathy Lee as our patron, we admire her compassion for children and her willingness to actively make a difference in their lives", said Amy Fong, CEO of Save the Children Hong Kong.
*Mrs. Cathy Lee has just returned from a trip with Save the Children Hong Kong to Nepal where she visited suffered children and families who experienced a devastating magnitude, Mw 7.8 earthquake last year.