IKEA Foundation's Let's Play for Change campaign raises €3.4 million for Save the Children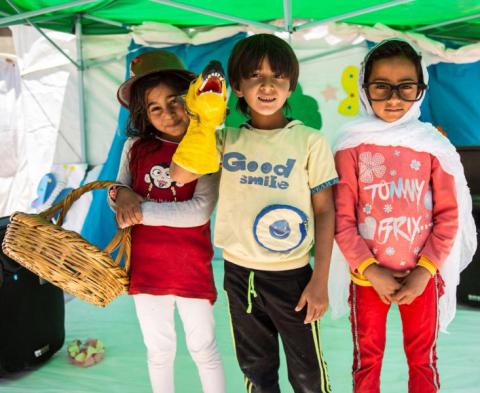 Around Asia and Africa, thousands of children are playing their way to a better life, thanks to IKEA co-workers and customers who got involved in the first Let's Play for Change campaign.
During the campaign period, IKEA co-workers and customers engaged in the cause, and an amazing 12.6 million IKEA children's products were sold.
As a result of the collaboration on the Good Cause campaign, the IKEA Foundation has donated €3.4 million to Save the Children who will help thousands of vulnerable children enjoy their right to play.
Save the Children's programme I Play, I Learn I'm Safe will help prevent unsafe migration of children in Ethiopia and Bangladesh by promoting protection, education and play for children on the move.
"Save the Children is giving children on the move a chance of a better future. The IKEA Foundation, with support from IKEA employees and customers worldwide, helps us fulfill children's right to protection, education and play. Children on the move are highly vulnerable and our program intends to deliver lasting improvements to their lives," said Elisabeth Dahlin, Secretary General Save the Children Sweden and Chairperson Global Lead Agency for the IKEA Foundation partnership.
 
Per Heggenes, CEO of the IKEA Foundation, said: "Thank you to all the IKEA co-workers and customers who supported the campaign, for taking the opportunity to hear how our partners are using our funding to change children's lives, and for sharing that information with others. On behalf of the IKEA Foundation, THANK YOU!"
*This donation includes an extra contribution for 2017 to give the projects the best chances of success.
Find out how Let's Play for Change is changing children's lives.
About Save the Children
Save the Children believes every child deserves a future. Around the world, we work every day to give children a healthy start in life, the opportunity to learn and protection from harm. When crisis strikes, and children are most vulnerable, we are always among the first to respond and the last to leave. We ensure children's unique needs are met and their voices are heard. We deliver lasting results for millions of children, including those hardest to reach.We do whatever it takes for children – every day and in times of crisis – transforming their lives and the future we share.
Learn more by visiting:
www.savethechildren.net
About the IKEA Foundation
The IKEA Foundation (Stichting IKEA Foundation) is the philanthropic arm of INGKA Foundation, the owner of the IKEA Group of companies. We aim to improve opportunities for children and youth in some of the world's poorest communities by funding holistic, long-term programmes that can create substantial, lasting change. The IKEA Foundation works with strong strategic partners applying innovative approaches to achieve large-scale results in four fundamental areas of a child's life: a place to call home; a healthy start in life; a quality education; and a sustainable family income, while helping these communities fight and cope with climate change.
Learn more at www.ikeafoundation.org and www.facebook.com/IKEAfoundation