Increasing number of Iraqi children displaying signs of trauma after fleeing violence in the North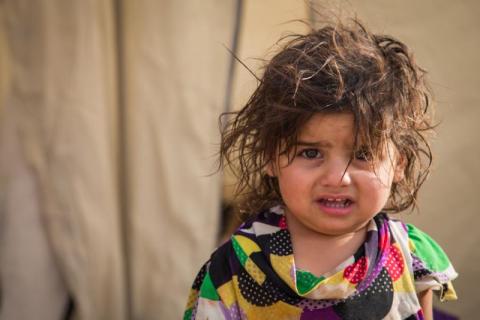 Over 1,000 schools occupied by displaced families causing shelter crisis that threatens to derail start of the new school year
Children who survived the bloodshed in northern Iraq are showing signs of trauma and extreme distress, including bed wetting and night terrors as they arrive – often on foot – in places like Erbil, the capital of the Kurdistan Region of Iraq. Erbil and other cities in the area are now hosting hundreds of thousands of displaced people, with thousands more still making their way to sanctuary.
The violence in northern Iraq has seen more than 1.2 million people flee their homes and had a huge impact on the education system in the Kurdish region. The Kurdish regional government says that more than 1,000 schools in the region are currently sheltering displaced families who have nowhere else to go. This is also an area that was already hosting 230,000 Syrian refugees.
As a result, over 400,000 displaced children¸ as well as hundreds of thousands of students whose schools are being used as shelters, are likely to miss out on the start of the new school year.
"Not only are children suffering extreme distress after fleeing their homes, often in the middle of the night, and after witnessing horrific events, but they are set to miss out on the start of the new school year," said Save the Children's Iraq Country Director Tina Yu.
"Education provides such an important routine for children whose lives have been torn apart. School is a way to feel normal again, and we know that the sooner children get back into the classroom, the quicker they recover from what they've been through."
In the meantime, Save the Children is already running activity centres for children of all ages in Dohuk, Erbil and Sulaymaniyah governorates to help them start to overcome what they have seen and continue their education, especially for those who also missed the end of the last school year because of armed fighting.
The aid agency will also set up mobile learning spaces for students while schools are being used as shelters, and aims to reach more than 100,000 affected children through education.
Ms Yu said, "There is no immediate end in sight to this conflict, so we need to make sure that the current generation of children does not miss out on school. This is vital: they are Iraq's future."
Just over a week ago, at least 200,000 people, some for the second or third time, fled towns like Sinjar and Qaraqosh where hundreds of civilians were brutally and indiscriminately killed.
"This sudden and massive movement of people has put a huge strain on shelters, with schools and other public buildings already overcrowded, leaving many to sleep on the streets, in parks or in abandoned buildings. A lot of these buildings are extremely unsafe and don't have any running water," Ms Yu said.
"People are desperate for anywhere that will protect them from the scorching heat and provide some comfort to their families."
For media interviews, please contact:
Evan Schuurman, Media Manager
Tel +962 791 047 542
Email: evan.schuurman@savethechildren.org.au 
Notes to Editor:
Save the Children has reached more than 114,000 people since fighting broke out at the beginning of June, including at least 14,000 during the most recent violence.
Save the Children is aiming to reach at least 240,000 people in response to the crisis in Iraq, through programs like child friendly spaces, mobile learning centres and catch up classes, as well as through distributions of food, water, hygiene kits and sleeping kits.