JORDAN: "I FELT VERY HAPPY THAT I CAN PICK OUT MY OWN CLOTHES FOR THE FIRST TIME"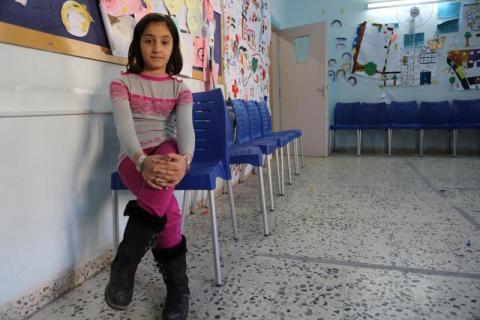 "It was the first new item I got since I left Syria," said Aya, 9 years old.
Aya is one of the Syrian refugees who is benefiting from Save the Children's clothes vouchers being distributed in host communities. She has been regularly attending our Child Friendly Spaces (CFS) in East Amman where she and the other children benefit from psychosocial activities and make new friends. With support from the European Commission Humanitarian Aid and Civil Protection Office (ECHO), Save the Children was able to distribute clothes vouchers to Jordanian and Syrian children participating in the CFSs.  
"I picked this warm grey and pink sweater, two pairs of pants, socks and this pair of boots, I wanted something warm because the weather is starting to get cold" said Aya pointing to the new boots she is wearing. Having arrived to Jordan in June this year, Aya owned minimal winter clothing.  
The vouchers are provided to identified shopkeepers to deliver clothing items to the children with the price specified on the voucher. The children, accompanied by Save the Children's staff were able to choose and purchase warm clothing items with the 28 JOD ($39 USD) voucher for each child. Like Aya, many of the children lack proper winter attire.   
 "I felt very happy that I can pick out my own clothes for the first time, and I was really worried that winter will be hard on us this year without warm clothes" said Aya.  
With the continuing violence in Syria, nine year old Aya is one of the thousands of children who has found refuge in Jordan. She managed to escape the conflict with her mother and three older sisters four months ago. 
While rushing to escape their home, Aya packed a dress she had worn to her uncle's wedding and her favorite pair of shoes, "I had a ton of dresses, sweaters and pajamas," she said, "I felt okay leaving my clothes behind because I thought I would return to them before winter arrives, but I didn't." 
They now live in a bare run-down apartment in East Amman. Like many apartments in Jordan's host communities, Aya's is anything but prepared for the cold winter months: no heater or heating system, three mattresses on the cold bare floor, and four blankets for five members of the family. As a single mother of four, Aya's mother struggles to provide for her children.
"It is already difficult for me to provide for the basic needs, but now the winter season has started, which is creating additional needs and pressure," said Aya's mother Kefah. The family has been receiving monthly cash assistance from Save the Children which is alleviating some of the pressures on the single mother. 
"To be honest it was a big relief when the staff informed me that Aya and her sister will be given a clothes voucher, she really had no clothes for the winter," Kefah said.  One of Aya's older sisters attends Save the Children's Youth Friendly Space in East Amman and has received the same clothes voucher as Aya. 
"Back in Syria, usually my mom used to buy me clothes and surprise me with them, this time it was my turn to surprise her with what I picked out, she really liked what I bought," said Aya.