Mongolia calls for international help as harsh winter 'dzud' plunges temperatures below -50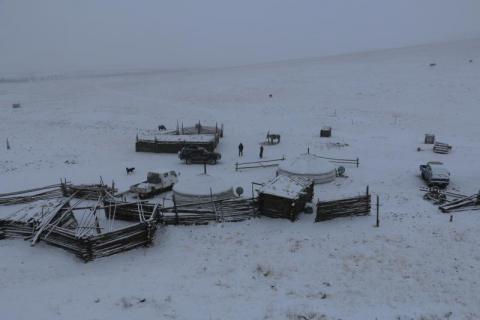 The Mongolian government has requested international support following two months of consistently heavy snowfall and arctic temperatures, which have sparked fears of another devastating humanitarian crisis. 
 
Last month two state and national agencies in Mongolia issued an emergency warning for a 'dzud', an extreme weather phenomenon comprising heavy snow storms and temperatures below -40 degrees Celsius. Western parts of the country have already recorded temperatures as low as -56 degrees Celsius, however, weather forecasters say the coldest days are still to come.
 
"After the devastating dzud last winter which killed more than 1.1 million livestock, affected over 40 percent of herders and left hundreds of thousands of Mongolians living on the brink, conditions are expected to be as bad or even worse this time around," Telmen Erdenebileg, Save the Children Mongolia's Humanitarian Program Manager said.
 
"We're particularly concerned about the third of the population directly reliant on livestock as a primary source of income, especially herder households who have a small number of livestock.
 
"These households rely solely on animal fur for warmth, animal's milk to stay nourished, and income from the herd to pay school fees and provide healthcare for their children. If we start seeing livestock perishing without humanitarian assistance, families will have no choice but to use coping strategies like reducing food intake, spending less on basic necessities like appropriate clothing for their children or medical care, as well as transportation and communication costs."
 
Deputy Prime Minister Khurelsukh Ukhnaa called for international help at a special meeting with international aid agencies on Thursday, December 15, following the warning issued by the National Emergency Management Agency and National Agency for Meteorology and Environment Monitoring in November.
 
The Mongolian government and local authorities have been preparing for the extreme weather since the summer, including stockpiling hay and fodder, however the country's recent economic downturn and ongoing recovery from the last dzud have hampered these preparations. Current hay and fodder stockpiles are just 50 percent of what was planned at the local district level.
 
"This is an extremely concerning situation and there is an urgent need for international assistance," Mr Telmen said. "It's really important that funding targets are met now and not two or three months down the track when it's too late to prevent the greatest suffering."
 
Local media is reporting that already more than 70 per cent of Mongolian territory is covered with thick snow and ice. The Mongolian government has called for the donation of warm clothing, food, medication for livestock, coal, hay, animal feed, insulation materials and other useful items for herders to help them survive the winter while preventing livestock deaths.
 
Save the Children has been working in Mongolia since 1994. The aid agency responded to last winter's dzud, distributing nutritious animal fodder, fuel to help hospitals run outreach programmes in hard-to-reach communities, and cash grants for the most vulnerable families to buy essentials, nutritious food, and to repay any debts.  We also ran education programmes for the children of herder families.
For media inquiries contact Khulan Munkh-Erdene in Ulaanbaatar on +976-99081716, or Evan Schuurman in Bangkok on +66 989 725 908.