More than 70 children have drowned trying to get to Greece since Aylan Kurdi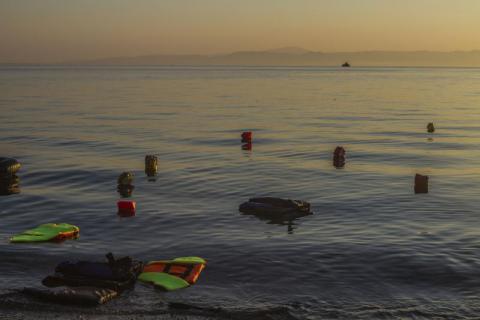 More than 70 children[1] have drowned trying to reach Greece since Aylan Kurdi's tragic death almost two months ago, including seven children believed to have lost their lives on Wednesday night. As large numbers of refugees and migrants continue to make the dangerous journey during the winter months that number is set to rise, Save the Children warns.
Winter weather is making the sea crossing more risky and children are often soaking wet and freezing when they are brought ashore, leading to a very real risk of hypothermia given the lack of shelter in the transit camps. Staff report seeing children shivering with blue hands and lips and there have already been several cases requiring hospital treatment.
Thousands of families are still making desperate attempts to flee Syria and other countries, despite some European countries shutting their borders. Between January and October 2015 more than half a million people arrived on the Greek islands, up nearly 1,370 percent on the whole of 2014.  There are still up to 8,000 people arriving every day in Greece and 23 percent of them are children, who are often unable to swim and do not have proper lifejackets.
For those who do make it to the islands, the conditions in the camps are dangerous for young children, some of whom are becoming separated from their families in the chaotic registration process. They are already reporting that they are too cold to sleep at night without proper shelter or warm clothes, and temperatures are expected to drop as low as -4 degrees as winter conditions set in.
Kate O'Sullivan, Save the Children response staff in Lesvos said: "To have the small bodies of babies and children carried ashore or washed up on these idyllic beaches is devastating. Though the crossing from Turkey to Greece is short, the waters are increasingly dangerous and sadly we're going to see more of these needless deaths. What we need are safe and legal routes for refugees to come to Europe, to stop people who have already suffered so much losing their lives close to the end their journey."
"For the families that do make it to Lesvos and other islands, the government and charities like ours are providing what we can but there are thousands of new arrivals every day and there just is not enough shelter or food for everyone. I have seen children sleeping in the mud under a flimsy bit of cardboard, and kids shivering with blue lips and hands. We expect the situation to get much worse as winter really bites."
Save the Children is preparing winter kits for families arriving in Greece, which include blankets and clothes. The charity is also distributing cooked meals to thousands of people every day and running special temporary centres for children and nursing mothers.
Save the Children is calling for more resources and immediate support to ensure that people arriving in Europe are not dying of hypothermia and exposure, as well as the creation of well-managed safe and legal routes for refugees and migrants. The charity is particularly concerned about approximately 12,000 unaccompanied children who have made the journey to Europe this year alone, and are extremely vulnerable to exploitation and violence.
[1] According to IOM, 69 children have died making the Greece crossing between 2nd September and 26th October, and another seven were reported to have drowned on 28th October.