Rebuilding lives with dignity in Greece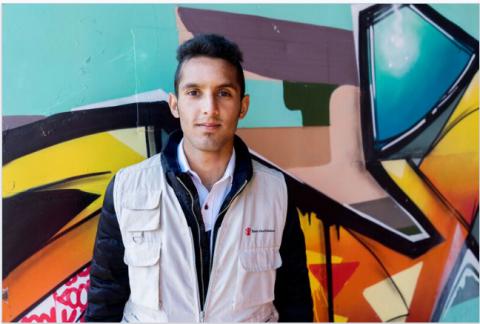 Blog by Anna Pantelia, Communications Officer, Save the Children in Greece
Loss, horror and sadness have shaped the stories of refugees and migrants in Greece. With thousands still stranded in the country, living in appalling conditions, it's often hard to see any light at the end of the tunnel.
But incredible stories of resilience and success are out there. On International Migrants Day (18 December), we must celebrate these stories and remember there is always hope for a better outcome.  
It was six months ago when I first met Shahin, who at the time was a volunteer translator for a small Greek organization helping refugees with their asylum applications.
He looked very energetic and outgoing, ready to help whenever needed and always with a bright smile on his face. Nothing about his appearance or behaviour hinted at the challenges he had faced in his short life.
Shahin, 20, comes from a minority group in Iran and grew up in a very oppressed environment. He explains that people from his minority group are usually barred from holding numerous jobs in both the private and public sectors, sometimes denied admission to universities and many have been imprisoned, tortured or received death threats.
Shahin's dream was to live in a liberal country where he could study business, learn new languages and have a family and kids, but he knew this wouldn't be possible in Iran. So he decided to leave in search of a new life in Europe.
"I was travelling alone. I didn't have anyone with me," he tells me. He followed the same path as so many migrants and refugees before him: he got squashed in cars, crossed the Mediterranean to Greece in a dingy and lived in crowded camps for months.
Despite his difficult journey, after eight months in Greece, Shahin has taken things into his own hands and is now building his life with dignity.
He has become an active part of the Athenian community, forged new friendships and now works with Save the Children as a cultural mediator, helping unaccompanied children in our shelter in Athens.
The job gives him the opportunity to strengthen his relationship with the local community. "I was keeping a distance from my Greek friends because of my financial issues. Fortunately, now I have cash I can drink a coffee with them," he says jokingly.
"The most memorable moment was the feeling when I received my first salary payment. I needed to build a life as a normal person. I rented an apartment, bought some new clothes. I was so happy to be independent again," he tells me, his eyes lit up from happiness.
These are exactly the same words Masoud says to me, a 20-year-old from Afghanistan who is also working for Save the Children in Greece.
"I am happy. I am now independent and I don't have to ask anything from others. I can now spend my money on the things I need, such as education, so I can ensure a better future for myself. Three years ago I was also a child and now I am working for Save the Children," he tells me, full of pride.
In Afghanistan, Masoud worked for an international company while studying civil engineering. His work with a foreign company meant that him and his family became targets. After receiving death threats, Masoud was forced to flee Afghanistan.
Masoud believes that protection is very important for children, and especially for those who are travelling alone. "My heart breaks when I see children travelling alone. I always think that when our countries are safe they can go back and live with their families," he tells me and takes a deep breath.
"Sometimes when I am in the camp I see some unaccompanied children who look at our activities from afar for days. They want to be sure they can trust us; they are afraid of everyone. They usually get abused throughout their journey, some of them have lost their lives on the way."
Knowing first-hand what it means to be a child refugee, Masoud, does his best to support them. After work he returns to the camp where he used to live and helps children to learn English. He tells me that seeing the kids starting to speak English and practising with the local community is his best reward.
Masoud and Shahin's stories show that integration is possible if refugees and migrants are given a chance to start a new life – to work, participate with their communities and to make a positive contribution to their new country.
European countries must enact policies to give migrants and refugees the opportunity to integrate and start again, rather than turning their backs on people who have fled their countries and want nothing more than safety and stability.