Restrictive EU policies are putting refugee children at risk, says new report from Save the Children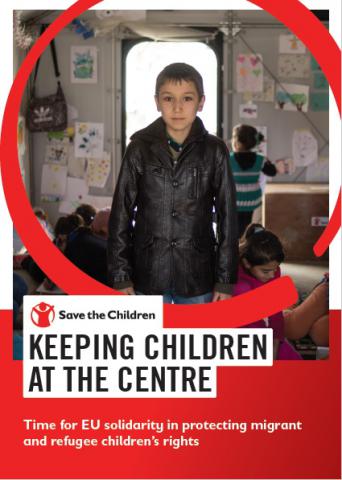 In a new report, Save the Children warns that restrictive EU migration policies risk pushing children underground.
About 800,000 children applied for asylum in the EU over the last two years. 150,000 of them were unaccompanied, arriving in Europe either completely alone or without a family member. In this new policy report, Keeping Children at the Centre, the NGO Save the Children looks at the risks children face both on the way to and inside Europe, and the restrictive measures that make it difficult for them to receive the protection – and investment - they need.
As the debate around migration heats up again ahead of another EU Council meeting on 19 and 20 October there is much at stake for migrant and refugee children.
"Two years ago, everybody panicked because 10,000 migrant children allegedly went missing," says Save the Children's EU Director, Ester Asin. "Today, national and EU policies have become even more restrictive, and many more children risk not having papers, or going underground."
Children trying to cross borders in the Western Balkans are often the victims of violent pushbacks by border staff, making them use even more clandestine and dangerous routes. In the Greek hotspots children are kept, sometimes in conditions which are similar to prisons, waiting on decisions on their asylum claims, in some cases for more than a year. Save the Children has witnessed suicide attempts and self-harm among children as young as nine years old in the Greek hotspots (refugee reception centres). Mental health issues are widespread among migrant and refugee children across Europe. In Sweden last February, seven refugee children attempted to kill themselves, three of them succeeded.
"Whilst we are pleased to see an increased commitment by the European Commission and Member States to protect children in migration, this will have little effect when they are balanced by border procedures leading to children spending long periods in detention centres; being issued temporary permits which offer them more insecurity; or returning them to countries where their safety cannot be guaranteed," says Asin.
Reports from Save the Children's national programmes show that children's fear of being returned to the country where they came from or, in some cases, to a third country they have never known might push them underground. Many Afghan children living in Sweden, for example, grew up in Iran. They are now being sent back to Afghanistan, a country with which they have no links, and of which they have no memory.
Many European countries are taking advantage of the notion of a 'migration crisis' and the rise in anti-immigrant sentiment to take in even fewer asylum-seekers than before the crisis started. Today Belgium, Sweden, Denmark, Slovenia and Poland take in fewer asylum-seekers than in 2012-2013, while Greece and Italy account for nearly one third of all asylum applications.
Estin added: "Children pay a huge price for this acute lack of solidarity. They either face hardship and insecurity in the EU, or risk their lives at sea and in the desert by taking more dangerous routes due to a rise in checkpoints and border control, supported by the EU."
Spokespeople are available in Brussels
To arrange an interview, please contact:
Jenny Dare (tel: +32 470294199, email: jenny.dare@savethechildren.org)