Rohingya crisis response needs to be scaled up urgently as desperation grows in Bangladesh: Save the Children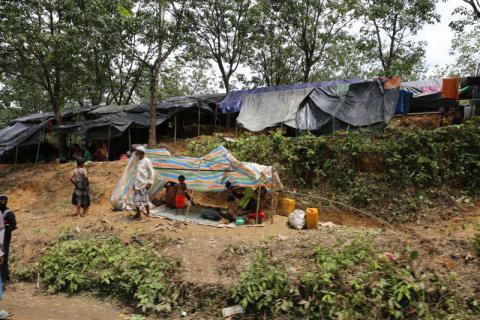 Save the Children is calling on the international community to fully fund a US$77 million emergency appeal to help the newly arrived Rohingya in southern Bangladesh.
Almost 300,000 Rohingya have fled to Bangladesh in the past two and a half weeks following a rapid and alarming escalation of violence in northern Rakhine State, Myanmar, since August 25, including disturbing reports of hundreds of people, including children, being killed.
Save the Children humanitarian expert George Graham said the situation in refugee and host communities and other informal areas where the Rohingya are taking refuge, was becoming increasingly desperate, as the Government of Bangladesh and humanitarian agencies urgently work to scale up their assistance.
"In and around Cox's Bazar, a Bangladeshi district near the Myanmar border, thousands of Rohingya families including children are sleeping out in the open or by a roadside because they don't have anywhere else to go. Some don't have enough food or clean drinking water, and this state of uncertainty increases the risk of children being exploited, abused or even trafficked," Mr Graham said from London.
"Local communities have been generous in sharing food and other basic necessities with the new arrivals, while some Rohingya have resorted to begging for food because they have no other option. There is a high level of desperation among new arrivals, many of whom have travelled long distances by foot, having fled their homes amid violence and killing. Many children are sick due to lack of food and clean water.
"There are also hundreds of children who are unaccompanied or separated, having lost touch with their families in the chaos of fleeing their homes. This is a big concern. These children need extra support and help being reunited with family members."
Mr Graham said it was vital the international community fully funds the humanitarian response plan, which outlines the life-saving support UN agencies and international NGOs are aiming to provide to 300,000 people until the end of the year.
"The humanitarian situation is distressing and the needs are enormous. The international community needs to recognise this, step up and urgently meet the needs of incredibly vulnerable people, especially children," he said.
"Save the Children recognizes the significant efforts of the Government of Bangladesh, local authorities in Cox's Bazar and host communities in supporting Rohingya refugees, however the scale of this crisis means much more help is needed."
Save the Children is also calling for an end to the violence Myanmar's northern Rakhine State.
"We urge all parties to the conflict to do everything possible to end the violence and ensure the protection of all civilians, particularly children. We call for unhindered humanitarian access to northern Rakhine State, where the situation will certainly worsen if relief organisations aren't able to resume their operations," Mr Graham said.
 
For media inquiries contact:
Evan Schuurman, Bangkok, on +66 989 725 908
Simona Sikimic, London, on +44 7760 221 890
Global Media Unit 24 hours on +44 7831 650 409
Notes to editor
Save the Children has been supporting the long-term needs of displaced Rohingya families in and around Cox's Bazar prior to the outbreak of violence on August 25. The aid agency is now scaling up its relief work, and has distributed hundreds of shelter kits, set up 'child friendly spaces' to support children's emotional wellbeing and provide a safe space to play, and is running child protection services and providing support to unaccompanied children. It is working to expand these operations significantly.
In Rakhine State, Myanmar, Save the Children provides assistance to both Rohingya living in camps for internally placed people in Sittwe and in Pauktaw, and for Rakhine communities in Pauktaw. Save the Children does not have access to the areas of northern Rakhine State which are affected by conflict.