Save the Children plugs the data gap on early learning and development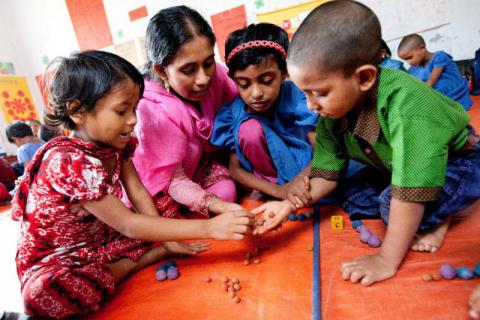 There is mounting evidence that early learning and development is essential for achieving progress around the world; pre-primary education is included in the Sustainable Development Goals (4.2.1), which represents a global commitment to childhood development. Despite this, funding for young children's development has been limited in countries across the world. One of the key reasons for this lack of investment is the lack of data around which early childhood care and development programs work and why. To plug the data gap and to understand what works best for young children, Save the Children has created the International Development and Early Learning Assessment (IDELA), a report that reflects on how it has been used, and an online portal to share best practice among the early learning community
The IDELA is a direct child assessment for 3 to 6-year-olds that measures motor development, emergent language and literacy, emergent numeracy, and social-emotional development. Since Save the Children publicly launched the IDELA in September 2014, its uses and users have expanded; 23 partners, including research institutions, international aid organizations and government bodies have now used it in projects in over 40 countries.  
Save the Children has released a new report - IDELA: Fostering Common Solutions for Young Children -to show how IDELA has been used to further a collective understanding of young children's development. The report takes us through case studies from around the world where IDELA has been employed to assess the impact ECCD programs are having, to recognise which groups of children are being left behind and to situations where the data has been used to advocate for real change.
The successful uptake and use of IDELA highlighted by the report is something worth building on. This is why Save the Children has created the IDELA portal - www.idela-network.org. The portal provides a place for an IDELA community of Practice to flourish and a central hub for all practitioners to access tools and resources and to share their data – an exciting new opportunity to contribute to the worldwide conversation about early childhood education.
To celebrate the release of the report and the launch of the IDELA portal, Save the Children USA are hosting a launch event in Washington D.C on Wednesday 6th September from 1.00pm EDT / 5pm GMT.
Partners from across the development, academic and education communities will come together to share their experiences of using IDELA in a roundtable conversation. The discussion will seek to explore potential next steps for building common evidence on ECCD programs around the world and how we can share and use the data.
If you would like to attend in person, please RSVP here. Alternatively, please click here to watch the livestream of the event (beginning at 1.30pm EDT).