Save the Children's new report opens windows into early learning and development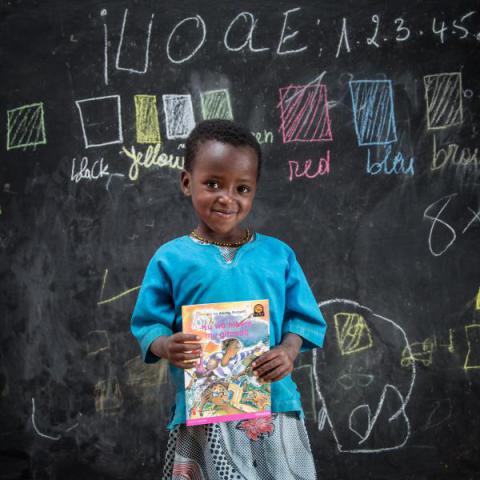 The first five years of a child's life is a time of great promise and rapid change, when the developing brain is most open to the influence of relationships and experiences. However, millions of children across the world are at risk of not reaching their full potential because they do not get the care and early simulation they need.
"Unless governments prioritize starting early, we won't get close to achieving inclusive and quality education for all by 2030. Investment in the early years is an investment in the human capital of whole nations," says Helle Thorning-Schmidt, CEO of Save the Children International.
Save the Children's new report Windows into Early Learning and Development presents research on early childhood development (ECD), and makes recommendations about what is needed to improve children's exposure to care, stimulation, and play in the early years that will influence their lifelong development.
The report uses recent IDELA (International Development and Early Learning Assessment) evidence to investigate factors influencing child development, and ECD approaches that work for children in low- and middle-income countries. It shares lessons learned from existing ECD programmes, and identifies strategies and approaches that are improving learning and development for the world's most deprived children.
"Our imperative and greatest challenge is to give priority to the children who are most deprived, to fulfill their right to learn. Investing in early learning opportunities is one of the smartest investments we can make to address inequality and poor learning outcomes. We simply cannot ignore this evidence. Save the Children therefore calls on governments and development partners to scale up efforts to ensure every girl's and boy's right to learn, by making quality early childhood development, care and learning available to all children," says Tove Wang CEO of Save the Children Norway and Head of Save the Children's Education Global Theme. 
Four lessons from IDELA: Evidence to action
To reach the most vulnerable children, we need to go beyond preschools.
To reach the SDGs and ensure that all girls and boys, especially the most deprived, are developmentally on-track requires continued investment in interventions beyond preschool walls. As countries work towards universal preschool coverage, alternative strategies are needed to support children who need an early learning boost where there is no preschool.
Caring and stimulating environments – at homes and in centres – improve child development.
High quality caregiving must be supported both in homes and in centers to build strong foundations for young girls and boys. Parents' daily interactions with their children are a critical factor impacting a child's development. Center-based ECD programmes need to have a primary focus on the quality of activities and interactions with young children.
Serious focus and investment is needed to close the early gaps for the most vulnerable young children.
Rural, linguistic minority and refugee children need urgent support as they are falling behind those who have a more stable environment. These gaps can be addressed with targeted early interventions. The effects of adversity on child development are cumulative, so interventions need to address the various risk factors to support early learning as well as social protection. Early childhood interventions can be equalizing when effectively targetting the most deprived.
Start early!
This is Save the Children's first principle of literacy. The earlier children receive learning support at home or in centers, the less likely they are to be at risk for poor developmental outcomes. Through our preschool work in many countries, we have learned that interventions for older children can open doors and foster dialogue about early learning and development for children before primary school age and even under the age of three.
Related resources