Severe drought pushing Somalia/Somaliland further into chaos, warns Save the Children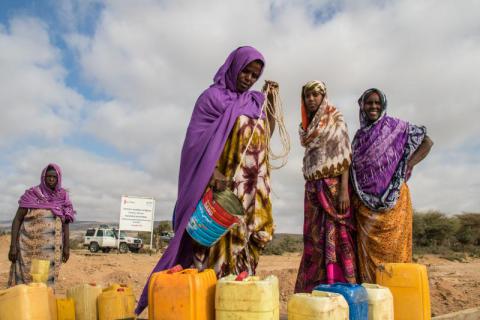 The worst drought to hit Somalia/Somaliland in several years will further destabilise an already fragile country unless the international community steps in to prevent a famine, warns Save the Children.
Severe water and food shortages in the worst drought-affected areas of Puntland and Somaliland have left more than 510,000 people – half of whom are children – desperate for food and water.
As water levels continue to be depleted, and with cereal production down an average of 87 per cent compared to the period between 2011 and 2014, the situation is expected to worsen in the coming months – reaching a critical point in June.
"The failure of the last two rainy seasons means that water sources have dried up in many places, and lands that were once fertile have now turned to dust," says Hassan Noor Saadi, Country Director, Save the Children Somalia/Somaliland.
"Somalia is already one of the toughest places in the world for a child – and hundreds of thousands of them are now the second generation growing up without a stable government, in a country mired in conflict. Tens of thousands died in the famine of 2011/12 – a situation we do not want to see repeated."
Save the Children is aiming to reach 205,000 people in Somaliland and Puntland – including 100,000 children – with drought relief. That will require immediate support from the international community to help provide water and sanitation, address the food shortage, respond to malnutrition amongst children, and provide emergency healthcare and psychological support – especially to women and children.
"As the drought advances, pastoral households are forced to sell off their few remaining livestock to be able to purchase water, food and other essential items," adds Noor Saadi.  
"The situation is getting worse by the day and we fear for the welfare and protection of women and children, as they are the most vulnerable in these situations."