SHIFT-ing Behaviour to Save Children's Lives in Thailand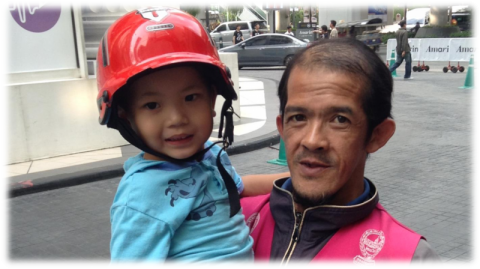 By Allison Zelkowitz, Country Director for Save the Children Thailand
In Thailand, traffic accidents kill more than 7 children a day and road crashes injure or disable almost 200 children each day. That's 2,000 children losing their lives and 73,000 children injured on Thai roads in a year. To put these figures in context, Thailand's children are twice as likely to die in road accidents than children in any other country in South-East Asia. 
Motorcycles are the main form of transport in Thailand. There is a helmet law but it is not enforced. Wearing a motorcycle crash helmet can significantly reduce the risk to children but only 7% of the 18 million child passengers in Thailand do so. And it's this figure that gives its name to our new Save the Children initiative.
The 7% Project
Together with the Asia Injury Prevention Foundation (AIPF) and other global and regional experts in children and road safety, we have started the '7% project', also known as the SHIFT project: the Shared Helmet Initiative for the Future of Thailand. It's a 3.5 year nation-wide campaign to increase helmet use and save children's lives, with funding support from the FIA Foundation.
Research we conducted with programme partners showed that many children in Thailand do own helmets but they were not wearing their helmets for a number of reasons, including not being told to do so by parents or influencers in their lives, a feeling that the worst won't happen to them (despite the alarming statistics) and, importantly, a perception that wearing a helmet was 'not cool'.
Cool and creative 
Starting in Bangkok and then moving to outer provinces, the 7% (SHIFT) project aims to increase school and police enforcement, educate on proper helmet use and benefits, change public perceptions, engage the community, media and celebrities around the cause, and introduce innovative, fun helmets which children can customise themselves and will want to wear.
The first phase of the campaign, just launched, is a competition inviting Thailand design professionals, university students, and the general public to submit ideas for a slogan and logo for the awareness campaign. We will reveal the winning design at the formal campaign launch in September 2014.
Together with teachers, parents and children, in its first year our campaign aims to create an integrated grassroots offline and online community to mobilise schools to feature motorcycle helmets as a permanent part of the school uniform. As the campaign matures, the 7% project aims to expand beyond schools. Bringing on board government agencies, corporate partners and media together with the strong offline and online movement, the campaign will work to ensure that all children will be wearing helmets every time they travel as a passenger on a motorcycle.