Six months of fighting, refugees are still arriving in Uganda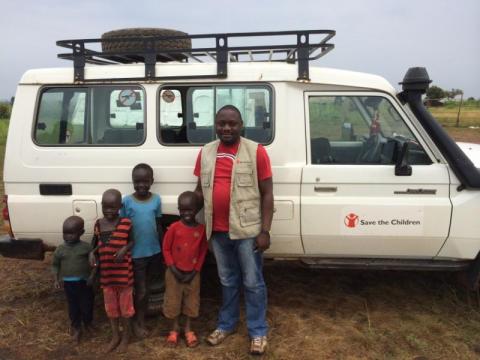 By Brendan Hurley, Humanitarian Operations Manager
Since the conflict began on 16 December 2013, the number of people who have fled South Sudan to seek refuge in neighbouring countries has increased to over 442,663.
As part of my role as Humanitarian Operations Manager I was tasked with establishing a new response team at Kiryandongo camp. 
To establish the team we had to start from scratch. We had to find a base of operations for the team and we had to source all our resources including email addresses, internet and everything else. It was starting the response from the word go.
The total number of South Sudanese refugees assisted by Save the Children is now 123,149 in the Adjumani, Arua and Kiryandongo districts of Uganda. 
Another 4,885 refugees have been registered in the capital of Kampala
'We want to have fun at school and be safe'
This is the message our response teams began hearing from children in the camps. 
And this is why the team in Kiryandongo are concentrating response efforts on Child Protection activities. 
Focusing on child protection
We are in the process of constructing four child-friendly spaces that will be built by tradesman from the camp. 
At the moment there is only one run down child-friendly space that the children have a long walk to get to.
These new child-friendly spaces will be crucial in providing some much needed normality for children who've been deeply affected by the crisis. 
Within Kiyandongo there are twenty-five thousand refugees and 65% of those are children. We quickly set up Child Protection Committees within the community in order to deal with such a huge number of vulnerable children.
Separated children
When we arrived it also became clear that there were large numbers of separated children in the camp. 
So our response team began undertaking rapid family tracing and reunification which involves using a smart phone application to take photos of children and register them on a database that is cross-checked with other organisations. 
There have been some success stories in other parts of the camp and we hope to have our own to share soon.
'These children have little or no clothes and food'
This is the message from our staff on the ground. As part of our assistance package we plan to work with partners within the camp to provide basic items such as blankets, buckets and clothing.
Influx of 300,000 refugees by the end of the year
Save the Children has developed a regional contingency plan for the influx of "most likely" 150,000 refugees by the end of the year. 
I have no doubt we are making a difference with our response but we need to be on the front foot and get the message out to the media in order to secure more funding and meet these additional needs. 
Like anyone else, all the people in the camps want is protection and education for their children.