Thousands of children face early marriage and child labour as education crisis takes hold among Afghan children repatriated from Pakistan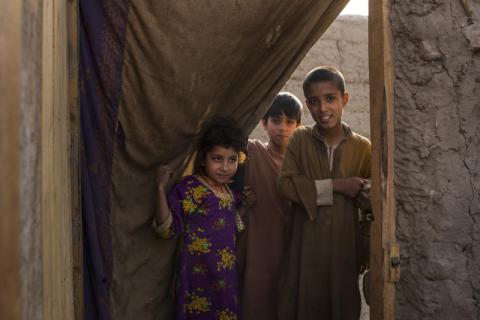 Nearly half of returnee children out of school while mass return mounts pressure on health services, food and water supplies
New data from Save the Children reveals an alarming education crisis in Afghanistan, as 3,000 Afghans are repatriated daily from Pakistan, following a tightening in regulations by Pakistani authorities.
More than 70 percent of returnee parents and community leaders who took part in an education survey compiled by the aid organisation said early marriage and child labour were major risks faced by repatriated children currently not in school.
With lack of documentation, money and access identified as major barriers for schoolchildren, parents who are facing poverty often feel the only stable choice they can make is to arrange a marriage for their child or enter them into the workforce early.
"Part of the problem is that many repatriated families left stable jobs and lives in Pakistan and are now watching the few savings they have dwindle away knowing they have little prospect of income.  Many are living out in the open, or in tents, so have no real semblance of shelter let alone security, said Ana Locsin, Save the Children Country Director in Afghanistan.
"They often feel they have little choice but to send their child to find work or to marry off their daughters."
Almost half of returnee children are not currently enrolled in school, according to the data, which was compiled through hundreds of in-depth interviews with returnee parents and community leaders.
Child marriage was the most common risk to children not attending school, the data identified, followed by child labour, then neglect or exploitation. About a third of survey respondents felt that land mines or unexploded devices could impact children who aren't attending school, while one in six identified recruitment into armed forces or groups as a likely risk.
"Unless we can deal with these issues swiftly, a large number of Afghan children who've just had their lives uprooted could find themselves missing out on their education entirely. The longer they are away from the classroom, the less likely they will ever go back," Ms Locsin said.
"The population of Nangarhar is exploding and the health system is under enormous pressure. It's only set to get worse as more Afghans are forced back from Pakistan."
More than 610,000 Afghans have already returned from Pakistan this year alone, with the majority planning to stay in the more temperate border province of Nangarhar, at least until the end of winter. Hundreds of thousands more Afghans are expected to repatriate in the coming months.
"It's extremely concerning to see tens of thousands of people sleeping out in the open, in tents or in damp, overcrowded shelters that don't meet minimum emergency shelter standards. These are families with young children and babies who now face plummeting winter temperatures that are putting lives at risk."
The rapidly escalating humanitarian crisis comes amid a surge of violence across Afghanistan in 2016, a year in which more than 2,500 civilians were killed by conflict in the first nine months and over half a million were displaced.
Save the Children is supporting repatriated Afghans in Nangarhar and other provinces, distributing cash so families can buy food, water and other basic essentials.
The aid agency is aiming to reach 100,000 returnees over the next 12 months, repairing shelters, providing psychosocial support to children through special child friendly spaces, supporting children to get back to school and distributing basic household items like cooking equipment, soaps, towels and warm clothes.
Afghans have been seeking refuge in Pakistan since the Soviet war in Afghanistan in the 1980s. In 2015 UNHCR estimated there were about 1.5 million Afghans living in Pakistan.
For more information or interviews contact Zubaida Akbar in Kabul on +93 796 88 42 or Evan Schuurman in Bangkok on +66 989 725 908.
Notes to editors:
Save the Children's Rapid Assessment of Education Needs of Returnee Children was carried out between October 28, 2016 and November 8, 2016 using a combination of both qualitative and quantitative research methods and tools. The assessment was conducted in five districts (Behsoud ,Kama, Khewa, Surkhrood and Jalalabad city ) of Nangarhar province where almost 70 percent of returnees were expected to settle.
The number of sampled interviewees were identified from a population of 17,000 targeted returnee communities. The sampled population represented by parents was selected for each school around the area where returnees and IDPs were settled. The sample size was calculated using 95 percent confidence level and a margin of error of five points. Using the above formula, it was determined that the survey targets 379 interviewees representing parents of returnee communities, and a separate KIIs (Key Informant Interviews) with 50 school key informants. Each questionnaire needed 30 minutes to complete.
A total of 379 questionnaires were filled out by an equal number of respondents. The highest number of respondents were from Jalalabad City, who accounted for 29 percent of the total respondents, while the least was from Sorkhod district with 15 percent.