#UNGA70 - A transformation in health debates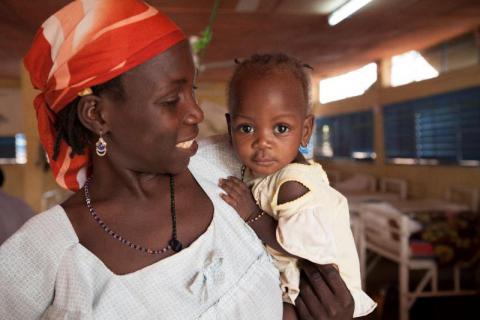 On Saturday, here in New York during the UN General Assembly, I've been invited to convene an unusually high level panel. It's not often that you get the Chancellor of Germany, the Prime Minister of Norway, the President of Ghana, the President of Liberia, and the heads of the World Health Organisation, the Global Fund and Gavi - plus Bill Gates – sitting down in the same room for one purpose.
Even more unusual is the topic: how to build strong health systems in order to achieve Universal Health Coverage. This is more typically the focus of think-tank roundtables than of heads of state and government – an issue that is often dismissed either as poorly defined, or too ambitious to implement.
The global health agenda has often suffered from fragmentation, and a silo approach to particular diseases and interventions. For a long time, HIV dominated political and policy attention, and the international community set up the Global Fund to Fight AIDS, TB & Malaria. More recently there have been major pushes on family planning, and immunisation. All of these are vitally important challenges, and it's right that energy has focused on the tools, medicines and procedures needed to tackle them.
However, the risk is that these tools cannot get to the people who need them unless there is a health system which can reach everyone, regardless of who they are, or where they live. This weekend, governments are adopting a new framework for ending poverty and protecting the planet, the Sustainable Development Goals. Alongside SDG targets to end preventable child and maternal deaths, tackle non-communicable diseases and ensure access to immunization, and sexual & reproductive health services, target 3.8  - establishing Universal Health Coverage with financial risk protection – may turn out to be among the most transformative. For many of us, being in reach of a doctor, nurse or midwife and getting the care we need is something taken for granted. But for hundreds of millions of children and their families, essential health care is often an unaffordable or inaccessible luxury.
During the Ebola crisis, we saw that underfunded, fragmented and understaffed health services can be quickly overwhelmed, and allow an outbreak to escalate into an epidemic. This spurred Chancellor Merkel to put health systems for all on the G7 agenda in Germany, and it will be good to see the commitment they make towards meeting this challenge. Fifteen years of supporting health projects convinced Bill Gates that he had to give his backing to health systems which can deliver essential primary care services for all. At the meeting, the Bill & Melinda Gates Foundation, in partnership with the World Bank and WHO, are launching the Primary Health Care Performance Initiative, a tool to allow us to gauge the extent to which countries are achieving health care access for their populations.
These are valuable initiatives, and have created a new buzz and energy around the global health agenda. But their greatest value may be the global impetus it gives governments to take on the challenge of healthcare for all.
Universal Health Coverage has been criticised as unaffordable and unrealistic. But we have to ask ourselves what the cost is of continuing to allow millions of people to live without essential health care. If we're serious about ending preventable deaths, and increasing people's ability to lead healthy lives, we have no choice but to invest in a future where everyone's right to essential health care is realised.