Corporate Engagement Centre in Singapore
Creating strategic business partnerships
Who we are: Save the Children's Corporate Engagement Centre focuses on developing ground-breaking global partnerships with companies doing business in Singapore and across Asia. These partnerships will leverage the knowledge, skills, financial resources and business expertise of multi-national and local companies to make transformational and sustainable change for children.
What we do: We build programmes that make a real difference to children's lives whilst simultaneously contributing to positive long-term business outcomes for our partners. We know from experience that such partnerships make significant and lasting impact. Local communities are strengthened, lives are saved and children can look forward to a brighter future.  While doing good, our corporate partners can gain new market and consumer insights, brand visibility, and a more engaged workforce.
How we work: The Corporate Engagement Centre will harness the power of the private sector and design solutions to challenges faced by some of the world's most vulnerable children. It will provide an opportunity for companies to leverage Save the Children's networks, experience of working with communities and knowledge around building impactful partnerships to advance and co-create product and business model innovations, marketing initiatives, employee engagement and Corporate Social Responsibility initiatives. 
Collaboration with new and existing partners across the Save the Children movement: The Corporate Engagement Centre team is well placed to coordinate with global Save the Children technical advisers and strategists , enabling us to build impactful and mutually beneficial partnerships with businesses in Asia.
We work with companies to: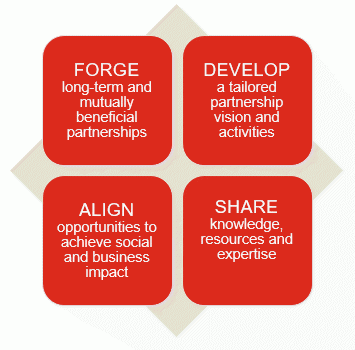 Save the Children is ambitious in wanting to save more children's lives, and to give more children the chance to fulfil their potential, but we know we can't do this alone. The Corporate Engagement Centre enables us to collaborate with a wide range of businesses, harnessing their skills and expertise to build partnerships that can make a real difference to the lives of some of most vulnerable children across Asia and globally. It will pioneer how the private sector and NGOs can work together in the region to accelerate change for children."
Caroline Whatley, Head, Corporate Engagement Centre
 Contact us
We would be happy to discuss how we can explore opportunities to collaborate. Please email the Corporate Engagement Centre: corporate.singapore@savethechildren.org