The EU Office
Our Priorities | Blogs, FaceBook & Social Media | News | Publications Library | Contact Us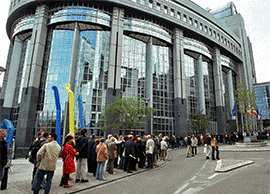 By 2012, the EU office had worked to achieve child friendly EU policy, programmes and legislation for 20 years. In these past 20 years, Save the Children has contributed to substantial progress in terms of EU commitments and action towards children's rights, resulting in concrete and positive change for children across the globe.
The EU is an important global actor with substantial political and financial impact on the lives of children in Europe and globally. The EU is unique in that it can pass law, and has mechanisms to enforce that law within its borders. EU internal policy and legislation therefore have direct bearing on EU Member States' national policy and legislation that affect children. The EU has direct impact on the situation of children who are vulnerable, marginalised, socially excluded and/or affected by poverty in the EU. The EU is the largest donor of development aid in the world and engages heavily in humanitarian aid. It is an influential actor in international fora such as the United Nations (UN) and the G20 and in international debates on climate change, trade and energy. The EU plays an important role in peace-building and promoting the rule of law in conflict-affected countries and engages in Human Rights Dialogues with countries across the globe.
Children are affected by EU action, also when it is not specifically directed at them, for instance agriculture, environment and trade policies.
The EU Office
The EU Office's mission is to advocate children's rights with the EU Institutions and Member States, so that the EU maximises its positive impact on children across the globe and protects children's rights in all its action. Save the Children's strong presence in Brussels and in many of the Member States allows us to influence the EU at the centres of policy and decision making across Europe.
Advocacy for change
The EU Office focuses on the EU's internal and external affairs to achieve positive change in our priority areas, such as the Every One campaign on child survival and health, child protection in emergencies, migration and child rights governance. Our advocacy draws on the extensive expertise of Save the Children national organisations and programmes. We also work together with other organisations, including United Nations bodies and NGOs and enjoy pro bono support from major international law firms based in Brussels.
Alongside the Advocacy Team in Brussels, our Partnership Management Team works to strengthen the coordination of SC's fundraising efforts towards EU by establishing a broad-ranging partnership with both EuropeAid and ECHO. The partnership management team represents all Save the Children members that raise EU funds.

This website has been produced with the financial support of the European Commission. The contents of this website are a sole responsibility of Save the Children and can in no way be taken to reflect the views of the European Commission.