The Geneva Office
Our Priorities in Geneva | Achieving Change for Children | News | Staff | Publications | Contact Us
The Geneva Office has a major focus on Advocacy, and more recently on humanitarian operations.
We use our presence in this major international capital to bring about change for children in support of Save the Children's main global priority areas such as the EVERY ONE campaign on child survival and health and Emergencies. We aim to strengthen global Governance mechanisms, to promote Child Protection and to ensure children have access to other basic rights such as Education.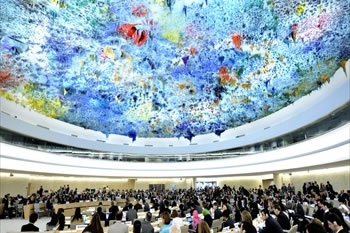 In Geneva, Save the Children is recognized as an authoritative voice for children with extensive experience based on our decades of securing real change for children around the world.
The main goal of the Geneva Advocacy function is to create positive change for children by advocating key child rights issues and influencing policy and practice at the global level. This is done by working with and advocating to the United Nations bodies, member states and other organizations based in Geneva. We do this by linking it to impact for children in the field at community level, through initiatives such as Local to Global, amplifying their voices to the international stage, and to advocacy at national level.
Alongside the advocacy staff, other colleagues work from the Geneva Office in leading roles in Save the Children's humanitarian operational response, including our co-leadership of the Global Education Cluster, and on child protection advocacy. Colleagues from around the world are frequent visitors – part of Save the Children's international voice for children in the key processes and debates taking place in Geneva.
History
Save the Children's link with Geneva goes back to the early 20th century when our founder Eglantyne Jebb was here. She drafted the Declaration of the Rights of the Child, which was adopted in 1924, and she is buried in the city. The current Office was established in 2002 by Save the Children Sweden and now reports to Save the Children International and works to support our global priority areas in bringing about change for children. Its core advocacy work is funded by Save the Children member organizations, project-funding from donors, and support in kind from members such as Save the Children Switzerland.