Cerca de dos millones de niños y niñas han sido afectados por el terremoto en Nepal. Save the Children comienza la distribución de ayuda humanitaria.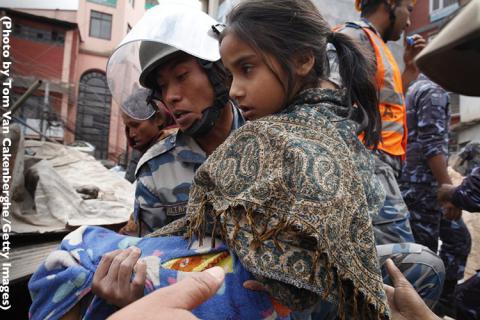 Nepal se ha visto azotado por un terremoto de 7.9 grados de magnitud y una réplica posterior de 6.7. Esto ha provocado más de 3.500 muertes, más de 4.700 personas heridas y alrededor de dos millones de niñas y niños afectados, quienes necesitan atención urgente. El equipo de Save the Children ha comenzado la distribución de la ayuda que tanto se necesita en el Valle de Katmandú.
Miles de personas han pasado la noche fuera de sus casas por miedo a nuevas réplicas o porque han perdido su hogar. Es urgente poder llevar refugios temporales a los más afectados. En las zonas afectadas las noches aun son frías en este momento del año y los niños son especialmente vulnerables.
"A medida que pasa el tiempo, la enorme devastación es más visible, sabemos que las niñas y niños han sido los más afectados por este desastre", dice Roger Hodgson, Director Adjunto de Save the Children en Nepal.
Las carreteras, puentes y otras infraestructuras están muy dañadas por el terremoto, lo que hace más difícil el acceso de la ayuda humanitaria y las comunicaciones. Las réplicas suponen un peligro importante por dos motivos principales: las bajas y heridos que puedan suponer, y el impacto psicológico en la comunidad que ya ha tenido que vivir el terror de los temblores y la destrucción de su ciudad.
"A pesar de las dificultades para llegar a algunas de las zonas más afectadas, Save the Children está movilizando el equipo necesario para ayudar a estos niños y sus familias. Ayudar a los más afectados por este desastre seguirá siendo nuestra principal prioridad en los próximos días, semanas y meses."
Para ayudar a los desplazados por el terremoto, la organización ha comenzado la entrega de 136 lonas en Katmandú, mientras que en el distrito de Bhaktapur entregó 180 paquetes para bebés - que incluyen ropa, mantas y jabón de los niños.
Save the Children también comenzó a distribuir muchos más artículos en algunas de las regiones más afectadas fuera del Valle de Katmandú, incluyendo distritos Gorkha y Sindhupalchowk.
Save the Children ha puesto en marcha una campaña de recaudación de fondos con el objetivo de recaudar 50 millones de dólares para ayudar con todo lo que se requiera.
Nota para editores
Save the Children trabaja en Nepal desde 1976. Nuestro trabajo en el país se centra en educación, especialmente en desarrollo temprano y educación primaria, así como servicios básicos de salud, incluyendo salud materno infantil y prevención y cuidado de VIH/SIDA. Trabajamos en 63 distritos en Nepal.