Our humanitarian programme in Ukraine
In April 2014, fighting broke out between armed groups and government forces in the Donbas region of Eastern Ukraine. As the conflict intensified and spread, children and adults were forced to flee their homes. So far, there are almost 1.5 million internally displaced people registered and 3.2 million children and adults in need of humanitarian assistance.
Providing essential support for vulnerable children and their families
Save the Children launched a direct emergency response in Ukraine in 2014 as a result of the crisis. We now have a team of more than 60 people working around the clock to support vulnerable children and their families.
We are delivering essential humanitarian aid including blankets, warm clothees and hygiene kits, and providing cash grants for families so they can repair their homes, pay rent or buy other important items such as medicine. Our specialist teams are also helping children access education and setting up centres to help children overcome their experiences through psychosocial support and play therapy.
Save the Children has so far reached more than 89,000 children and adults with essential support in government and non-government controlled areas in Ukraine.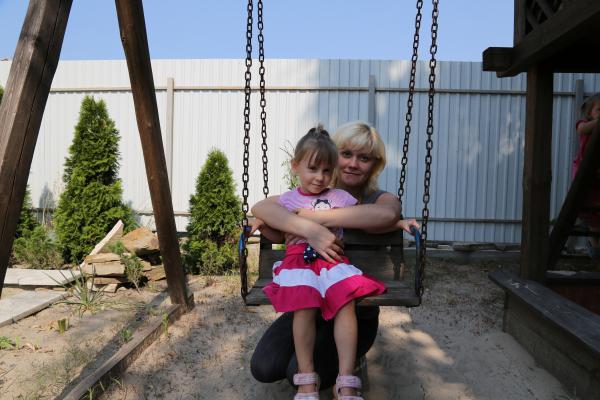 Shelter, cash grants and livelihoods  
The crisis in Ukraine has forced millions of people to flee their homes. Families often left with only a few possessions and have found it difficult to find employment in their new locations. Save the Children has given out 6,000 cash grants to help families get through the harsh winter and buy food, warm clothes, medicine and pay rent. Cash grants enable people to choose the support they need in a dignified way. In summer 2015, 775 households received flexible grants to cover shelter repairs, rent or utilities, and 800 households received unconditional cash grants. 
Through our cash for work program we have engaged more than 670 people in repairs and the reconstruction of social infrastructure such as schools and kindergartens.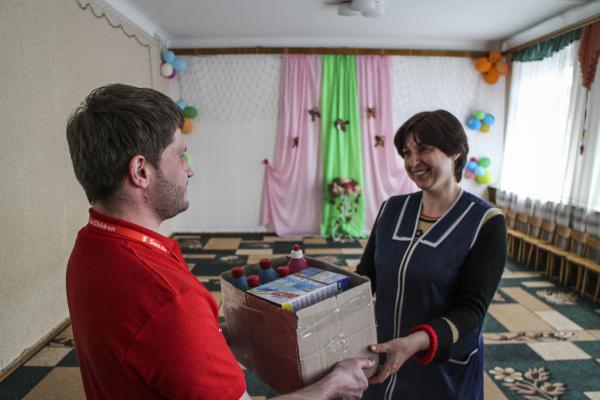 So far we have reached more than 56,000 people through our shelter and livelihoods programmes.
Protecting children and helping them recover
Humanitarian crises, such as war and conflict, have terrible repercussions for children. Many children in Ukraine have witnessed violence, been displaced from their homes and may be suffering from the loss of their loved ones.
We run child friendly spaces to provide displaced children with safe and caring environments where they can play, learn and recover from their experiences. We also run appreciate their identity and accept others. It also allows our staff to identify any children who are at risk and need further assistance.
We are also delivering positive parenting training sessions to parents and caregivers so they can help their children adapt to the new environment, protect them from harm and promote their resilience. So far we have reached more than 9,000 people through our child protection programmes.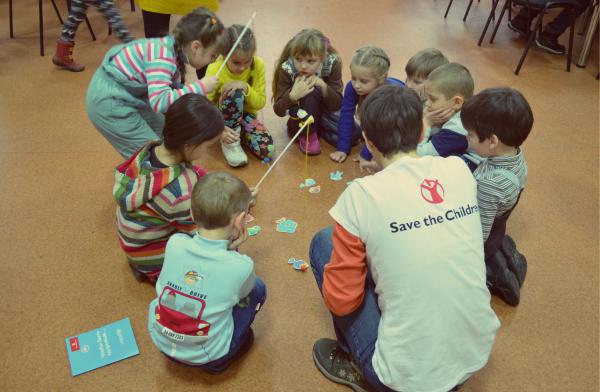 Helping children go back to school
Save the Children is working hard to improve access to quality education for internally displaced children in Ukraine. We know the best thing for children who have experienced distressing events is for them to return to school as soon as possible to help them recover and adjust to their new life.
We have distributed more than 7,000 back-to-school kits consisting of notebooks and stationery for children affected by the crisis, and are running accelerated learning programmes in 5 schools for displaced children who have fallen behind after missing school as a result of being displaced.
We have trained more than 160 school psychologists and teachers on how to provide psychosocial support to affected children. We provide safe and supportive spaces for children to learn and play in 5 pre-school early childhood care and development units. So far we have reached more than 30,000 children and adults through our education programmes.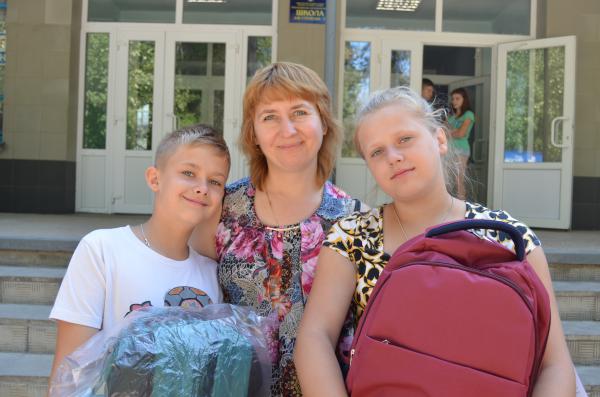 Contact us
Address:10 Baumana St., office 147-a, Dnipropetrovsk 49000, POB 228
Phone: +38 096 753 5368
Facebook: facebook.com/savethechildrenresponseinukraine
Twitte: @Savechildrenukr