World Refugee Day

  Watch video of Syria´s children from Jordan #SyriaCrisis             Follow us on Twitter
CHILDREN ARE DYING BY THE ROADSIDE AS GROWING NUMBERS OF DESPERATE FAMILIES FLEE SYRIA´S BLOODY CIVIL WAR
Save the Children spoke to civilians who have recently fled the country who told of a 'death journey' on which children were separated from their parents, with at least one 12 year-old boy being left behind to die on his own after his mother was killed and he became too weak to continue the journey due to shrapnel wounds.
Another family reported the death of a baby who died in the heat after being separated from her mother as they fled across the border. The charity also received reports of children being targeted by sniper fire, forced to take flight under heavy shelling and driven to licking moisture from grass and leaves in a desperate attempt to stave off thirst in the searing heat.
The reports, gathered by Save the Children ahead of World Refugee Day, paint a disturbing picture of the desperation and horror faced by Syrian children as they seek to escape the violence in the country. Some of the most graphic reports include:
A 12 year-old boy – whose mother had been shot - being left to bleed to death with insect-eaten shrapnel wounds as the group he was with were forced to abandon him and run for their lives
A baby separated from her mother dying in the heat due to a lack of milk
Children being trampled underfoot as desperate civilians run for their lives under shell fire
A 13 year-old girl being shot through her thigh during an escape attempt
A boy of 16 beaten with sticks and displaying signs of physical torture after 15 days' detention and interrogation
A 12 year-old boy having his throat cut by personnel manning a checkpoint
There are currently 1.6 million people from Syria in need of refugee assistance in Jordan, Turkey, Lebanon, Iraq and Egypt. Syria's one millionth refugee only crossed the border in March – two full years after the crisis took hold. The number of registered refugees has increased 17-fold in the past 12 months and the two millionth refugee is expected to arrive this summer.
The number of people in need of refugee assistance from Syria has increased on average by close to a third each month for the past year. Were that trend to continue, Syria would be emptied of civilians by as early as April 2014.
Save the Children´s Humanitarian Director, Mike Penrose, said: "The horrific stories we've gathered from refugees over the past few days show how children are bearing the brunt of the Syrian conflict. Children in Syria are being killed, tortured, recruited as soldiers and abused in horrifying numbers. Children are being separated from their parents, and some are dying alone at the roadside from their wounds.
"Meanwhile conditions are proving too much for the weakest and most vulnerable babies. Millions of children are beyond the reach of humanitarian aid and have no option but to flee. Over half of all Syrian refugees are children and behind the frankly terrifying statistics of civilians fleeing their country are millions of individual tragedies.
Ultimately the only solution to this crisis is an end to the violence in Syria, but in the meantime, we urgently need to be able to reach those trapped inside Syria. Unless we can, I am afraid we will hear more horrifying stories of children forced into ever more desperate circumstances."
Children inside Syria are especially vulnerable to the worst atrocities of the crisis. Those who manage to escape often lack access to schools and safe places to play and are frequently living in cramped, overcrowded conditions.
As well as working with refugee communities in Lebanon, Jordan and Iraq, Save the Children is working across Syria to bring vital humanitarian aid to the most vulnerable communities. However, due to restrictions posed by a lack of access, it is currently only reaching 10 percent of those people we aim to inside the country itself.
For further inquiries, including case studies of refugees and interviews with Save the Children spokespeople in Lebanon and London, please call our media office on: +44 (0)20 7012 6841 or email: p.galey@savethechildren.org.uk or l.pollard@savethechildren.org.uk
CHILDREN'S EXPERIENCES ARE THE UNTOLD OUTRAGE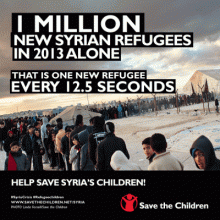 For more than two years Syria's children have endured appalling suffering. According to UNHCR 1,631,981 people have now fled Syria. More than 1 million of them fled in 2013 alone. In the 162 days that passed since 1 January an average of close to 6,500 people fled every single day.
Children make up 51.5% of the refugee population, meaning there are an estimated 840,000 refugee children in the region.
Save the Children has worked in the Middle East for decades. In July 2012 we launched an ambitious emergency appeal to respond to the growing refugee crisis in the region and are now aiming to raise 161,000,000 USD for our humanitarian interventions in Jordan, Lebanon, Iraq and Syria, aiming to reach at least 1,255,000 people.
See Save the Children's Syria Crisis Regional dasboard with key facts,urgent needs and details of Save the Children's response by country and sector.