Philippines: Homes flattened and trees uprooted in trail of destruction left by "super" Typhoon Mangkhut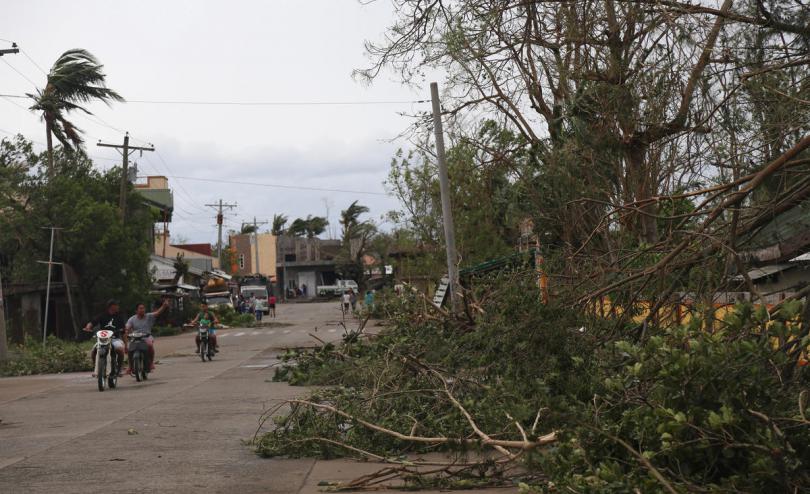 Houses have been destroyed, power poles bent over and trees uprooted from the ground as early reports of the destruction caused by Typhoon Mangkhut emerge.
The category 5 "super" typhoon made landfall in the northeastern corner of the Philippines island of Luzon early this morning, bringing winds of up to 287km/h.
More than 6 million people were in the path of the typhoon. Mass evacuations took place in dozens of at-risk communities, particularly those in low-lying, landslide-prone and coastal areas.
Save the Children's Jerome Balinton is part of the organisation's emergency team deployed to Santiago City before the storm hit, and he's been surveying the damage in northeastern Luzon.
"The further north we travelled the more extensive the damage, particularly in Cagayan province. House after house had been flattened or badly damaged, with roofs or walls missing. Large trees have been uprooted from the ground and power poles bent right over, leaving power lines strewn across the ground." Mr Balinton said from Tuguegarao City in Cagayan.
"We're especially concerned about the millions of children who faced the typhoon. Many will have lost their homes. Some might not be able to return to school because their classrooms were badly damaged. While we are working around the clock to provide immediate life-saving support, these children will most certainly need extra care and support in the coming days, weeks and months."
"Families have told us of being extremely frightened as the storm passed. They said they couldn't go outside for fear of violent winds and heavy rainfall. Many communities in this part of the country rely heavily on farming as their main source of livelihood, however so many crops like corn, rice and vegetables have been completely destroyed and are under water.
"In some areas where the eye of the storm hit, it seems as if nothing has been left undamaged. It's clear that a significant humanitarian response will be needed."
Save the Children deployed a five-member emergency team to Santiago City ahead of the storm's arrival, and has pre-positioned stocks of relief items. A second response team of ten is preparing travel to northern Luzon tomorrow.
The aid agency is preparing to send trucks of aid to northeast Luzon on Sunday, ready for distribution in the coming days. This aid includes hygiene kits, household items and plastic sheeting for shelter.
"We are still in the early stages of assessing the impact, however a picture of devastation is emerging in some areas. Many communities are still inaccessible because roads are blocked and phone lines are down, so we don't know how badly impacted they were. We are particularly concerned about some of the towns in the mountains of Cagayan.
"It's been some years since we've seen a typhoon of this magnitude tear across the country. We're doing everything possible to reach those who've been hit hardest," Mr Balinton said.
The Government of the Philippines issued its highest level of alert, and is leading the humanitarian response. Save the Children has previously responded to typhoons and other disasters in the Philippines, including Typhoon Haiyan in 2013, Typhoon Koppu in 2015 and Typhoon Haima in 2016.
For interview requests please contact Estrella Torres in Manila on +63 917 301 1240 or the out of hours UK media line +44 7831 650 409
Notes to editor:
- The Global Disaster Alert and Coordination System issued 'red alert' for the typhoon on Wednesday, warning that more than 6 million people in the Philippines faced typhoon conditions of at least category 1 level. It recorded a maximum wind speed of 287km/h.