Save the Children calls for full investigation into violations of children's rights in Ukraine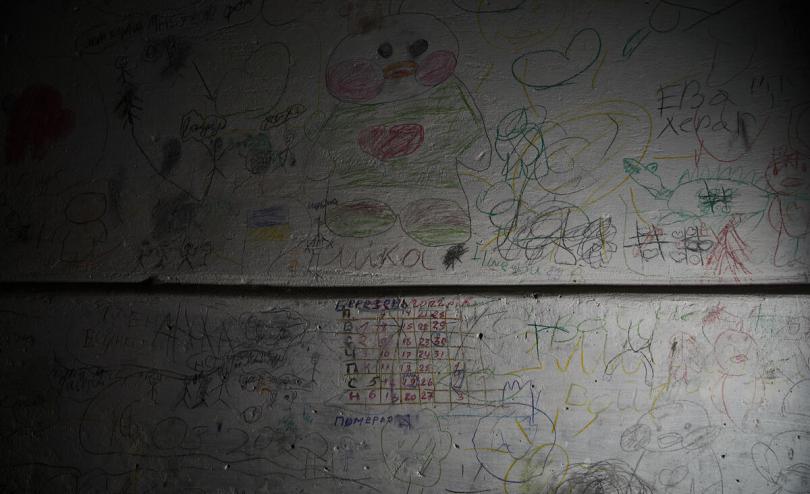 Photo of children's drawing and a calendar marking the days of March 2022, the time when the children were confined to this school basement mentioned in the Commission of Inquiry report on Ukraine. Photo on 3 December 2022 by Oleksandr Khomenko / Save the Children.
KYIV, 17 March 2023 — Save the Children has called for a full investigation after an independent UN commission found numerous violations of international law committed in Ukraine including the forced transfers and deportation of children within and outside of Ukraine.
The UN Commission of Inquiry (COI) on Ukraine in its March 15 report listed violations committed in Ukraine including those during the hostilities, summary executions, attacks against civilians on the move, unlawful confinement, torture and inhuman treatment, sexual and gender-based violence, and unlawful attacks on territory controlled by Ukraine and by the Russian Federation.
Additionally, the COI examined the transfer of 164 children aged from four to 18 years from the Donetsk, Kharkiv and Kherson regions, who had either lost their parents as a result of war, or lost contact with them during hostilities and concluded this violated international humanitarian law and amounted to a war crime.
The report also documented the devastating toll the war has had on families across Ukraine.
More than 21,000 people have been killed or injured since 24 February 2022, including nearly 1,500 child deaths and casualties, although the UN believes the actual figures are much higher. The armed conflict has forced over 5 million people in Ukraine from their homes, and currently nearly 19 million people in the country need humanitarian assistance.
Many grave violations against children are outlined in the report, including the summary execution of a 14-year-old boy, cases of sexual and gender-based violence in children as young as 4, and a case of unlawful confinement where detainees, including children, were kept in a school basement alongside dead bodies of the elderly who died in confinement.
Sonia Khush, Save the Children's Ukraine Country Director, said:
"No region of Ukraine has been spared by this brutal war. This report highlights the horrific conditions that children and families have had to endure in the past year.
"Save the Children is alarmed to hear that many children have been forcibly deported and transferred, and that many have lost contact with their families and loved ones. It is highly distressing for a child to be taken out of the country and culture they are familiar with. Under international law, every measure must be made to trace and unite families that have been torn apart during hostilities.
"Operating under difficult conditions with limited access, the COI has highlighted to an impressive degree issues we have been struggling with ourselves, including discrepancy in numbers and overly political response to the situation in Ukraine. We still need a separate investigation that looks at the full spectrum of violations of children rights."
Save the Children is urging the international community to have a comprehensive approach to accountability, including judicial but also the victims' right to truth, reparation, and non-repetition, and is calling for a comprehensive investigation that focuses on grave and other violations of children's rights.
Save the children urges the involvement of third-party diplomacy to play a bigger role in humanitarian access and issues related to child protection directly, as the deeply politicised context in and around Ukraine continues to hamper the response efforts for those who need it the most.
ENDS
***************************************************************************************************************
For further enquiries please contact Nina.Teggarty@savethechildren.org
Our media out of hours (BST) contact is media@savethechildren.org.uk / +44(0)7831 650409
Please also check our Twitter account @Save_GlobalNews for news alerts, quotes, statements and location Vlogs.