UKRAINE: COWS AND CHICKENS OFFER A LIFELINE TO FRONTLINE FAMILIES LIVING OFF THE LAND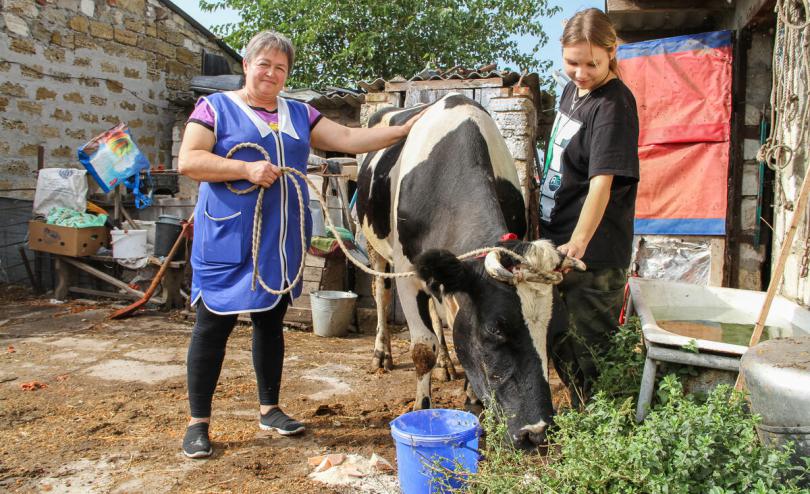 KYIV, 6 November 2023 – Rural families in the southern Mykolaiv region of Ukraine are recovering from war-induced losses with new members of the family: cows and chickens.
Livestock distributed by Save the Children are providing some families with a source of income while people rebuild both their homes and their lives.
Families in Ukraine's countryside have traditionally been largely self-sufficient and relied on farming and livestock to feed themselves as well as to generate income. According to a UN report, 72% of rural households across Ukraine are involved in agricultural production, with 63% relying on their own produce in frontline regions of the country.
"A lot of people used to have cattle here. People survived from this. A lot can be made – butter and cottage cheese. You can cook pancakes if you have milk. What is not consumed might be sold," said Olha*, a leader of a village in southern Mykolaiv region where two in five families used to keep livestock.
"Shelling was so heavy that we had to flee as fast as we could. Some were able to let the cows go free, others were not. Later we heard that many of the freed cows drowned at the pond where they went to drink."
Research suggests that since the escalation of war in February 2022, damage to Ukraine's agricultural sector has totalled an estimated $8.7 billion which includes the loss of 215,000 cows, 760,000 pigs and 15.1 million poultry. Agriculture provides employment for about 14% of Ukraine's population with agricultural products being the country's most important exports.
As a result of this damage, about 40% of households in frontline areas of the country have been forced to reduce or completely abandon agriculture. Additionally, drought driven by climate change has meant loss of crops even in private family gardens.
Despite warnings for their safety, 15-year-old Lana* and her family returned to their home village multiple times after they had fled to Mykolaiv, just to milk and feed their cows. But eventually, the constant shelling forced the family to seek safety in Western Ukraine.
When they returned home eight months later, there was no trace of their herd of cows. Mice and stray dogs had taken over their home. But Lana's* mother was able to buy several new cows with cash provided by aid organisations, and they have recently received another cow from Save the Children.
"The new one's name is Lucia – mother called her that, but I call her Zoriana [Ukrainian for 'star-ridden']. I feed the cows, I let them out in the morning, and I bring them in at night. I love them, I kiss them and bring them apples and pears as a treat. They are dear to me," Lana* said.
Lana's* aunt Oksana*, 54, said: "Now there are no salaries and no work in the village. The cows help us survive. There's no need to expect anything from anyone. We sell the milk at the market, we make cheese, and take it to the city [to sell]. We lived like this before the war, and we are now slowly getting back to our feet."
Vadym*, 48, lives in a neighbouring village with his wife and their son Danylo*, 14. The family lives in a one-room modular house in the garden of their once flourishing home, which was destroyed by shelling. The family used to work in the surrounding fields which are now filled with landmines, making them off-limits.
As there are now few opportunities to earn an income in the village, Vadym* relies heavily on humanitarian assistance, both to restore the house and to feed his family.
"We used to earn a living growing vegetable and grains. We also had livestock – cows and pigs. The war took everything away. Now we have nothing. We only have one cow given to us by [Save the Children]", said Vadym*, one of 10 people in his small village who received cattle from Save the Children.
As an inaugural part of its livelihoods programme, Save the Children has distributed cows and chicken to 100 families in the Mykolaiv region who lost their livestock and whose households were severely damaged in the war.
Sonia Khush, Country Director for Save the Children in Ukraine, said:
"This war has upended the lives of millions across Ukraine. Children and their families in frontline areas had to flee raging combat and leave everything behind. Some are now finally able to return, only to see their homes reduced to rubble, fields sowed with landmines, and farm animals killed in shelling. All that used to give life to rural communities is now gone.
"It is children who suffer the most when families struggle financially. They used to rely on food they produce themselves, and now cannot produce or afford it. The cows and chickens also give children and families some semblance of normalcy and a return to traditional self-sufficiency."
Save the Children calls on all warring parties to refrain from the use of explosive weapons, in populated areas and account for impact on civilian populations while carrying out military activities. Full and unhindered humanitarian access to families caught up in crisis must be ensured as it is essential for assisting and protecting children in war-affected areas.
Save the Children has been working in Ukraine since 2014 and have considerably scaled up our operations since the war escalated in February 2022. We are working closely with multiple partners to provide life-saving assistance such as food and water, cash transfers, and safe spaces, to make sure children and families impacted by this crisis have the support they need.
ENDS
*names changed to protect identity
For more information please contact:
Please also check our Twitter account @Save_GlobalNews for news alerts, quotes, statements and location Vlogs.