The time for roundtables is over - Ethiopia needs action now
A blog by John Graham,Country Director, Save the Children Ethiopia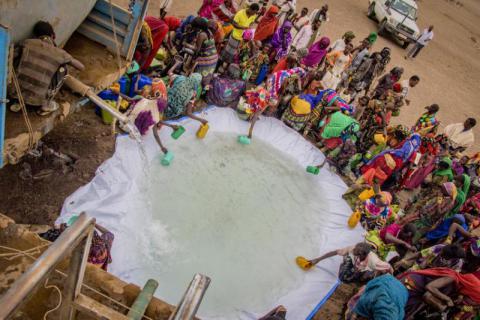 People from Denkarone and even surrounding areas fill their containers with precious water delivered by Save the Children
With most world leaders having now departed drought-ridden Ethiopia following the African Union meeting, the time for roundtables is over.
Though the summit brought strong commitments from many foreign governments and an urgent plea from UN Secretary General Ban Ki-moon, the global appeal for Ethiopia's drought response – the nation's worst drought in 50 years – is still more than US$750 million short.
And because of the time it takes for food to arrive in-country, March is the latest pledges can be made to ensure food is distributed this 'hungry season', which runs until August.
Now is the time for action, and nowhere is this clearer than 500km north of Addis Ababa where world leaders held their meeting. 
Here you can find one-year-old Ardi lying peacefully in his grandmother's arms as she sways him back and forth on the bed, rocking him grandson to sleep. Outside the sun beats down on the barren pastoral lands of Afar, in Ethiopia's arid northeast.
Here the signs of drought are everywhere – trees and shrubs lay dead on the ground while plumes of dust blow with the hot winds like a swarm of bees. Animals wander around with gaunt faces and shrunken bellies, and locals talk incessantly about the likelihood of rain.
Many schools have closed too – some because they've run out of safe drinking water, others simply don't have the students to teach anymore because families are choosing to pack up their lives and livestock and go off literally in search of greener pastures.
This is Ardi's second time admitted to Dubti Hospital, both occasions for severe acute malnutrition, an illness set to affect at least 400,000 children in Ethiopia this year because of the drought.
Ardi's mother and grandmother travelled an arduous 180km with him to the hospital, where the doctors are implementing a common feeding program including 'Plumpynut', a high energy peanut paste that helps malnourished children rapidly gain weight.
Already Ardi is showing signs of improvement – his eyes are more alert, his skin more taut and his weight increasing. Soon he will be able to return home.
But without the right support, he will be at risk of not getting enough nutritious foods and needing a third trip to Dubti.
In Ethiopia more than 10 million people currently rely on food aid while two million need nutrition support.
The coming months are critical for agricultural or pastoral families like Ardi's. The rains must come or the situation will get even worse.
If they don't, it will be four failed rainy seasons in a row in some parts – crippling for a country in which 78 percent of the population relies on rain-fed agriculture or pastoralism for a living.
The impact of the drought is being felt in every region of Ethiopia. Lowland areas like Afar are bearing the brunt of the 450,000 livestock that have perished from a lack of food and water.
As a result, thousands of families have lost their supply of nutritious milk and a vital commodity for trade.
Those whose animals are still alive are often forced to sell them at a significantly reduced price so they can afford food for their families, thus losing their livelihoods in one heart-breaking transaction.
Meanwhile in the highlands, entire farming communities have suffered total crop failure, taking away their primary source of food.
Now they are forced to gamble on when to plant their seeds, if they have any left. If they plant too early and the rains don't come, the seeds will be wasted. If they plant too late, they might miss the rains entirely, should they eventuate.
Save the Children is doing all it can, already reaching more than 2.1million Ethiopians affected by the drought.
We are providing immediate lifesaving support like food and clean water, as well as helping build stronger, more resilient communities better able to withstand future droughts.
This global call for help couldn't come at a worse time, with massive humanitarian emergencies across the globe from Syria to South Sudan and Yemen.
As a result, Ethiopia's US$1.4billion drought appeal remains less than half funded. This simply isn't good enough.
Save the Children currently classifies just two humanitarian crises as the highest 'category 1' – Syria and Ethiopia – and we are calling on the UN and donors to treat both with the same level of urgency. 
The Government of Ethiopia has led the humanitarian response and shouldered much of the funding burden to date, committing over US$300million, while many foreign governments haven't given anything at all.
The scale of this crisis is unlike anything I've witnessed before in my 19 years in Ethiopia. It is Ethiopia's worst hunger crisis in a generation, and it is putting at risk decades of development progress. 
Progress like reducing child mortality by two thirds and halving the percentage of the population living below the poverty line.
We have the systems and technologies in place to prevent further suffering. Now is the time to act.
*Ardi's name has been changed to protect his identity.