"A Better Yemen": Why Mubarak* Volunteers for Save the Children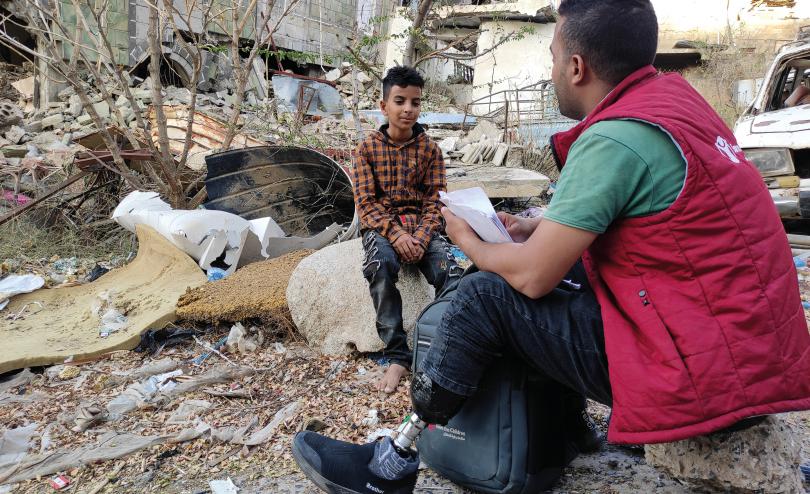 Mubarak*, 25, is a volunteer for Save the Children in Yemen. Tragically, he lost two of his brothers in the conflict. Mubarak also lost of one of his eyes and his left leg in two separate incidents. Despite all this, he continues to work with Yemeni children and strives to create a better world for them.
When we spoke to Mubarak recently, he told us his story.
"When I graduated from high school in 2013 I wanted to study economics and politics, but my dream was to become the Prime Minister." He eventually made it to university to study, but when the war started in 2015, the unrest escalated and the university had to close. "I felt so disappointed and it wasn't safe staying in Sana'a anymore. So I went back to my hometown."
In Taiz, his elder brother died in an explosion. "This incident was a very big shock for me, as I looked up to him as my father." Later, Mubarak was caught in crossfire. He lost his eye. And at the same time, his second brother died in an explosion in Taiz.
Mubarak was then in a second explosion where he lost one of his legs. "That moment, I realised that all my dreams fell apart. I wouldn't be able to move around freely let alone become the Prime Minister. I would face many other obstacles in my daily life... I was trying to help my family and others, now I was the one who needed help."
"I started walking with the help of a prosthetic limb in 2016... Despite everything that happened to me, I didn't stand still. I kept helping people in need."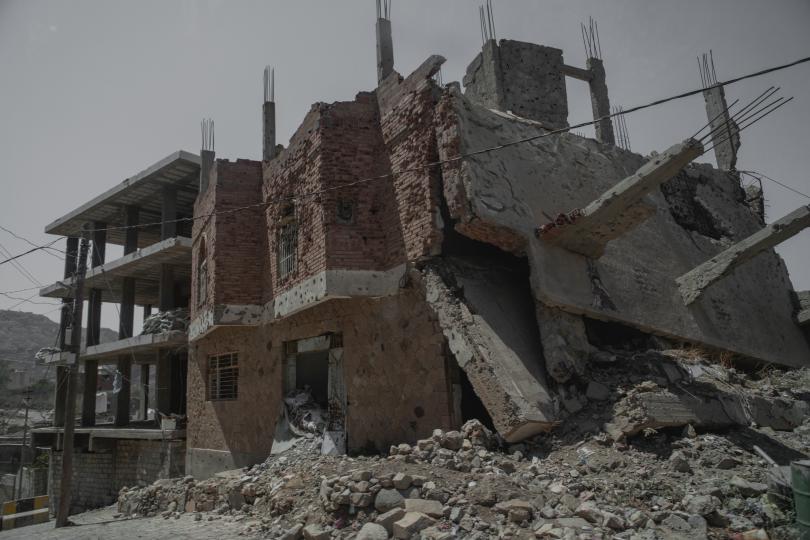 "While I was visiting the hospital for follow-ups with my doctor, I saw a child who had been shot in the chest and was getting treated in hospital. In addition to the physicians, I noticed that this child was assisted by a psychologist who was providing mental health support to the family members. This psychologist was working for a humanitarian organisation. She was very welcoming, and she explained to me that she was a social worker for Save the Children which was helping and providing assistance to children in need, including conflict victims."
Mubarak wanted to learn more, and so he signed up to volunteer, and "After some time, I got the good news!"
"I finally got the chance to become a part of the Save the Children team. I joined as case management and psychosocial support volunteer. It's the happiest thing that has happened to me in a while."
"I believe in humanitarian work. I believe in what we do in Save the Children. Seeing a positive impact on children makes me happy. It makes me forget what I have suffered. Helping children makes me see and walk again."
"My new colleagues are so welcoming, helpful and friendly. They actually encouraged me to continue my studies at the university, and within a month I will be completing the third year of my diploma in Political Science. Now, I am also planning to continue building my capacity in English next summer. I will use my language skills in order to call for the war to stop on a global level."
"Finally, I want to say that when I am alone and remember my mother's tears for my brothers deaths and my permanent disability, I smile. Because I know all these sacrifices were marked with a peaceful message - a peaceful country for children. A better Yemen for everyone."
Related articles
8 December 2023

- occupied Palestinian territory
6 December 2023

- Türkiye
4 December 2023

- occupied Palestinian territory