The Hidden Impact of the War in Ukraine on Children's Mental Health: A letter from a Psychologist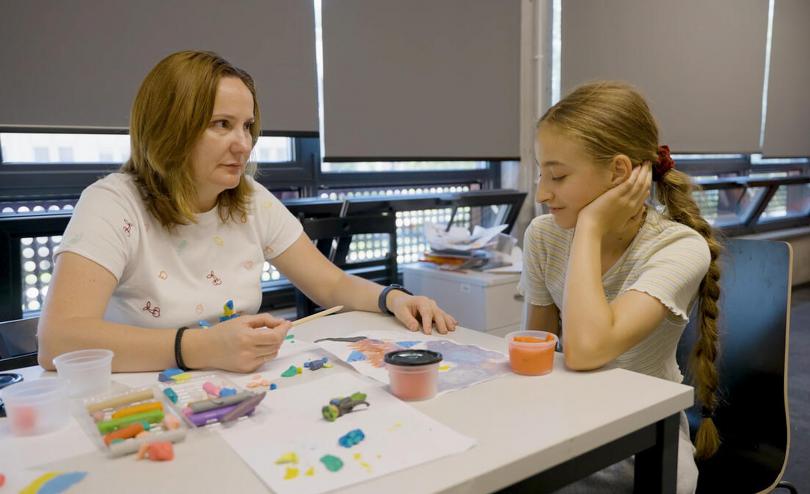 My name is Maria*, I'm a psychologist from Ukraine working with a Save the Children partner organisation in Poland.
I want to tell you about working with children who have fled war in Ukraine.
The trauma I am seeing in children is terrible. It is a very different type of trauma, hidden trauma. On the first days after the children escaped their towns in Ukraine, such as Mariupol, Izium, Dobropillia, they did not say anything at all. They just sat in silence.
There is nothing worse than the silence of children. I work with several very young boys who, when they hear certain words that remind them of the war, or that remind of their home town… they fall silent and just stare into nowhere. It is only by creating play activities with other children that I can help them to talk about their feelings. Otherwise, they are silent.
Children become trapped alone with their fear – they can't talk about it, even with their mother or father, it is not possible to tell a friend about it. But in a game with a psychologist, they can discuss it, and then it becomes more understandable and acceptable to them and they can become more open.
Supporting children to recover from the silent trauma of war is so very important because if they are not helped it can impact their lives and affect their futures. Children can become anxious and aggressive. Emotional trauma can present as physical symptoms, and worse- it can cause children to self-harm. No child should have to go through this, ever.
There are so many teachers and volunteers trying to surround these children with tenderness. And so many people across the world are wanting to help. It is so heart-warming. I am very glad that there are people who want to do this for children from Ukraine.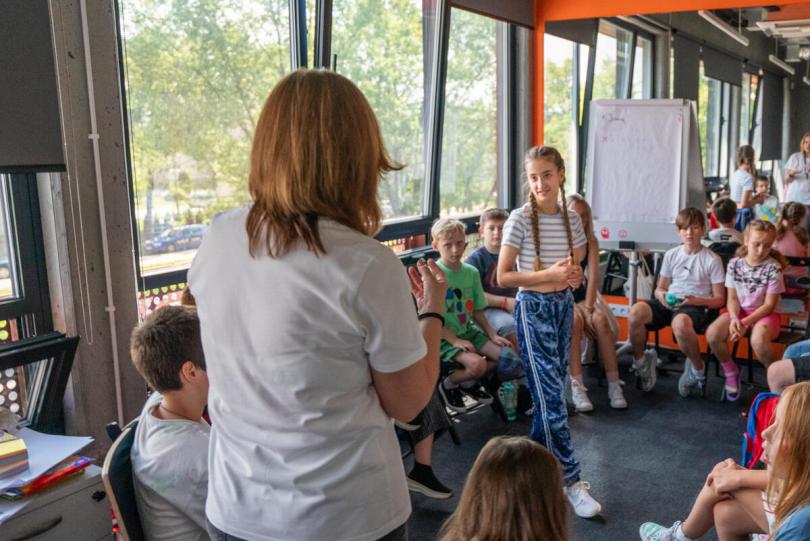 Daria*, 12, in a session with Maria* the Psychologist. Paul Wu / Save the Children
We do not talk about the trauma with the children. Instead we talk about them in a way that they can understand that they are safe now. I use special psychological games and trainings and often suggest drawing to the children, which is a projective technique. When children are silent it often easier for them to draw the situation or create images to express how they are feeling.
We then talk to the children about their drawings, and this helps them open up a little by focusing on the picture. To open up to a psychologist, to open up to teachers, and to each other, is very important. Children come to me, take my hand and say "Look, this is my drawing. Look at what it is". Above all, the warmth and attention they receive when they do talk is very valuable. Because the children see that they are important and valuable.
When I met with two teenage girls from Dobropillia, they did not speak at all. I stayed with them for longer than the session time we had and continued to sit and talk and pay attention because they really needed their pain and fear to be heard. After the silence, to hear children speak, to help them find their voices is very special, even when you hear the horror that they have experienced.
As a psychologist, this issue is very close to my heart. Even my voice trembles a little when I speak about it because I really wish for peace for all the children from Ukraine. I love Ukraine very much. I myself come from the city of Mariupol and this is a very emotional topic for me. Talking with so many children, I know they have one thing in common - that they really want to go home.
Sadly, we cannot make this happen but with your help we can hopefully support them to recover from their hidden trauma, to help them break free from their silence and to feel safe again. Your donation makes this possible. Thank you so much.
Maria
Save the Children's mental health support for the children from Ukraine
Since the start of the response, Save the Children has reached more than 66,800 people, including 55,130 children with Child Protection services.
Save the Children has set up and is running 17 Community Centres and Child-Friendly Spaces (CFSs), which provide a safe and supportive environment for children to socialise, play, and be children again. Our Child Protection specialists are on hand to provide psychological support and help children begin to process their experiences.
A 7-year-old Mariia* attends one of our CFSs. After the conflict escalated, her family hid in basements. Mariia* was frightened by the sound of shelling as well as the lack of light:
"It was not good– cold, cold. And it was scary." House of the family was destroyed. "We have a new home because our house burned down," the girl says.
At the CFS she was able to talk with a psychologist, her mother shared. Child Friendly Spaces also support parents and caregivers, by connecting them with other services and support, and giving them time and space to start their own recovery journey, all the while knowing their children are safe.
How You Can Help Today
A year of destructive war is a year too many. Children have experienced psychological distress because of violence and instability, being separated from their parents, pushed across borders or seeing their loved ones killed.
You can support their recovery today by:
- Donating to our Children Emergency Fund so that we can continue to deliver essential mental health support to children escaping the war in Ukraine.

- Sharing this blog with your network to raise awarness of the importance of mental health support for children living in conflict.
Related articles
9 March 2023

- Syria, Türkiye