HOW FAR CAN WE TRAVEL WITH AID ON OUR SHOULDERS? A WARNING ON GAZA FROM A HUMANITARIAN WORKER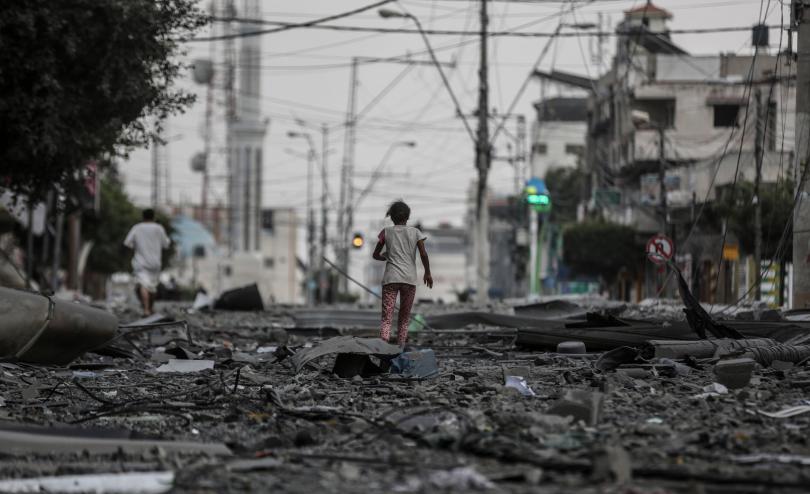 Child runs through rubble after Israel's airstrikes in Gaza. Photo by Ali Jadallah/Anadolu Agency via Getty Images
By Gloria Donate, Director of Programme Development at Save the Children in the occupied Palestinian territory
The warnings from Gaza keep coming – mere hours left of fuel, no food by the end of the week, water rations dwindling by the minute. Since October 7, more than two million people – around half of them children – have been suffering unimaginably under a "total siege" and amidst constant bombardment, fearing for their lives and in acute distress as to where their next meal, drink or safe place to rest might be. Meanwhile, there are at least 600 trucks carrying vital supplies less than an hour's drive away in Egypt, which aren't allowed to enter all at once. The aid that has made it through so far does not even scrape the surface of what is needed.
Lives are being taken at a terrifying rate. Grandparents, mothers, fathers, siblings, cousins, friends, neighbours, colleagues–entire families–are being wiped from the registry, and whole communities levelled by heavy bombardments. There is no time to deal with the grief.
Instead, while the international community continues to debate politics over people, communities in Gaza are helping themselves. After family homes, mosques, and hospitals have been destroyed, it is Gazans themselves who are picking through the rubble, trying to save each other. Communities are sharing the last rations of bread as bakeries stop working and food reserves run dry. Those who still have homes are welcoming whoever they can to shelter under their roof.
As a humanitarian worker, it's not uncommon to respond to emergencies in active conflict zones. But everything about this humanitarian response has been exceptionally challenging. Our staff, working around the clock to do their utmost to reach children, lack the tools we can usually depend on. Responding in this context has a different meaning.
It means struggling to reach families who desperately need water when the trucks have no fuel. Without fuel, we have to calculate how far our partners can carry aid on their shoulders, while the bombs continue to fall around them. It means struggling to reach shelters where displaced children need urgent mental health support. It means calling partners and friends that we have worked with for years, and learning they lost colleagues or their entire family the day before, but they still pick up their phone to see what they can do to support children. It means a rush of excitement at finding a vendor that can help us provide food, only to realise the next day that he's been killed by an airstrike. It means working with colleagues who are sleeping in the streets or haven't had access to a toilet in days as they were forced to seek safety in an overcrowded shelter.
It is relentless. Our colleagues in Gaza have no food and barely enough water to survive the day. Our ability to do our job is being stretched to its limits. Our ability to do our job is diminishing by the hour.
This is not something humanitarians or the people of Gaza alone can solve.
Palestinians are calling for help from the international community. The humanitarian community is calling for help from the international community. We all see the pictures of the devastation. We read the warnings about an impending catastrophe. But help is simply not arriving at the scale or speed needed to help children survive to see next week.
We need an immediate ceasefire to stop the horrific loss of civilian life and to ensure aid can be delivered to those in need in Gaza.
Nearly 600 organisations and more than 460,000 people across 60 countries have come together asking the world to act now.
People in Gaza urgently need food and water and medical supplies. But we also desperately need fuel, which the Government of Israel is not allowing in.
We are no longer warning that it's 'two minutes to midnight'. There is not an impending humanitarian catastrophe. The catastrophe is here.
Please let this be the last warning.
Related articles
8 December 2023

- occupied Palestinian territory
6 December 2023

- Türkiye