Once a child, now a champion for children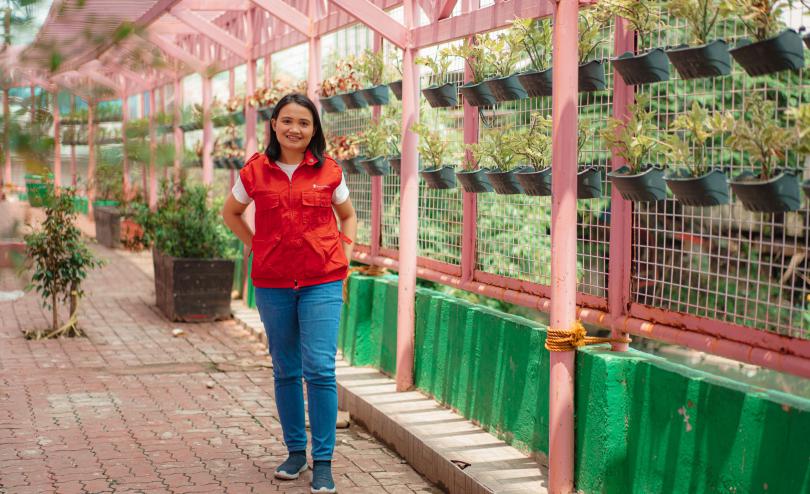 Around the world, our staff are championing the rights of children, responding to major emergencies, delivering innovative development programmes, putting the most vulnerable children first and ensuring children's voices are heard.
Every year, on the 19th August, we celebrate World Humanitarian Day to recognise the work of our staff, colleagues, volunteers and supporters in their contributions to ensuring every child gets the future they deserve.
Here we share the stories of Sheila, Kimberly, Yasmeen and Joy. As children they were supported by Save the Children. Now, they all work with us to build a better future for and with the children of today.
SHEILA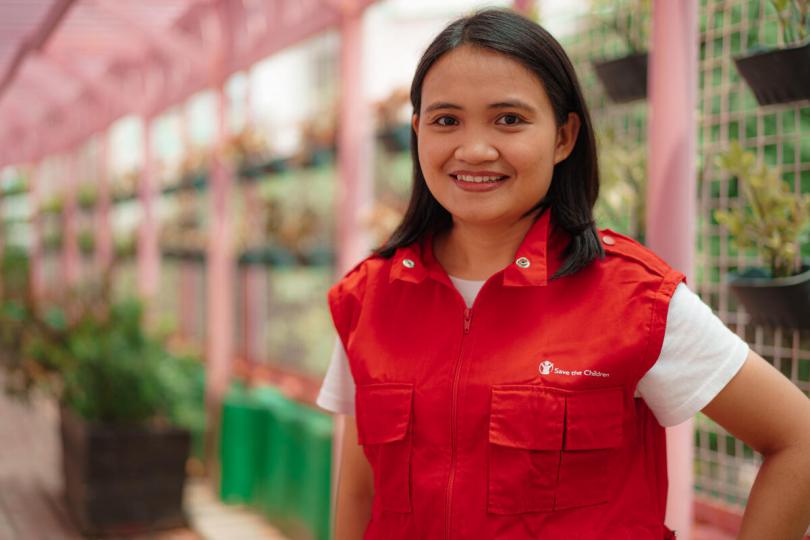 Sheila is a Senior Advisor for Global Sponsorship Operations at Save the Children International in the Philippines and has been working with us for 12 years! When she was 13-years-old she was supported by Save the Children.
"Save the Children introduced me to the Convention on the Rights of the Child.
"Save the Children would ask us how life is in our community and what can be done to improve life.
"Knowing my rights as a child back then made me realise so many things. I realised that there is a standard of living to be achieved. Things like a safe neighbourhood, health care, quality education, your right to be heard.
"Save the Children gave me so many opportunities to learn, meet people, to experience new things. These experiences helped me grow as a child.
Now working as the senior advisor of Global Sponsorship Operations, Sheila tells us:
"I wake up and go to work every day because there are millions of children deprived of a decent life and of a happy childhood because of poor governance, conflict, discriminations, social injustices, things that are preventable.
"I myself experienced the transformation that Save the Children can have.
"I believe in the saying that if you want to go fast, go alone, but if you want to go far, go together."
KIMBERLY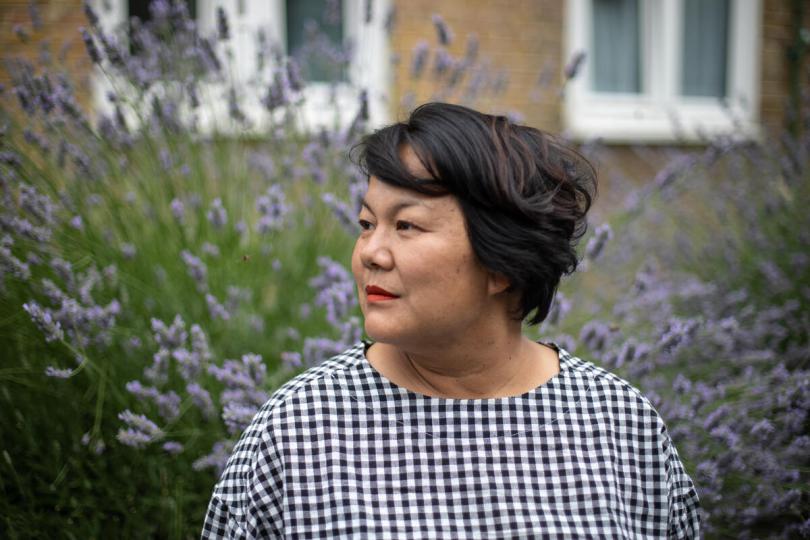 Thu-Ha, known as Kimberly, is now a Picture Editor for Save the Children UK and has been for the last 13 years. As a child, Kimberly was forced to flee Vietnam with her family. When they arrived in the UK they were helped by Save the Children UK.
"I was a Vietnamese boat person in 1979 after the fall of Saigon in 1975. I was two when my parents left Vietnam. My parents were given 24 hours to leave. Having children myself, I can't imagine the journey my mum had to take. My dad carried me on his back and, and mum carried my brother and you walked over into the jungles to China."
"Save the Children would bring food supplies, clothes, help us integrate, help us fill out forms so we could go to primary school."
"Save the Children would take us out on day trips, allowing us to be kids again and having fun, almost allowing us to forget… the trauma of conflict."
"I jumped at the chance to work for Save the Children. It felt a bit like home. I remember the logo when I was a child."
"When I'm having a bad day, sometimes I reflect back in the sense of where I was and who I was as a two year old in the UK.
"The impact we can have as an organisation, I think that it's so important that we can take action. We can lobby the government, we can really help communities."
YASMEEN
Yasmeen is a volunteer for the Advocacy, Communications, Campaigns, and Media department at Save the Children International in Yemen. As a child, Yasmeen first got involved with Save the Children when she joined the Children's parliament in Yemen.
"As a child, I grew up not knowing much about the rights of children, until I joined the Children's Parliament in Yemen.
"Volunteering with Save the Children has helped me become more determined to achieve my goals. It has also helped me to work on giving children a voice, and to be in the right place to do so, in order to ensure they are actually being listened to.
"I have wanted to be a member of Save the Children family for quite some time, since I knew about their work during my time in the Children's Parliament, and now I have become a member of the team.
Yasmeen is a strong advocate for children with disabilities and tells us:
"The access to humanitarian services for children with disabilities is often limited, which impacts those children in a negative way. I will work to change that by actively advocating for the rights of children with disabilities, and ensuring they are seriously involved and helped."
JOY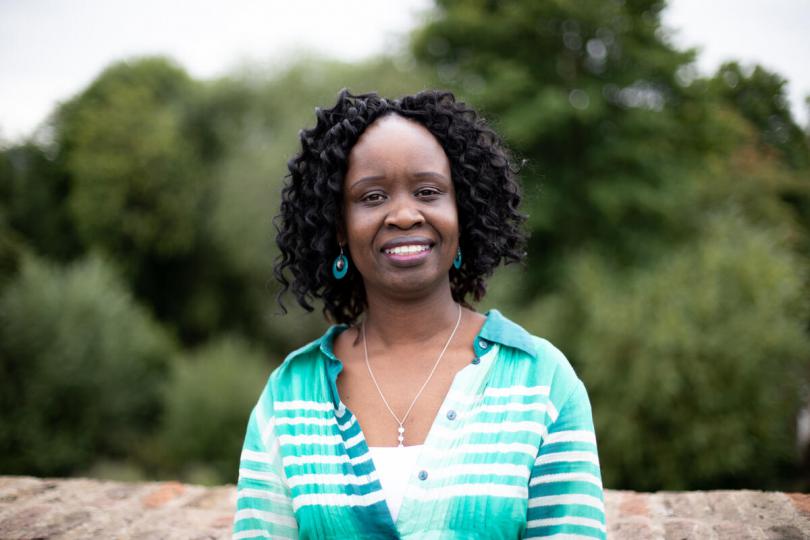 Joy is the Strategic Partnerships Programme Manager at Save the Children UK. When she was a child and at school, Save the Children supported many of Joy's friends through the Child Sponsorship Programme in Uganda.
"The first time I heard about Save the Children was when I was in high school in Uganda. Through Save the Children, I had classmates that had their school fees paid for under the child sponsorship programme.
"I've been working for Save the Children for the last eight years and counting. It has been a journey that started off in high school: seeing my friends being helped to achieve what they would like to achieve in life, it left a mark on me.
"It motivates me knowing that I'm contributing to a bigger cause, making lives of the children feel better and helping them achieve their potential.
"My message to the supporters is a massive 'thank you' for making it possible for young lives to be changed. As a member of staff, I've seen first-hand how your contributions have helped us support programmes that are making a difference in the lives of children and their communities. We really appreciate your help."
Thank you to Sheila, Kimberly, Yasmeen, Joy and to all our staff, colleagues, volunteers and supporters for all you do for children. Together we can ensure that every child gets the future they deserve.
Feeling inspired? Read more about the work we do or join us!

Related articles
6 December 2023

- Türkiye
4 December 2023

- occupied Palestinian territory