The power of breastfeeding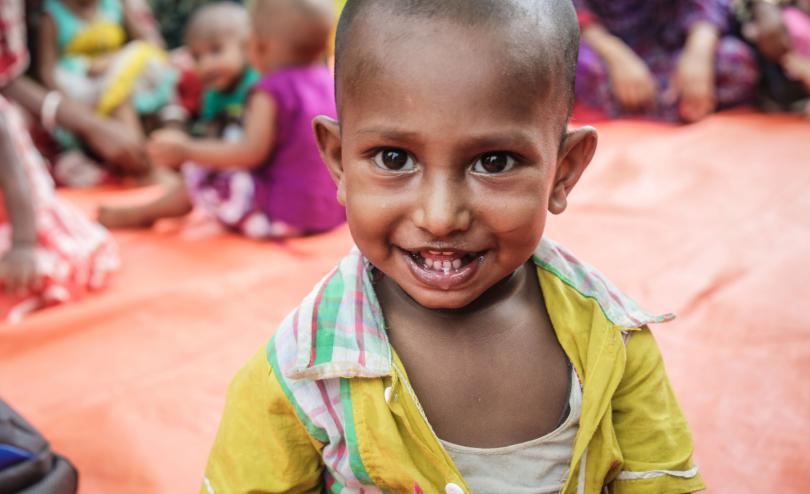 This World Breastfeeding Week, we are celebrating the life-saving and life-enhancing power of breastfeeding, and it's unique ability to build healthier populations and a healthier planet.
To take our celebration to new global heights, we're taking you on written show and tell journey, so to speak, of Save the Children's Suchana programme in rural areas of Sylhet and Moulvibazar districts in the north-east of Bangladesh.
Research conducted shows that children from the Sylhet district are far more likely to be stunted when compared to more developed areas such as Chittagong and Dhaka divisions.
Further research showed that a third of children under the age of two in the region are underweight – well above the national average – implying a prevalence of chronic malnutrition. The situation is similar in Moulvibazar district.
That's why we've been working in the regions to on deliver the multi-sectoral nutrition Suchana programme since 2015. The programme aims to end the cycle of undernutrition, particularly reducing stunting amongst children under-two for the most vulnerable families.
"Both mother and child can be healthy, if they follow the advice of Suchana and get help from family members," says Sabina Yesmin, a mother supported by the programme.
Sabina regularly attended sessions along with her mother-in-law alongside receiving counselling from a Community Mobilize at her house. From these, she learnt practices to help keep her and her baby healthy including advice on maternal nutrition and care, child nutrition including colostrum feeding, exclusive breast-feeding, dietary diversity, and hygiene practices.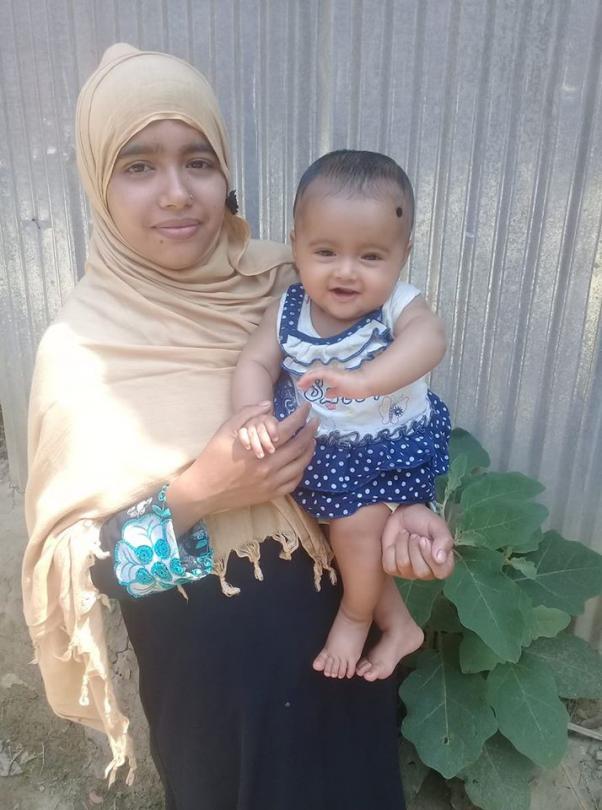 Sabina Yesmin, with her young child.
Power of breastfeeding
Breastfeeding is central to this mission, as evidence has shown that exclusive breastfeeding for the first six months of life decreases the risk of malnutrition and death in infants. Early initiation of breastfeeding promotes not only infant survival, but the recovery of the mother and establishment of successful breastfeeding. This is incredibly important in Sylhet and Moulvibazar districts where most births still take place at home.
In close collaborations with the Bangladesh Ministry of Health and Family Welfare, we have been able to train community mobilisers, like the one supporting Sabina, and Field Facilitators to conduct household counseling for positioning and attachment for optimum breastfeeding when they visit to mothers and caregivers of children under two.
The Suchana Annual Survey 2020 has collected information on knowledge of infant and young child feeding practices from both women who have children under two years of age who participate in the programme and their husband and/or children's fathers. The survey found that 97% of mothers with children under two had initiated breastfeeding within one hour of birth. Similar findings are also observed in case of mothers' knowledge on exclusive breastfeeding for the first six months of life (around 97%). This study finds that 93.5% of the households with such children were exclusively breastfed.
These practices will likely have positive impact on the children's health for many months to come.
The programme, through its social and behaviour change communication activities, continues to promote exclusive breastfeeding and our teams who spend their days out in the community with mothers work closely with them to ensure optimum breastfeeding for their children. Our team of Nutrition Officers are also working hard, providing hands-on coaching for the teams to improve the coverage and quality of household counselling for enhancing family and social support on progress in breastfeeding practices. Therefore, the impact is to create an enabling environment in the family and community to continue exclusive breastfeeding and endure breastfeeding at least two years of the child.
To ensure that our programmes are working for the community, we have invested in monitoring and quality benchmark tools, which measure and track the quality of activities and ensure maximum impact of counseling. We regularly assess activity performances against quality benchmarks and believe that the quality of counselling could be an attributing factor for achieving higher exclusive breastfeeding rates in these regions.
Overall, Suchana's nutrition specific benchmarks help us to continuously improve our work and ensure that we are delivering the best quality programme for mothers and their babies. We can see through our monitoring that in areas with a sustained effort that mothers show an increased knowledge of best practices.
As the months pass, we hope that this will hope to decrease the number of undernourished children in the area and so more babies have the chance to grow into happy and healthy children.
Related articles
27 September 2022

- Ukraine
18 August 2022

- Congo (Kinshasa)