Staff Account from Gaza: "We are rationing water bottles. Food is running out. The wounded and sick cannot be treated"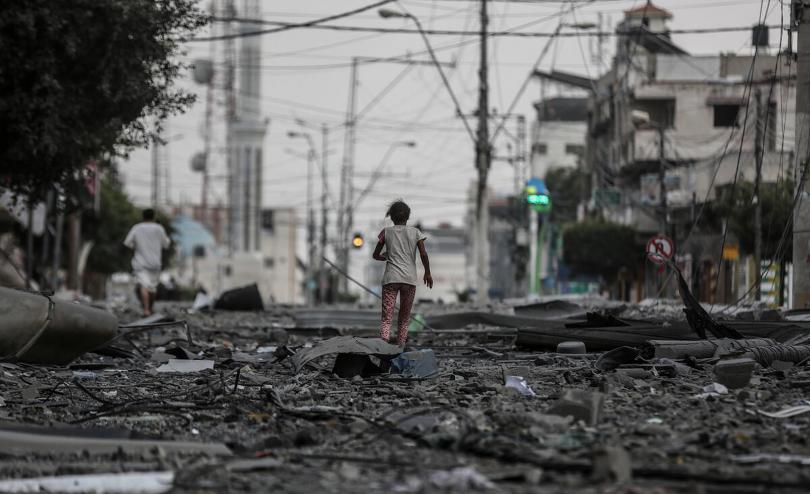 Nine days into the escalation of violence in Gaza and Israel, at least 724 Palestinian children have been killed in Gaza, and three in the West Bank, and another 2,450 have been injured. While the number of Israeli children killed and injured has not been confirmed, they have also faced horrific violence, with reports of children abducted and taken hostage.
"It is with a heavy heart that I write this message from Gaza, under the relentless bombardment that has overwhelmed our lives and made the simplest right to life a struggle. As I write this, I hold onto whatever courage I can muster, although I do not know whether this message will be my last.
Throughout my professional career, I have been heavily involved in planning and leading emergency responses to large-scale conflicts. However, what we are experiencing now in Gaza is unlike anything I have seen before.
We are rationing water bottles. Food is running out. The wounded and sick cannot be treated. At night, children sit in the dark, in the black-out, wondering if they will live to see the morning.
This situation is unique. I must admit that the humanitarian needs on the ground, the impact on families like my own, and the sheer number of the affected population are beyond understanding. No one can fully grasp the extent of the suffering. I have no answers for my three young children about what is to come.
For the first time in my life, I find myself feeling a sense of hopelessness and helplessness, which does not represent who I am.
Like everyone in Gaza, my greatest wish is to wake up each day with my family members and loved ones safe. The fear that we may not see another day together is a constant burden on our hearts.
I have often felt overwhelmed in the past, questioning why I did not make the choice to leave this besieged strip, even if it meant going against my own beliefs. I have questioned why I did not prioritize my family's future and why I did not have the courage to make this difficult decision. My 10-year-old daughter has already witnessed three large-scale hostilities.
However, I have always answered myself that my deep connection to the land where I was born, raised, and have countless memories - my roots, and the sense of identity as a proud Palestinian, have kept me here.
Today, those questions no longer haunt me. There is no way out of Gaza. There is no safe place in Gaza.
My dream is a simple one – to wake up in the morning with my children in my arms, alive and well, and for this violence to come to an end.
Let us pray for better days ahead."
Donate to our Children's Emergency Fund today to support children living in conflict.
Related articles
8 December 2023

- occupied Palestinian territory
6 December 2023

- Türkiye