"They bombed next to us": Stories from Save the Children Staff in Gaza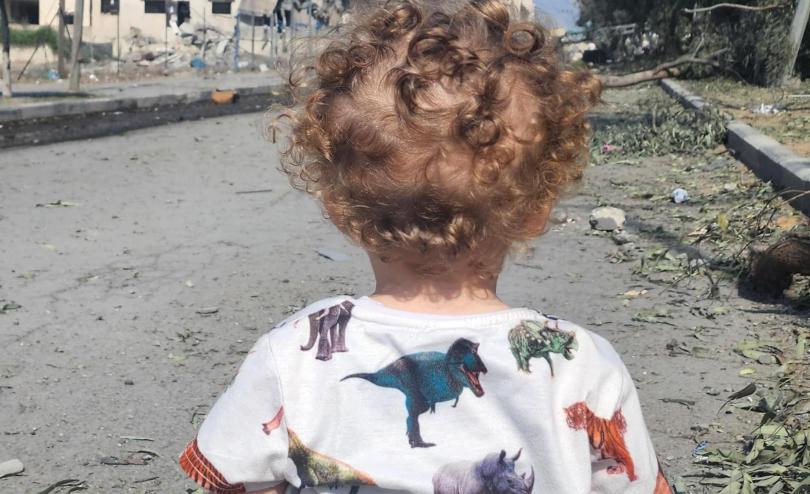 2-year-old Omar look out at destroyed street in Gaza. Save the Children.
As the violence continues, civilians continue to pay the heaviest price, with thousands killed and injured - at least 2,360 children have been killed and 5,364 injured in Gaza since the start of the escalation on the 7th October.
With civilian sites repeatedly targeted and all crossings out of Gaza closed, there is simply no safe place to go. According to the UN, over 1.4 million people – 60% of the total population of Gaza – have also been internally displaced.
Our Save the Children colleagues are amongst those who have been forced to flee their homes with the hope of finding somewhere safe for their families, but there is no safe place in Gaza. These are their stories:
Abdallah*
Save the Children staff member Abdallah*, who has a 2-year-old baby boy named Omar, made the decision to retrieve belongings from his apartment with his wife. They had been told their building was likely to be destroyed soon and they needed supplies.
They made the perilous journey, not recognising streets as they had been destroyed. They were nearly injured but managed to survive, however they said that the fear of their son becoming an orphan was difficult to cope with. Here is his testimony:
My wife and I returned to our home in Gaza city, because we only had brought two pieces of clothes and two pyjamas each. We believed our street wouldn't be bombed for another 48 hours, based on the warning we received.

The decision was crazy and risky, but we decided to go, even though the car was low on gasoline. This house is our home, the house of a lifetime, and we made the decision based on our memories of our home as our main haven.

When we got closer, the shock began: we saw thick black smoke from the intense bombing. There was no sun because of the black smoke. The artillery was exploding intensely as if it were right next to us, and we saw the effects of the bombing of people as they were fleeing. It was horrific.

We kept walking and the landmarks were different, there was no one else on the street, and everything was burned and the houses were destroyed, all the way down to the end of the street.

We arrived home safely, but there was heavy bombing every 3 minutes. We noticed that there were no people in the city…it was like a ghost town.

We took our things and then returned the way we came. But we found the streets were dark, and everyone was telling us to go the opposite way. Then the horror began. They bombed next to us, about 20 metres away from us, and the black dust and the heat from the bombing entered the car.

We were able to escape, and we noticed that the cars behind us were stuck. We miraculously survived. That's when we felt guilty…what if we died and our son was left an orphan! The decision we're taking as parents are difficult, and the post-traumatic effects in our city are much more difficult."
Firas*
Firas*, a Save the Children staff member and a father to one boy, is sheltering with his wife, son and his in-laws including his father, mother, and sister-in-law.
He moved south but has been displaced several times and now has returned to Gaza city. He describes the terror faced by his wife and child:
I am among the people who headed south in response to the warning we received, and I actually stayed south. But unfortunately, the next day, the house next to us was targeted. I was only slightly injured, thank God, but my son and wife were also injured by the shattered glass.

We didn't have a shelter to go to or a place to stay except at a friend's home in an area which was completely bombed after we evacuated.

We were asked to take refuge in a street, which is approximately 500 meters away from the city. We were taking refuge at a university, and it was a very terrifying night…from 8 pm until 10 am…missiles bombed near the towers of the city.

After miraculously escaping this terrifying night, we had no other choice but to return to our home. Yesterday, a tower opposite the apartment was bombed, causing a lot of damage. Thank God, we were not harmed, as we were in a room whose window was broken from another bombing a few days ago. But the terror that was inside me, my son, and my wife was more than I could bear, frankly.

All nights are terrifying, and each new night is more terrifying than the night before. My former colleague at Save the Children lost his family in the south, after he considered it a safe area based on the warning. There is no safe area, neither north nor south.

I am now at my wife's family's house, not far from my home…I don't know what the right decision but we don't have any other choice."
These stories are the stuff of nightmares. We are calling for an urgent ceasefire. In the meantime, we must be able to get emergency aid and humanitarian staff safely into Gaza to meet the needs of the most vulnerable, affected, and at-risk children.
DONATE TO OUR CHILDREN'S EMERGENCY FUND TODAY TO SUPPORT CHILDREN LIVING IN CONFLICT.
Related articles
8 December 2023

- occupied Palestinian territory
6 December 2023

- Türkiye