"We are not only aid receptors": Women and girls role in humanitarian emergencies in Peru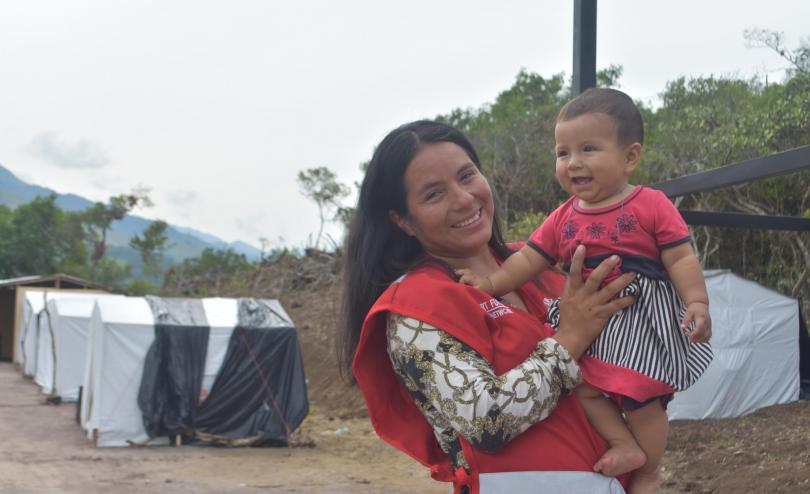 Rosa, a nearly three-year-old girl lost her house during the November 2021 earthquake in the Amazonas and Cajamarca region in the north of Peru.
"I want my house. I want to go home", Rosa used to ask her mother Adela sadly. Now, she is living with her family in temporary tents in the north of the Peruvian Amazonas.
"Now you live in a white house (tent). Look how beautiful it is" her mother told her to cheer her up. "We have to overcome this situation", expressed Adela and added "I teach this to her (Rosa) to be strong (…) I know something better is coming for us"
In this area the warm climate prevails, with copious rain in the wet season. Fields are fertile, ideal to cultivate and harvest tropical fruits. Most of the population works in "chacras", small farms that harvest cocoa, corn, coffee, or carry out animal husbandry. However, even before the earthquake, it was estimated that 46% of the population of north Peru lived in poverty.
Unfortunately, in November 2021, the 7.5 magnitude earth tremor struck the north of the Peruvian Amazonas. Houses, lands, roads, health centers and schools were damaged.
However, this was not all. The same region has also come to suffer since, a landslide, the overflooding of a river and another 6.5 magnitude earthquake. These natural disasters have left more than 2,000 homeless families, thus increasing the affected population in the area to more than 10,000 [1] people since the November 2021 earthquake.
These families are now living in shelters, with each family receiving temporary tents to live in.
Despite the situation, girls, adolescents, and Peruvian women have step-up and taken a leadership role during these emergencies. Since the first World Humanitarian Summit held in 2016, where the prominent role of women in humanitarian contexts was discussed as not being only of aid receptors, the participation of women in decision-making spaces in humanitarian contexts has been increasingly recognized - the work they carry out to keep families together and their active participation of self-help and for the community.
The work of those adolescent and women is essential to effectively cope with humanitarian crises and to be able to recover from such catastrophes.
"I'm here (in the shelter) with my family because my house got destroyed due to a river overflow (…) Here in the shelter I'm in charge of the storehouse to provide food for the women that cooks food for the 27 families", expressed Carmen who now lives in El Salao shelter with her family.
Carmen also contributes to ensure water for all the families living in the shelter. She is in charge of the water tank.
In another shelter in San Luis La Caldera, also in the Amazonas, Stefany, a 14-year-old keeps dreaming about her future. She lost her house due to the earthquake: "my house is buried. My school was flooded (…) I'm looking for a place to study. I dream to be a lawyer".
According to UN research [2], "when women are included in humanitarian action, the entire community benefits. Despite this, women and girls are often excluded from decision-making processes that shape the response strategies that affect their ability and that of their community to recover from a crisis".
Save the Children recognizes the leadership of women in humanitarian crisis, especially in the prevention of gender-based violence and addressing protection for children in shelters. We have engaged women to promote their role as protection agents providing them capacity building and tools.
"For me this is a new experience. I oversaw protecting my children as a mother, and now we are working protecting the children of our town" says Adela.
"Despite this disaster, there was a sunlight, and that light is Save the Children. We have received economic assistance and you have been with us since the beginning of this crisis, and you continue with us". Adela finalizes with these words "your work and solidarity teach us to be like your organization (Save the Children)".
Related articles
6 December 2023

- Türkiye
4 December 2023

- occupied Palestinian territory