We should never give up on our rights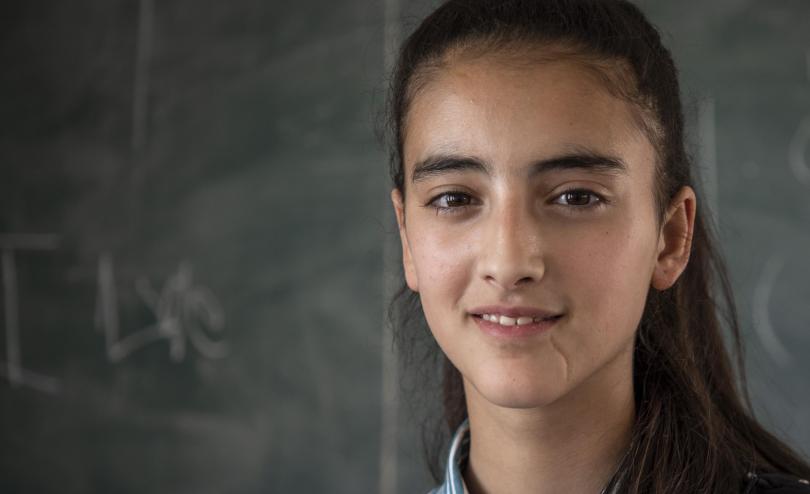 Rima*, 13, at her school in Bethlehem, occupied Palestinian territory (oPt)
Creating a more equitable world for girls
Over the past decade, the Middle East has achieved significant advancements in the economic and educational empowerment of women, the promotion and protection of girls' rights and the creation of opportunities for gender equality. However, with the onset of COVID-19, this progress is at risk.
Today, as a side event to the UN General Assembly, the NAMA Women Advancement Establishment and Save the Children are bringing together female leaders from the Middle East and across the globe at a virtual roundtable to share best practice and stories about overcoming structural and cultural barriers that impact girls.
These female leaders will be discussing best practice around girls' education, economic empowerment and girls' rights in the Middle East region to create a more equitable world and a brighter future for the female leaders of tomorrow.
Meet three female leaders of tomorrow

MAYA*

Maya*, 14, lives in Za'atari camp in Jordan with her mother and two brothers. She is determined to end child marriage and wants to see girls finish their education.
"The challenges that girls face here at the camp are early marriage, [a lack of] women's empowerment, child labour, dropping out of school and harassment…
"It's very important for us to defend the rights of girls, because they are the most vulnerable in the community. For example, everything goes to the boys. Education goes to the boys…
"…Parents take girls out of school and marry them off. I don't want this to happen. I always tell girls to defend their rights, [to] defend their roles, and [to] be the voice of all women in the community. [I tell them] don't stay quiet, and most importantly, don't be quiet."
Maya* wants to be a pharmacist when she is older and wants to write about women's issues through poetry and articles.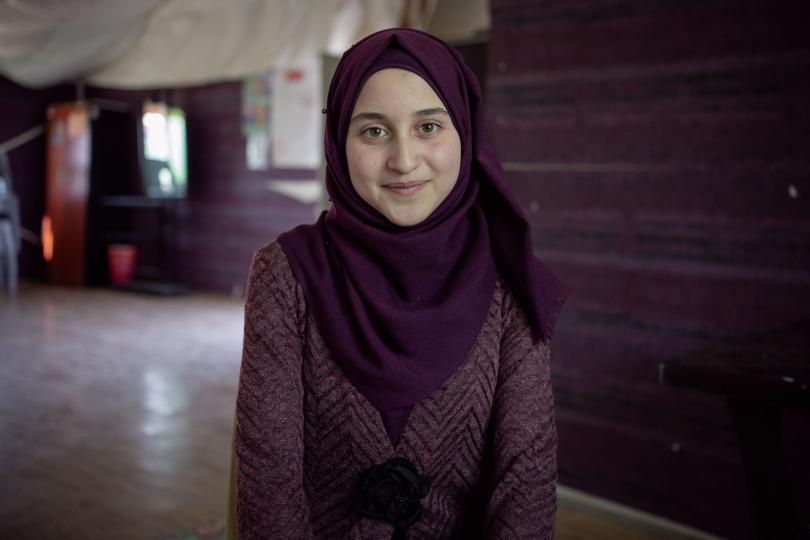 Maya*, 14, Za'atari, Jordan
RIMA*
Rima*, 13, goes to school in the West Bank. Her education is frequently disrupted but she has never lost hope of building a better future.
"Education is very important because it helps us understand the rights we have to claim. We should never give up on our rights. Education is important because it teaches us languages and helps us communicate with the world and spread our message….
"When I grow up, I want to express myself freely. I want to become a journalist," says Rima*.
"I'm strong. I'm a fighter. I will defend children's rights."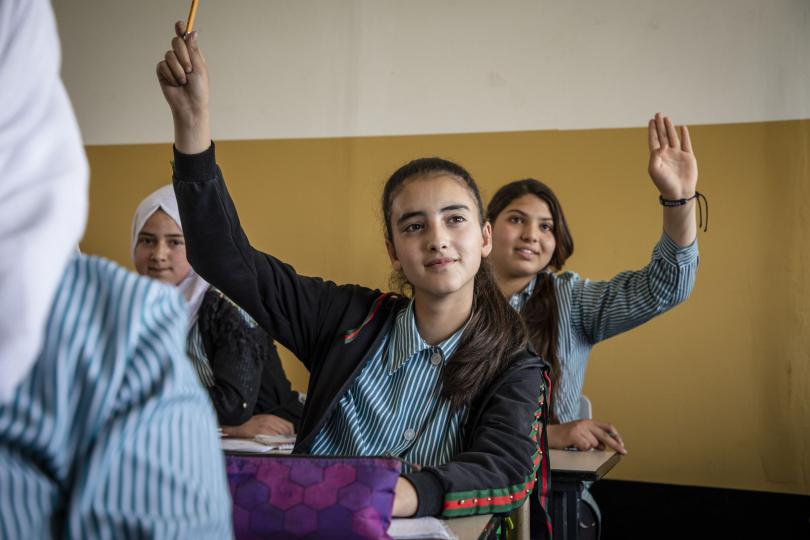 Rima*, 13, raises her hand in class at her school in the occupied Palestinian territory (oPt)
LUBNA*
Lubna*,16, lives in the Anjar Refugee Camp in Lebanon. Her main concern is lack of education in the camp.

"Education is very important. I feel it is especially important for girls. Because in our society, girls don't get their rights. When girls are educated, they get their rights in everything.
"Lots of people don't allow their daughters to go out. They would get experience. They would have learnt things. They would be able to go places."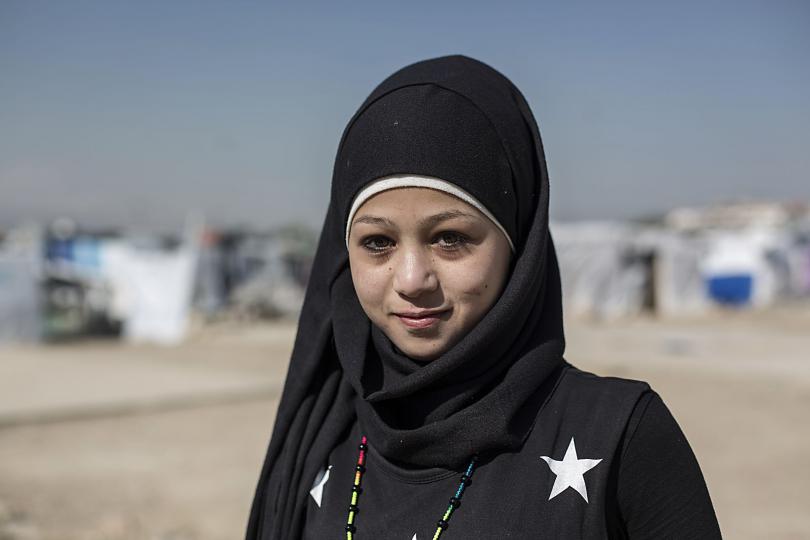 Lubna*, 16, Lebanon
Our programmes and campaigning aim to address the growing risk of gender-based violence against girls, including child marriage, while supporting girls' rights to education, health and empowerment so they can participate in decision-making from the community to the global level.
We are calling on world leaders to come together to protect a generation of girls.
And by developing innovative and strong partnerships, such as with the NAMA Women Advancement Establishment, we can continue to support children like Maya*, Rima* and Lubna*, in the Middle East and around the world, to claim their rights to a more equitable world.
*Names changed to protect identities.
Learn more about the impact of COVID-19 on gender equality, read our new report Global Girlhood 2020: COVID-19 and progress in peril.
Read more blogs and stories from the Middle East and Eastern Europe region.
Save the children have been helping children in the middle east since 1953. That's almost 70 years of fighting for children's futures. Meet the female leaders of tomorrow as they share their dreams for the future.
Related articles
29 September 2023

- United States