Afghanistan: Four earthquakes in a week leave thousands living in the open and in tents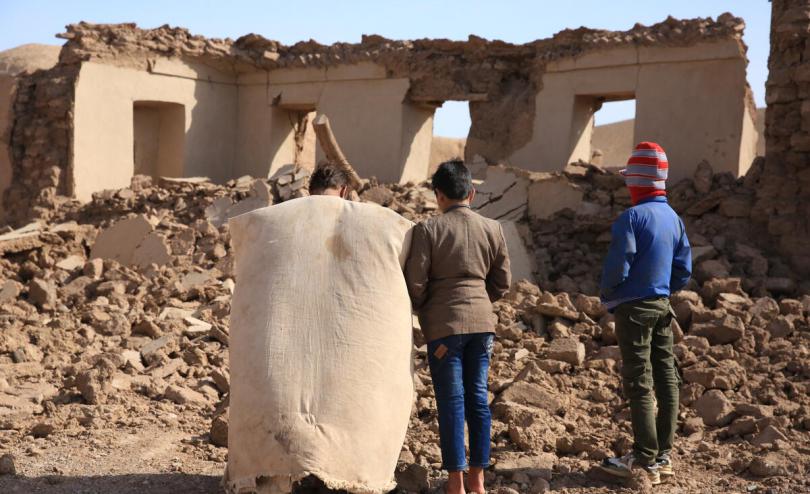 Children try to keep warm while looking at the ruins of a building that collapsed in an earthquake in Herat, Afghanistan. Photo by Atabak Khadim/Save the Children. More content available here
Content available here
KABUL, 16 October 2023 – Families in western Afghanistan are reeling after a fourth earthquake in just over a week hit Herat Province, crumbling buildings and forcing people to flee once again, with thousands now living in tents exposed to fierce winds and dust storms.
The latest 6.3 magnitude earthquake hit a region 30 km (about 19 miles) outside of the city of Herat, in Herat Province on Sunday, shattering communities still reeling from the series of shallow and strong (6m+) earthquakes and aftershocks.
Nearly 20,000 people have now been affected across six districts, with at least 1,300 people killed and 1,800 injured, most of whom are women and children who were in their homes when the quakes hit. Many people are sleeping in the open after their homes were destroyed, with many others terrified to go home due to fears of further shocks.
Massive dust storms also hit the region last week, hampering the aid response by damaging tents used as emergency shelters, and destroying mobile health and nutrition facilities.
Save the Children is working with partners in Herat to get emergency assistance to the most impacted areas. This includes providing families with emergency cash grants to help them buy materials to rebuild their homes and other urgent supplies, such as food and clean water, and to pay for medical care.
Arshad Malik, Country Director for Save the Children in Afghanistan, said:
"Our teams are reporting the bleakest of scenes. Hundreds of tents have been set up on open plains to shelter families who have lost everything, which themselves are exposed to brutal winds and dust storms. Former villages are just rubble, rock. What precious little belongings families once had are completely buried.
"Most of the deaths and injuries have been women and children, who were at home when the earthquakes hit. Many survivors are terrified to go home. Four earthquakes have hit in a week.It's impossible to get out of fight mode when the ground is constantly moving.
"This is a crisis on top of a crisis. Even before this disaster, children were suffering from a devastating lack of food. At the same time, the harsh winter is approaching fast while the children and families have no shelter or warm clothes to protect themselves.
"Donors must provide lifesaving humanitarian assistance. This new emergency requires new funding. Without an urgent injection of money, existing humanitarian programmes will be impacted as already overstretched funding is strained further. The international community cannot turn its backs on children in Herat who need urgent help."
Save the Children has been supporting communities and protecting children's rights across Afghanistan since 1976, including during periods of conflict and natural disasters. We have programmes in nine provinces and work with partners in an additional seven provinces.
Since August 2021, we've been scaling up our response to support the increasing number of children in need. We are delivering health, nutrition, education, child protection, shelter, water, sanitation and hygiene, and food security and livelihood support.
ENDS
Content available here
For more information please contact:
Emily Wight, Emily.Wight@savethechildren.org (based in London)
Our media out of hours (BST): media@savethechildren.org.uk / +44(0)7831 650409