Calling for greater protection of schools and children's right to education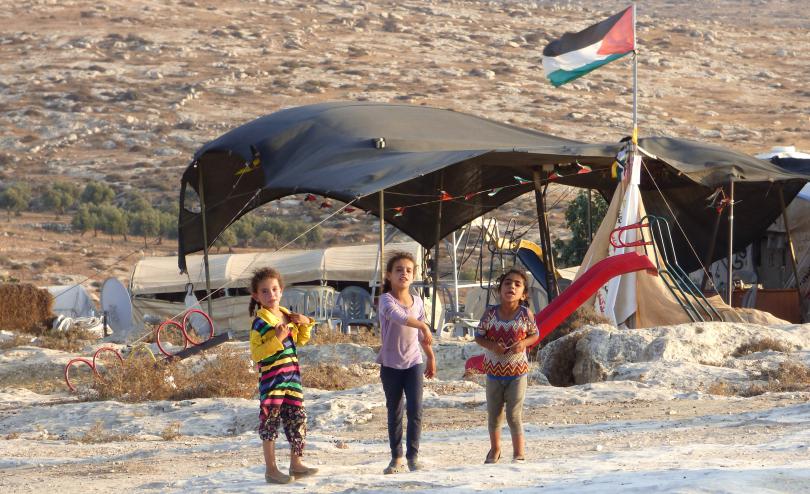 19 August marks World Humanitarian Day, a global UN campaign that 'advocates for the safety and security of humanitarian aid workers and for the survival, well-being and dignity of people affected by crises'. This year the campaign also includes the impact of conflict on broader civil society, including children and families, and calls on world lead- ers to do more to protect civilians in conflict.
In the occupied Palestinian Territory we are facing a worsening child protection crisis - affecting health, education, food security, safety, and security. After 50 years of occupation, generations of Palestinian children remain trapped in an ongoing cycle of violence and diminishing human rights.
Today, there are more than 2 million Palestinian children who face increasing violations of their rights: displacement and forcible transfer, the demolition and destruction of homes and schools, arbitrary arrest and detention, harassment at checkpoints, and frequent violence and intimidation when they are simply trying to reach school, as well as when they are at school. These children are being denied a future in areas where unemployment has risen to among the highest in the world and restrictions on movement make it difficult to get to school or university or access vital healthcare.
Children's basic right to education is also increasingly being eroded. Save the Children, along with other agencies and partners, calls upon world leaders to take action to protect children's inalienable right to safe access to a quality education and to guarantee the special protection afforded to children in areas of conflict.
At the time of writing there are more than 50 schools in the West Bank that have pending demolition orders or stop work orders from the Israeli authorities. Just this week the kindergarten and elementary school in the Bedouin community of Abu Nuwar had their solar panels and batteries removed by the Israeli civil administration, limiting the schools ability to function and denying children their basic rights. In 2016 alone, there were 256 education-related violations documented by UNICEF and Save the Children, affecting the education of 29,230 students.
Between January and March 2017, there were 24 cases of direct attacks against schools; but what does this really mean for children trying to reach school? This means that children are facing tear gas canisters and sound bombs on their way to/from school. In 2016, more than 20,000 pupils lost important school time due to obstructions, such as delays at checkpoints or areas declared closed for Israeli military use, as well as the arrest and detention of children in and around schools.
In Gaza today, the humanitarian crisis is exacerbated by a shortage of electricity. With little more than 3-4 hours of electricity a day, the Humanitarian Coordinator, Robert Piper has warned that "a further increase in the length of blackouts is likely to lead to a total collapse of basic services, including critical functions in the health, water and sani- tation sectors". The education sector is facing a crisis of its own; 70.4% of UNRWA schools and 62.8% of schools run by the Ministry of Education already operate on a double or triple shift system and are struggling to accommodate the high number of stu- dents; with the start of the new school year just weeks away, this critical shortage of en- ergy will have a devastating impact on the ability of schools to operate and provide a safe environment for children to learn.
We call upon all duty bearers and world leaders to address the growing child protection risks in the education sector; to support and endorse the the Safe Schools Declaration and the related Guidelines for Protecting Schools and Universities from Military Use; and to take concrete and immediate steps towards the demilitarisation of school spaces so that children have safe access to education.
We call on all duty bearers to ensure that schools in the occupied Palestinian territories are not a target. #NotATarget
Related articles
9 January 2023

- Pakistan
4 January 2023

- Afghanistan