'Children are returning with nothing': Thousands of Afghan families leave Pakistan to avoid potential deportation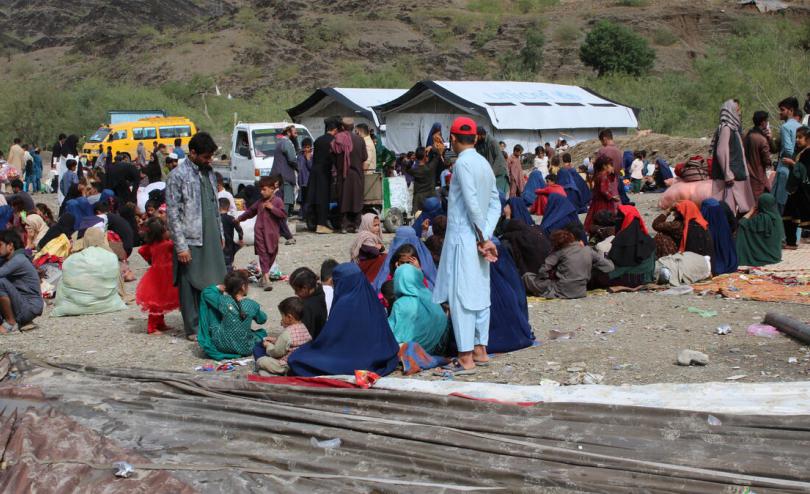 Children and families at the Afghanistan-Pakistan border. Photo by Fahim Mayar/Save the Children. More content available here
Kabul, 1 November 2023 - Hundreds of Afghan children are crossing into Afghanistan from Pakistan every day with nowhere to live and no money for food after Pakistan announced that all undocumented foreigners must leave the country voluntarily by 1 November or face deportation, Save the Children said.
In the past six weeks, more than 120,000 Afghans have returned. Many children and families are returning with nothing and have nothing waiting for them. Last week, 57% more people crossed back into Afghanistan compared with the previous week. About 86% said that "fear of arrest" was their reason for returning, according to the UN.
The government of Pakistan has stated that its policy is not aimed at Afghans, but Afghans make up about 1.4 million of an estimated 1.7 million undocumented foreigners.
Returnees have told Save the Children that once they cross the border, many have nowhere to go They don't have anywhere to live or money to pay for food, rent or transport.
Some Afghan children who were born in Pakistan are coming to Afghanistan for the first time.
Jawid*, 17, said:
"I was born in Lahore and they didn't allow me to attend school. Currently we don't have anywhere to go. We don't have a house in Afghanistan to live (in). I have been waiting at the Torkham border with my family for three days."
Kamal*, 14, said:
"We don't have cash for food and (for) reaching our final destination".
Afghanistan is enduring its worst humanitarian crisis in recent memory. Unprecedented levels of hunger and malnutrition combined with the worst drought in 30 years and a crippling economic crisis have left two out of three people in need of assistance. An estimated 3.2 million children under the age of 5 are facing acute malnutrition. On top of this, four deadly earthquakes devastated large parts of the western province of Herat in October which could further worsen food insecurity. Children's access to fundamental rights like healthcare, protection, and safe and quality education has been drastically diminished.
Save the Children's mobile health team is working on the Afghan side of the border providing emergency health, nutrition and psychosocial support for families who have crossed from Pakistan. We are constructing shelters, water and sanitation facilities with child -friendly toilets as well as a playground
Arshad Malik, Country Director for Save the Children in Afghanistan, has visited the border near Torkham. He said:
"We saw thousands of people living in squalid conditions on the Afghan side of the border without proper shelter, running water or toilets. Children and their families were gather red in small groups surrounding the meagre possessions they had brought with them from Pakistan. The children we saw were visibly distressed. Some were playing close to massive trucks. The border is no place for a child.
"These children need a place to call home. Many children and their families are returning with nothing – and have nothing waiting for them in Afghanistan. They need stability after being uprooted from their lives in Pakistan.
"Afghanistan is already enduring its worst humanitarian crisis in recent memory and is struggling to meet existing, massive needs due to shrinking international funding. Winter is fast approaching with temperatures dropping and thousands of people already in need of urgent assistance. Afghanistan cannot cope with a mass influx of people."
Save the Children has been supporting communities and protecting children's rights across Afghanistan since 1976, including during periods of conflict and natural disasters. We have programmes in nine provinces and work with partners in an additional seven provinces.
Since August 2021, we've been scaling up our response to support the increasing number of children in need. We are delivering health, nutrition, education, child protection, shelter, water, sanitation and hygiene, and livelihood support.
ENDS
---------------------------------------------------------------------------------------------------
Notes to editors:
*denotes name changed to protect identity.
We have spokespeople available in Afghanistan.
We have content available here.
For further enquiries please contact:
Rachel Thompson, Rachel.Thompson@savethechildren.org;
Emily Wight, Emily.Wight@savethechildren.org;
For out of BST hours enquiries please contact: media@savethechildren.org.uk / +44 (0) 7831 650409.