Deadly cholera outbreak tightens its grip on the Middle East, as cases nearly double in Lebanon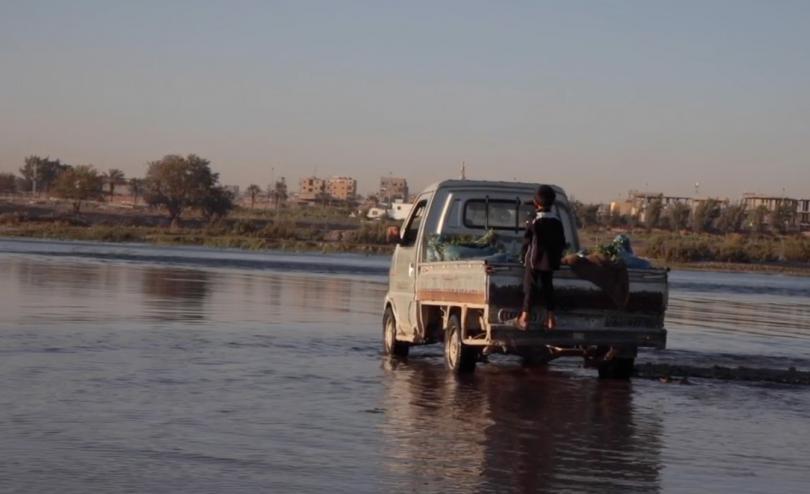 The Euphrates River, which is central to rising rates of cholera in the region. [Credit: Save the Children]
AMMAN, 27 October – As Syria's first major outbreak of cholera in over a decade spreads, thousands of children in neighbouring countries are also at risk from the deadly disease, with Lebanon's recorded cases nearly doubling since last week, Save the Children warned today.
A global shortage of cholera vaccines may exacerbate the outbreak, with the World Health Organization recently announcing that the standard two-dose vaccination will be suspended temporarily to allow for the available doses to be used in more countries.
Lebanon's first cholera case since 1993 was recorded on 6 October in the rural northern governorate of Akkar. According to the Ministry of Public Health, there are now 803 suspected and confirmed cases, with at least 11 deaths reported. Children are most at risk from the deadly disease, with those under 14 making up more than 50% of cases.
With the country steeped in an unprecedented socio-economic crisis – plunging three-quarters of its population into poverty, with frequent power cuts and a worsening cash crisis deteriorating living conditions for millions of people – communities are being forced to rely on poor water sources to survive, as bottled water costs soar three to five times higher than last year. Years of underinvestment in water and sanitation infrastructure have also left systems and services ill-equipped to cope.
Lebanon shares a long border with Syria, where the number of suspected and confirmed cholera cases continue to increase. As of 15 October, 20,014 suspected cases have been reported and 75 deaths confirmed, according to the World Health Organization. Cases have been confirmed now in all 14 governorates in Syria.
Save the Children said that Syria's cholera outbreak likely started due to communities consuming contaminated water and food irrigated by the Euphrates River, which is experiencing historic low water levels mainly due to Syria's worst drought in decades.
Nadia* in Raqqa, Syria, is a mother of five children, two of whom were previously sick with diarrhoea and bowel inflammation after consuming contaminated water.
"I'm very concerned that my children may get cholera. I try to buy them bottled mineral water, but it is very expensive for us, especially since we are a displaced family with very limited means. I hope the water becomes safe for us and our children," said Nadia.
Hamdan Alsallan, Save the Children's Area Manager in Raqqa, North East Syria, said:
"We are expecting cholera to continue to spread if adequate measures are not taken. Millions of people depend on the Euphrates River for their water needs, which is also being used to grow and water crops."
Meanwhile, Iraq saw cholera cases skyrocket this summer to 865 confirmed cases[i]. People displaced within the country were particularly affected by the outbreak, thought to be caused by vegetables irrigated with sewage water due to drought in major rivers[ii].
The outbreak predominantly affected the north of the country. However, since prolonged drought is still affecting irrigation systems, there are concerns there will be a renewed cholera outbreak in the coming weeks. Movement of people across borders could accelerate a potential outbreak.
Climate change, lack of food and access to health services have left millions of children in countries like Iraq, Lebanon, and Syria in poor health. They are the most vulnerable to the spread of this preventable disease, which is likely to continue spreading in countries with strained health and water systems.
There are also fears of a potential cholera outbreak in neighbouring Jordan, where authorities have taken measures on its borders with Iraq and Syria, including cholera surveillance and checking food entering the country.
Cholera surveillance is also ongoing in the Za'atari refugee camp, where about half the population are children. Save the Children, in partnership with UNHCR, is prioritising community health and hygiene education activities in the refugee camp.
Dr Ibrahim Shihab, Save the Children's Regional Health Advisor for the Middle East, North Africa and Eastern Europe, said:
"The spread of this disease could be a catastrophe for the region, where medical and sanitation infrastructures are already fragile. Children are particularly vulnerable to cholera outbreaks.
"In Syria, almost 35% of cases are among those below the age of 10. Cholera infection can have a very negative impact on pregnant women and children under 5 years old who are already suffering from other diseases, malnutrition, and lack of access to quality health care.
"Without appropriate and proper control and containment measures, we might see the outbreak extend to nearby countries. We are calling on donors to mobilise additional funding to address the outbreak and limit its impact on children".
ENDS
i. https://www.emro.who.int/images/stories/homepage/WHO-Iraq-SitRep_Week-32.pdf?ua=1
ii. https://reliefweb.int/report/iraq/iraq-cholera-epidemic-emergency-plan-action-epoa-dref-ndeg-mdriq015
Notes to Editors
In Syria, the restoration of basic services, including water and sanitation, is key to help communities recover from the impact of conflict. Save the Children's response plan includes chlorination of restored water, water quality monitoring, distribution of hygiene and cleaning kits, as well as hygiene promotion.
In Lebanon, Save the Children is responding with partners through the interagency Cholera Prevention, Preparedness and Response Plan. Save the Children will be working to ensure children in schools and communities are protected from possible water-related outbreaks, have access to safe water, sanitation and hygiene and their wellbeing is maintained. This includes awareness messaging, health hygiene promotion in schools and distribution of soap, hygiene kits and chlorination tablets for supported communities, as well as providing support for sustainable solutions such as UV solar-powered systems for cleaning water.
In Jordan, Save the Children and the UNHCR run a community health programme in the Za'atari refugee camp, covering 100% of the population. Through home visits and community mobilization activities led by trained community health workers, Save the children helps prevent and identify various health conditions that require medical care. Patients are then transferred to health facilities to receive the necessary services and care, and are supported to attend follow-up appointments.
Between 25 August and 15 October, 20,014 suspected cases have been reported, including 75 deaths: Whole of Syria Cholera Outbreak Situation Report no.4 Issued 23 October 2022
On October 19, 169 confirmed cases were recorded in Lebanon by the Ministry of Public Health, a week later on 25 October, the confirmed cases had increased to 305.
Multimedia content (Vlog and Broll from Syria) available here:
https://www.contenthubsavethechildren.org/Package/2O4C2SD92D94
For further enquiries please contact:
We have spokespeople available in the region.