Inspiring action amongst youth with the Changemaker series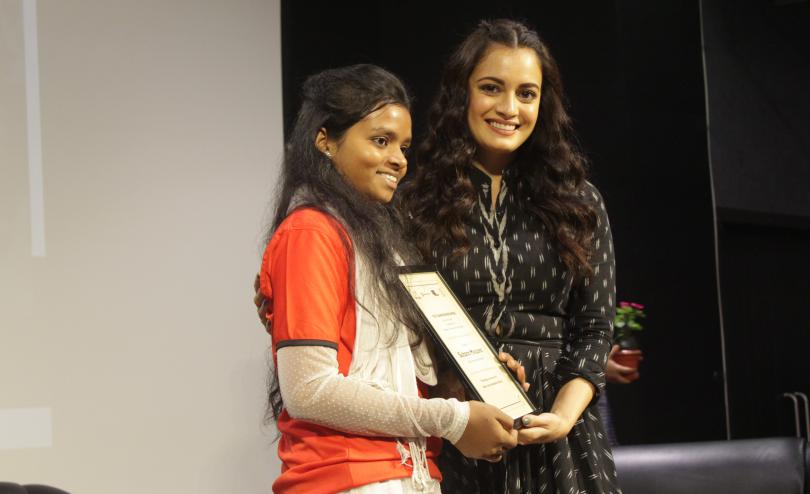 Inspiring action and raising awareness, the Changemaker Series, aims to bring together 'changemakers' - political leaders, media, public figures, experts and child champions in a conversation with the youth of the country. The idea is to initiate dialogue on how they can contribute in amplifying the issue of children and their rights especially for children in street situations; #TheInvisibles.
India will be the youngest country in the world with an average age of 29 years by 2022. Despite this reality, children's issues are not on top of the political agenda or public mind. The youth are not only powerful in number but also in ambition. In order to bring long term change, young people need to be engaged, involved and integrated in any discussion or policy decision. Insights from our past efforts, that 'millennials' are keen on social action and impact, led to SC India designing the Changemaker Series to take the issues to where the youth are.
The Changemaker Series is rooted in the belief that the youth of today must stand with and speak up for the youth of tomorrow - children.
Taking the online to the offline
In partnership with Youth Ki Awaaz, India's largest online youth platform, we helped reach a wide audience through creative innovative content in a sustained manner, raising awareness on the issue of children in street situations.[1] This inspired action amongst young people, with more than 50 percent of engagement and action taken by those aged 18 – 24.
Our digital efforts included the hashtag #TheInvisibles, which trended at national #1, reaching over 160million accounts; hosting twitter chats with artists and MPs; developing quiz's to enable better public understanding of children in street situations; and crowd sourced articles on the theme of street children.
The key ingredients to drive the campaign
Campaign efforts in India have taken on, contributed to, and sustained the momentum on the agenda of children in street situations; in tandem with advocacy and programme efforts.
Here are some of the key ingredients that have helped to drive the campaign:
Insights about youth from online efforts helped usdesign the offline efforts to sustain momentum and public engagement.
Forging partnerships with organisations and individuals to sustain momentum on the issue. Youth Ki Awaaz and artist ambassador Dia Mirza for example, have been a part of the journey SC India started for #TheInvisibles along with the Indian Institute of Technology (Mumbai)
An Integrated organisational priority, campaign and advocacy efforts furthering the agenda of children in street situation has been backed by research and data in the priority states
The first in the series
Save the Children held the first Changemaker Series at IIT Bombay on 21 January, 2018, and triggered an engaging discussion with the 240 strong audience.
The curated panel included: Dia Mirza, Artist Ambassador, Save the Children; Kaveree Bamzai, Editor (Special Projects) - India Today; Prerna Langa, CEO, YES FOUNDATION, Anjali Gokran - Trustee, Humara Foundation working for street children. Save the Children's child champions, 17 year olds Saleha Khan and Sultana Moizuna were also on the panel. They have survived the challenges of living in a slum and on the street and are now impacting change in their community.
Each of the speakers brought out their own nuanced perspective on what can contribute to change for children, including child champions, who gave us a glimpse into the realities faced by millions living on the margins.
Sultana, 17, said: "It is very challenging to live on the street, especially for girls. There is no proper sanitation facility near our place, and we have to wait till early morning to access basic sanitation facilities. It's not safe to sleep on the street in the night."
Kaveree said: "The voices and stories of children are so powerful and they must be heard in media. Children on the streets need to be made more visible through constant media attention to break public apathy and inspire action."
Prerana Langa stressed the role of corporations:
"Corporates are an important stakeholder in a country's economy, and our responsibility goes beyond fiscal value. Corporate social responsibility allows us to develop social investment strategies and make our economy stable by making its people stronger. Today there is an opportunity for collaborations for lasting and sustained impact where it is needed the most."
Dia Mirza, Artist Ambassador, has been an ardent champion for India's 2 million children who live in street situations. She delivered a passionate speech underpinning the intrinsic link between various issues.

She stressed on the fact that street children should be given an opportunity to change their reality and should not be taken away from their families. The audience interaction brought out some enriching conversations on the issue.
"When you want to be a changemaker, do it because you care about it, because the upliftment of our children requires each one of you to contribute, let's not leave it all to the Government or NGO's."[2]
What's next?
SC India plans to take the Changemaker Series to other premier education institutions across states which are also Save the Children priorities for children in street situations – Maharashtra (First Changemaker Series), Andhra Pradesh/Telangana, Uttar Pradesh, West Bengal, Delhi, Bihar. These states also play host to India's leading educational institutions such as Indian Institute of Technology (IIT), Indian Institute of Management (IIM) and Indian School of Business (ISB).
We believe the Changemaker Series could build on and sustain our engagement with youth in India, helping them become the best changemakers they can be.