Madagascar: Families and children brace for a devastating cyclone season as Tropical Storm Cheneso makes landfall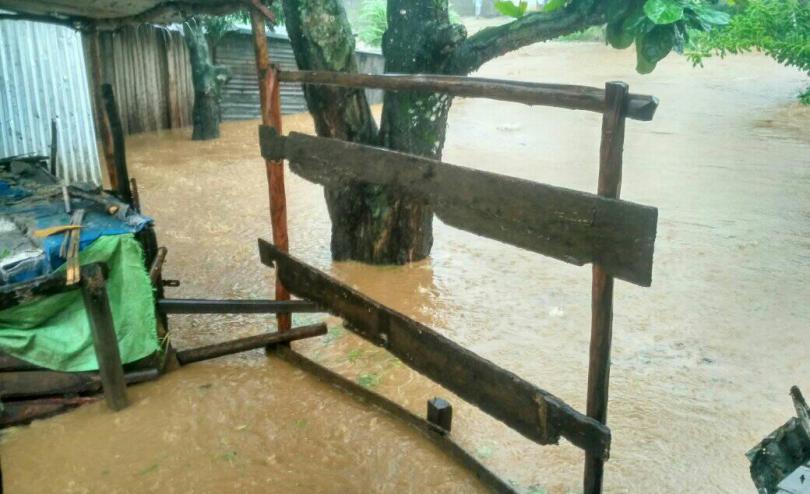 About 700 houses have been flooded after Tropical Storm Cheneso made landfall Thursday morning, with gusts of wind reaching up to 120km. Sely/Save The Children
ANTANANARIVO, 20 JANUARY 2023 – Madagascar is facing its first Tropical Storm of the season, which has prompted evacuations amid torrential rain and flooding, with fears of a devastating cyclone season ahead, Save the Children said.
Tropical Storm Cheneso made landfall in northern Madagascar Thursday morning with gusts of wind reaching up to 120km. The powerful storm is leaving a trail of destruction in its wake, affecting an estimated 1.5 million people in the region.
In response to Tropical Storm Cheneso signalling the start of what could be yet another devastating cyclone season in Madagascar and the entire southern Africa region, Save the Children's Programme Director for Madagascar, Tatiana Dasy, said:
"Our teams on the ground in Sava region are reporting massive gusts of wind, heavy storms and intensifying rainfall. We are extremely concerned that there could be extensive damage to residential areas and vulnerable yet vital public infrastructure such as schools and hospitals."
"Heavy downpour is still expected to continue throughout the end of the week, which could cause massive flooding in low-lying and flood-prone areas. An initial assessment from the meteorological department and government shows that heavy rains may extend to the Boeny region and the central lands, leading to even more people being impacted and a possible humanitarian crisis."
"Save the Children has operations in Sava region and is prepared to support in the initial impact assessment and help affected families and children with available resources."
Last year, six tropical storms including Storm Batsirai and Intense Tropical Cyclone Emnati, and Cyclone Gombe hit Madagascar between January and April, causing flooding, landslides, displacements and loss of life, in one of the country's worst cyclone seasons.
Save the Children has been supporting communities displaced by last year's tropical storms by providing cash assistance, water tanks, and buckets and soap for schools. The organisation also repaired damaged schools, constructed five temporary learning spaces, provided schoolbags and furniture so that children could continue their education as well as screened and treated children suffering from malnutrition.
Save the Children is raising the alarm that extreme weather events such as Tropical Storm Cheneso are becoming more frequent as a result of the climate crisis. The organisation calls for higher-income countries to increase climate funding, to support lower-income countries, who are on the sharp end of the crisis.
Save the Children has been working in Madagascar since 2016, specializing in cash-based and protection assistance.
ENDS
Multimedia content available here: https://www.contenthubsavethechildren.org/Package/2O4C2SDQLGWX
*******************************************************************************************************************
For further enquiries please contact:
The Global Media Unit: gmu@savethechildren.org
Our media out of hours (GMT) contact is media@savethechildren.org.uk / +44(0)7831 650409
Please also check our Twitter account @Save_GlobalNews for news alerts, quotes, statements and location Vlogs.