MEXICO: Families without food and children out of school two weeks after Hurricane Otis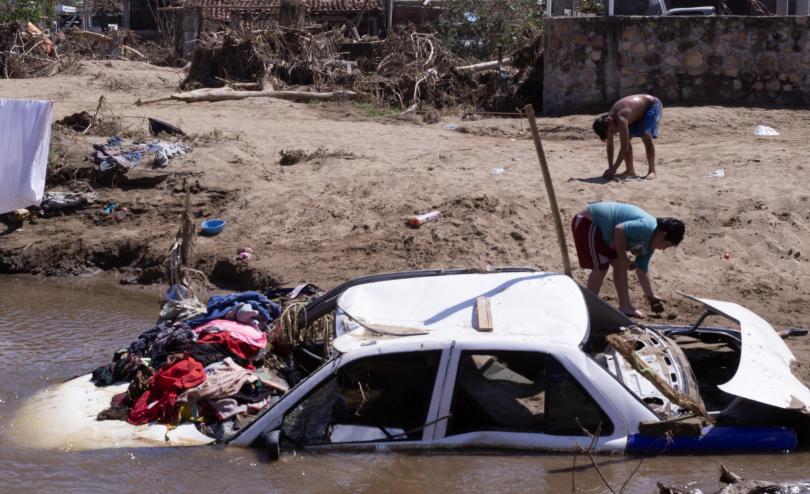 MEXICO CITY, 8 November 2023 – Thousands of families in southwest Mexico are without food and water two weeks after a massive hurricane took the country by surprise and about 185,000 children are out of school, with rebuilding expected to take at least 10 years, Save the Children said.
The resort towns of Acapulco and the village of Coyuca de Benitez have been declared natural disaster areas after being battered by Hurricane Otis on 25 October, the strongest storm ever to hit Mexico's Pacific coast with winds of 165 mph (270km/h). More than 48 people are confirmed dead and 48 missing, with scientists blaming climate change and rising sea temperatures for the rapid intensification in less than 12 hours from a tropical storm to a hurricane.
With no time to prepare, more than 250,000 families - or up to 1 million people - were impacted in the province of Guerrero, one of the poorest states in the country, with bridges and roads destroyed, and more than 1,000 schools damaged, according to government figures. More than 90% of buildings in the area were damaged and power supplies cut.
Children have told Save the Children that they lost everything, including their homes, their schools and their toys, fleeing with just the clothes they were wearing. Many have ended up living in shelters and are resorting to bathing in local streams and rivers. Some reportedly have only had cookies to eat.
"I had a really hard time, a tree fell on the house ... we went into a room to protect ourselves, the rain was pushing the door. We put a sofa and a bed to close the door, so that all the water would not enter. That's the only way we were saved. I have no clothes anymore. I would like to go back to school, but for now, we can't," said 11-year-old Miguel whose family has now received food kits from Save the Children.
"We are not going to school. Our notebooks are wet and our backpacks are already burned because they are no longer useful. We don't have food, water or shelter. We need a bed, pillows, and sheets. We don't have anything to draw with. We have very few toys," said Nayeli, 7.
Local authorities have vowed to resume classes where possible on 13 November in schools that did not suffer significant damage although some schools are now housing people who lost their homes. Many schools, however, have been completely wrecked, with roofs teared off, windows smashed, and filled with trees and mud.
Fatima Andraca, director of Humanitarian Response for Save the Children in Mexico, said they had met families in more remote areas who had not received any food or water since Hurricane Otis hit due to trees and debris blocking roads. Streets in Coyuca are still full of rubble and houses that are still standing are full of mud, fallen trees and dead animals, which threaten to be a source of infection for children.
Save the Children is supplying food, drinking water, hygiene and sanitation kits, and setting up safe spaces for children. In addition to the urgent supplies, Save the Children will be partnering with the authorities over the next 18 months to re-establish educational services, rebuild homes, support with water and sanitation solutions, and assist with employment and livelihood alternatives so families can recover.
Andraca said many schools had been completely destroyed:
"We are concerned about the condition of the schools. They are learning and safe places, where children can learn and play, and they are an important part of the resilience process after the catastrophe. However, it is very hard for many of them to be able to reopen soon, especially those that are in the mountainous area of Acapulco.
"We need to do everything we can to get children back to school as soon as possible so they can resume learning and be with their children in a safe, protected environment."
Save the Children has been working in Mexico since 1973 with health and nutrition, education, and protection programmes for children. In 2019, Save the Children Mexico received the National Civil Protection Award for its humanitarian work and support to communities affected by earthquakes that struck Mexico City, Morelos, Puebla and Oaxaca in 2017.
ENDS
*******************************************************************************************************************
For further enquiries please contact:
Ivonne Piedras Ivonne.Piedras@savethechildren.org (based in Mexico)
Samantha Halyk Samantha.halyk@savethechildren.org (based in London)
Our media out of hours (BST) contact is media@savethechildren.org.uk / +44(0)7831 650409
Please also check our Twitter account @Save_GlobalNews for news alerts, quotes, statements and location Vlogs.