Mika 'I ❤️ Beirut' concert raises over €1m for people of Lebanon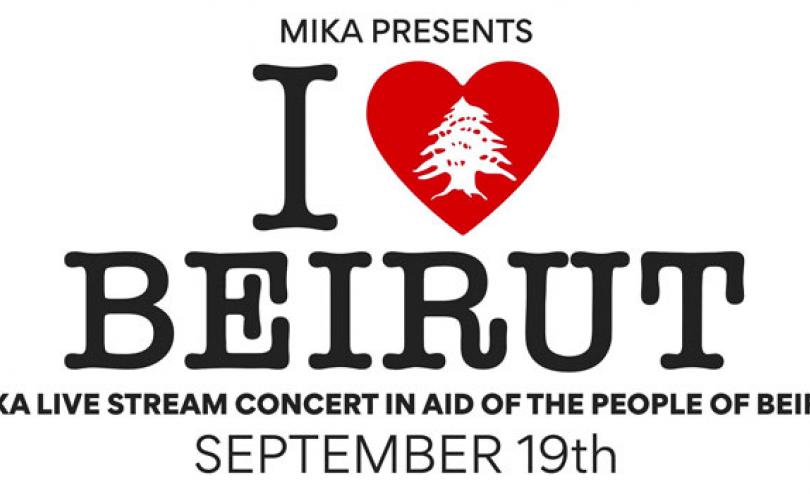 The money will be split between the Lebanese Red Cross and Save the Children
120 countries bought tickets to Mika's 'I ❤️ Beirut' benefit concert, the most recorded on a Ticketmaster event.
The star-studded line up included Salma Hayek, Danna Paola, Rufus Wainwright, Kylie, Mashrou Leila, Louane, Etel Adnan, Fanny Ardant, and Laura Pausini
Donations came from ticket sales, sponsors and the general public on GoFundMe
Mika today announces his 'I ❤️ Beirut' benefit concert has raised €1m euros, from ticket sales, sponsors and members of the public donating via GoFundMe. The money will be split between the Lebanese Red Cross and Save the Children.
Key figures and background
120 countries: who bought tickets for the 'I ❤️ Beirut'
48 countries: where different people donated to the GoFundMe from including Japan and Colombia
The concert was live streamed across four time zones on 19 September from Mika's YouTube channel..
'I ❤️ Beirut' was announced by Beirut born singer Mika last month, in the wake of the explosion in his home city on 4 August.
Met by critical acclaim, the show is also being purchased by major network TV stations around the world, including in France, Italy and Canada. It was also a telecom first in France, with every single network provider offering the concert on Pay Per View with all funds reversed to the charities.
Speaking on a video call with Georges Kettaneh, the Secretary General of the Lebanese Red Cross and Kevin Watkins, CEO of Save the Children UK, Mika said:
"It is our pleasure today to tell you that 'I Love Beirut' has so far raised after costs 1 million euros, which will be split between The Red Cross and Save the Children, for Lebanon.

"We wanted to announce this amount together, and to thank you all - everyone around the world who bought a ticket to the stream, donated to GoFundMe and our sponsors for helping us to raise such an amazing amount of money.

"I also wanted to say how amazing this statement of solidarity for the situation in Beirut has been, with tickets for the stream selling to over 120 different countries around the world.

"This has been a project that was born out of and made possible by love, and a huge amount of collaboration with friends and many new friends made in the process."
Georges Kettaneh said: "We are extremely grateful for this generous support and for the solidarity that has been expressed. These funds will help the Lebanese Red Cross to continue to support Beirut at this time of great need. The people of Beirut face a long road to recovery, with this generosity and the continued support we have received from around the globe, we can continue to stand alongside them for as long we are needed."
Kevin Watkins, CEO of Save the Children UK said: "Save the Children is working around the clock to provide vital support to children and families in Lebanon whose lives have been devastated by the explosion in Beirut. "A heartfelt thank you to everyone who has come together to raise this incredible total. All donations will be going towards our emergency response efforts in Lebanon, which include weather proofing damaged homes, supporting vulnerable and displaced families with food and cash grants, and providing ongoing psychological support for children and families."
The 'I ❤️ Beirut' benefit concert featured global pop icon Kylie, Mexican singer Danna Paola, Grammy-nominated singer/songwriter Rufus Wainwright, Mashrou Leila, César Award-winning French singer and actress Louane, and a very special performance from Italian icon Laura Pausini. Salma Hayek, César Award-winning French actress Fanny Ardant, and acclaimed Lebanese-American poet Etel Adnan spoke during the event.
Donations were made at: gofundme.com/ilovebeirut and the campaign is still running.
Supporting video of Mika on the Zoom with the Lebanese Red Cross and Save the Children are available here
Notes to editors:
About Mika
Starting with his 2007 debut album Life In Cartoon Motion featuring "Grace Kelly," MIKA has sold over 10 million records and is a certified Gold and Platinum artist in 32 countries worldwide. He is Grammy-nominated, won a Brit Award and went on to release three additional platinum-selling albums The Boy Who Knew Too Much, The Origin of Love, and No Place In Heaven. His latest album My Name is Michael Holbrook was released in October 2019 and was followed by the start of a World Tour.
About GoFundMe
Launched in 2010, GoFundMe is the world's largest social fundraising platform, with over $9 billion raised so far. With a community of more than 120 million donors, GoFundMe is changing the way the world gives. Rather than applying a platform fee to donations to charities, GoFundMe gives donors the option to add a voluntary tip when using the site. These tips allow GoFundMe to maintain and improve the services the platform provides. Unlike other platforms, GoFundMe passes on 100% of the gift aid to charities.
About Save the Children
Save the Children fights every single day for children's futures. We stand side by side with children in the toughest places to be a child. In places where others won't go, we're there, giving everything to make sure they survive, get protected, and have the chance to learn. Every child should get to make their mark on the world and build a better future for us all.
Money raised at this event will go towards Save the Children's Emergency Fund, a special reserve that is being used to support the response efforts in Lebanon. This includes supporting families who were already struggling due to the economic crisis and now find themselves unable to access basic essentials, providing weatherproofing kits for families whose windows and doors were damaged in the explosion and essential psychological first aid for children and families.
By supporting the Emergency Fund, you'll be giving children who are living through disasters like the Beirut explosion immediate life-saving support, as well as protecting their futures, so they can go on to change the world.
About the Lebanese Red Cross
The Lebanese Red Cross is the lead humanitarian responder in Lebanon. It is led by volunteers, whose mission is to provide relief to victims of natural and human disasters, and help people prevent, prepare for and respond to emergencies, and to mitigate the suffering of the most vulnerable. They are also the main provider of ambulance services in Lebanon.
In the aftermath of the blast, Lebanese Red Cross sent their full contingent of emergency medical support from across Lebanon to the scene. Search and rescue teams worked around the clock for days, in a race to find survivors.
The Lebanese Red Cross has supported almost 140,000 people with food, clean water, temporary shelter, medical and blood transfusion services and psychosocial support. They have assessed almost 12,000 homes and visits continue daily, in order to provide short-term support to families and plan for the long-term recovery and are supporting hospitals by providing them with much needed supplies of medicine, blood and other supplies.
It's a very bleak picture and the people of Beirut face a long road to recovery. The Lebanese Red Cross were there before the blast and will continue to stand alongside the people of Beirut for as long as is needed.
Thanks to our partners supporting the event:
Kering and its houses
Gucci
Saint-Laurent
Bottega Veneta
Balenciaga
Alexander McQueen
Brioni
Boucheron
Pomellato
Dodo
Qeelin
Ulysse Nardin
Girard-Perregaux
Kering Eyewear
Accor
Axa Egalité
Carrefour
Veolia
Cedar oxygen
Société Générale
Danone
YouTube
Sacem
Boo Productions
Clandestino Films
Air France
You Tube
Ticketmaster
FNAC
Universal Music Group
For more information, kindly contact:
Dina Rickman, drickman@gofundme.com
Ruth Maurice, R.Maurice@savethechildren.org.uk