New photo series of refugee children by Patrick Willocq released ahead of first ever World Humanitarian Summit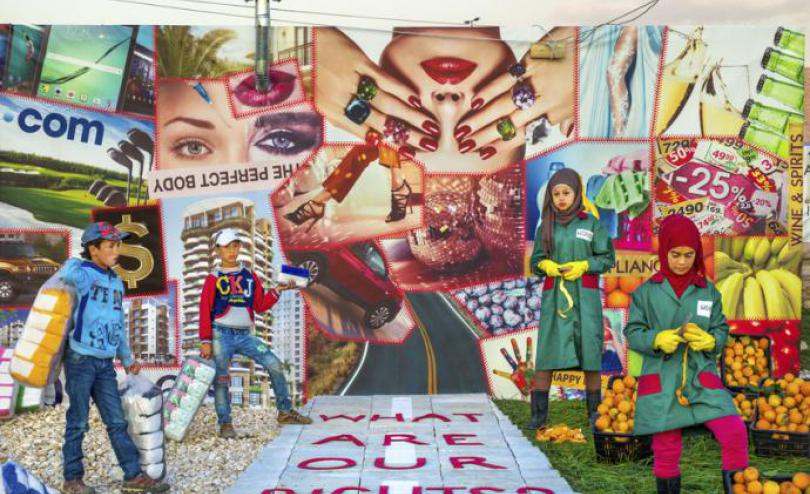 MONDAY 23RD MAY 2016 – Award-winning photographer Patrick Willocq has produced a striking new series of images depicting what it's really like to be a refugee child. The photos, commissioned by Save the Children in partnership with education company Pearson, are based on real experiences and staged with the help of children living in refugee camps.
Willocq's eight images show the hopes, fears and everyday challenges faced by Burundian and Syrian children seeking refuge in Tanzania and Lebanon respectively. Refugee children, artists, trades and craft people helped to build the large decorative sets, using materials found within the camp. Willocq's subjects then positioned themselves within the sets, creating the final eight tableaux depicting themes such as memories of the past, the reality of present day life in refugee camp and dreams for the future.
The project is released as Save the Children sets out its New Deal for Refugees at the first-ever World Humanitarian Summit in Istanbul. The charity warns that 3.5 million refugee children are out of school, leaving them increasingly vulnerable to discrimination and potential abuse. The New Deal seeks a commitment that no refugee child is out of school for longer than one month of being displaced.
The inspiring images were created in Nyarugusu camp in Tanzania, currently housing more than 40,000 Burundian refugee children, and a refugee community in Bekaa Valley in Lebanon, a region in which there are over 190,000 Syrian children seeking refuge. The photographer spent several months collaborating with communities, co-creating visual representations of stories and testimony told to him through workshops at Save the Children programmes.
Patrick Willocq said: "At the beginning of this project, my aim was to tell refugee stories in a different way. Many of the refugee images you see in mainstream media are the same and perpetuate a stereotype. I wanted to show real children, involve the subjects, listen to them and create a set together staging their lives and desires. I wanted the resulting photos to be empowering representations of these children while upholding their dignity.
"By involving communities, local artisans and using recycled humanitarian materials, we tried to turn these symbols of loss and displacement into a canvas for children to express themselves. I wanted the overall artistic feel to be colourful, naïve and surreal to help de-dramatize the stories so that the audience may look at them without apprehension, despite the hard subject matter. Almost like a play or a fairy tale for adults, created by children."
Steve Thorne, Country Director for Save the Children Tanzania, said: "By showcasing the reality of life as a child in a refugee camp, we hope these images bring home the desperate plight of child refugees. We're working hard with local and international partners on the ground to provide children with essential services, but there is still much more to be done – particularly in refugee camps like Nyarugusu which are overcrowded and underfunded."
Ian Rodgers, Country Director for Save the Children Lebanon, said: "School does not just provide education for children but also a safe environment linking access to health services, social protection and basic rights. The average length of time spent living as a refugee is now 17 years, meaning that millions of children and young people will miss out on some – if not all – of their education, severely diminishing their own life chances and that of their families and communities. We must act now."
The World Humanitarian Summit is a significant opportunity to change the narrative on displacement and show compassion for some of the world's most deprived, threatened children, according to Save the Children.
"Access to education in emergencies is vital. It provides enormous social, economic, and peace building benefits. Together with Save the Children, we want to combine our voices and raise awareness of the urgency around improving education for children affected by conflict." says Kate James, Pearson Chief Corporate Affairs Officer.
Take a look at the photo series by Patrick Willocq.
For more information please contact:
Save the Children media team: +44 (0)20 7012 6841 / media@savethechildren.org.uk
NOTES TO EDITORS
There are 19 million refugees in the world right now, and the numbers are rising.
Half of all refugees are children (8 million in total), and more than 3.5 million of these child refugees are out of school. Without an education, these children have no future.
Only half of refugee children enrolled in primary school and less than 1 in 4 refugee youth enrolled in secondary school.
The average length of time as a refugee is now 17 years, meaning millions of children miss out on some – if not all – of their education.
Political unrest and violence has resulted in more than 255,000 Burundians feeling into neighbouring countries since April 2015. Nyarugusu camp in Tanzania, one of the largest refugee camps in the world, is home to some 143,000 people despite being built to support just 50,000. There are almost 80,000 Burundians currently living in the camp, over half of which are children. Save the Children is working with local partners in Nyarugusu to implement child protection and education programmes, including four Child Friendly Spaces and two Temporary Learning Spaces.
In Lebanon there are over one million Syrian refugees, over half of which are children. Almost half the Syrian refugee children are out of school, with no access to formal education. Over two thirds of families live below the poverty line which means children are often forced to go out and work in order for their families to survive. Save the Children is running a range of programmes in the Bekaa Valley, including Child Friendly Spaces, Non-Formal Education and Early Childhood Care and Development.
About Patrick Willocq
Self-taught French photographer Patrick Willocq (born in 1969 in Strasbourg, France) has lived and worked in diverse cities throughout his photographic career, including Kinshasa, Hong Kong and Paris. By documenting the world we live in through carefully composed performative images in collaboration with local communities, he wants to offer a different image of the world, and go beyond images which media tend to focus on.
About Save the Children
Save the Children believes every child deserves a future. Around the world, we work every day to give children a healthy start in life, the opportunity to learn and protection from harm. When crisis strikes and children are most vulnerable, we are always among the first to respond and the last to leave. We ensure children's unique needs are met and their voices are heard. We deliver lasting results for millions of children, including those hardest to reach. We do whatever it takes for children – every day and in times of crisis – transforming their lives and the future we share.
About Pearson
Pearson, the world's largest education company, is supporting Save the Children on this project as part of our 'Every Child Learning' partnership. Our ambition is to increase educational opportunities for children in emergency and conflict-affected settings, through developing new solutions, and by combining our voices to raise awareness of the urgency around improving education for children affected by conflict and emergencies.
The three-year partnership includes a £1.5 million investment to increase educational opportunities for Syrian refugee and host community children in Jordan. To meet immediate needs Pearson has donated £500,000 to fund the establishment of two Save the Children informal education centres in Amman, which will support 1,400 children (five to thirteen years old) to get a quality education. Additionally, Pearson is investing £1 million to work jointly with Save the Children to research and develop new solutions to improve the quality of education for Syrian refugee and host community children in Jordan. This work is in progress and the ambition is that these solutions can then be adapted, scaled and replicated in other emergency and conflict-affected contexts globally.