One month on: Disaster ravaged Sulawesi drenched by heavy rains, more than 220,000 still homeless.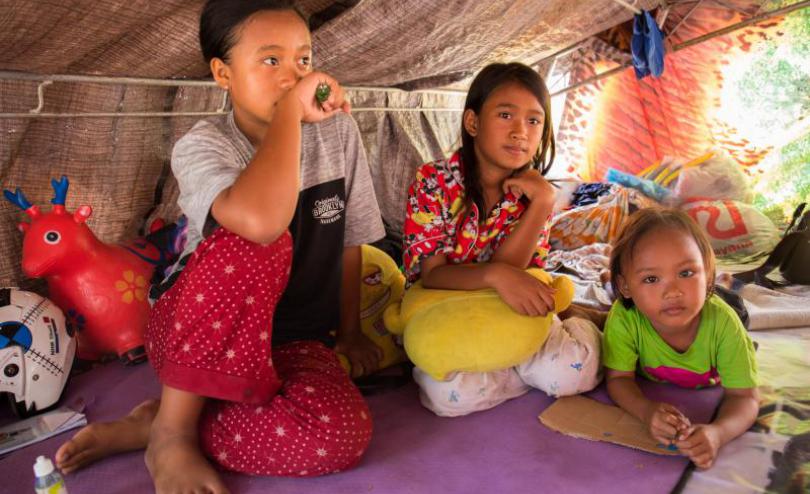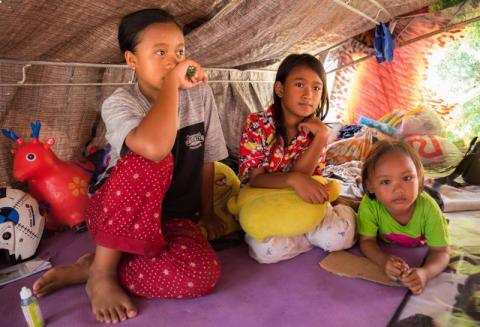 Multimedia content (b-roll and photos) is available here
Heavy rainfall has inundated earthquake and tsunami hit parts of central Sulawesi in recent days, sparking fears of a potential outbreak of disease while making relief efforts even more challenging, warns Save the Children's local partner.
More than 220,000 people remain homeless on the Indonesian island after their houses were destroyed or badly damaged in the disaster, which claimed the lives of more than 2,000 people. This comes after 431,000 people lost their homes on the island of Lombok in July and August following a series of major earthquakes.
"The start of the rainy season has well and truly arrived here in central Sulawesi, which is the last thing needed by the thousands of families who lost their homes and are now sleeping in makeshift shelters, evacuation centres or under tarpaulins," said Selina Sumbung, Chairperson of Save the Children's partner in Indonesia, Yayasan Sayangi Tunas Cilik.
"We're particularly concerned the rains could also bring an increased risk of an outbreak of disease or illness. We are already seeing an increase of cases of diarrhea and respiratory infection, while suspected cases of malaria, dengue fever and varicella have also been reported.
"It is likely we're going to see more and more people getting sick going forward, given how hard it is to maintain hygiene standards, with the rains providing the perfect breeding ground for mosquitos, and with hundreds if not thousands of bodies believed to be decomposing in the ground."
Save the Children, through YSTC, has already reached more than 16,000 people, having been one of the first NGO's on the ground on the fourth day of the disaster. As well as delivering items such as shelter kits, mosquito nets, hygiene kits, and conducting water trucking activities, the agency has also set up child friendly spaces and temporary learning centres, providing children with psychosocial support, and tracing and reuniting separated families.
Ms Sumbung said the rain brought an additional challenge for aid agencies in accessing the hardest-to-reach communities.
"The rains have turned several dirt roads into mud, not to mention increasing the risk of landslides. One of the major roads to the north of Donggala district is now too dangerous to travel on because of the landslide risk, making it even harder to reach some of the most isolated towns and villages," she said.
"Our teams are having to travel by boat in many instances because it's the only feasible way of getting around. Logistically, this was already an incredibly challenging response due to the extent of damage to bridges and other vital infrastructure. Now it's just been made even more difficult."
Ms Sumbung urged international donors step up and fund not only the response in Sulawesi, but also the response in Lombok, where more than 550 people died in July and August.
"With the rainy season beginning, we're at a critical stage in both Lombok and Sulawesi. More than 650,000 people were made homeless across both islands, many of whom are in desperate need of humanitarian assistance, including food, water, shelter, health and nutrition support, and education for children," Ms Sumbung said.
"Now that the media crews have left, it's more important than ever that donors dig deep and increase their support for affected communities in Lombok and Sulawesi."
Save the Children has been working in Indonesia since 1976, and has a long history responding to humanitarian disasters in the country, including the 2004 Boxing Day tsunami.
To set up interviews contact Fajar Jasmin in Jakarta on +62 811 881 9912, Evan Schuurman in Melbourne on +61 406 117 937 or evan.schuurman@savethechildren.org or Davina Hagan in London on +44 7732 601 762 or via davina.hagan@savethechildren.org