Q&A: A win for the street working children in India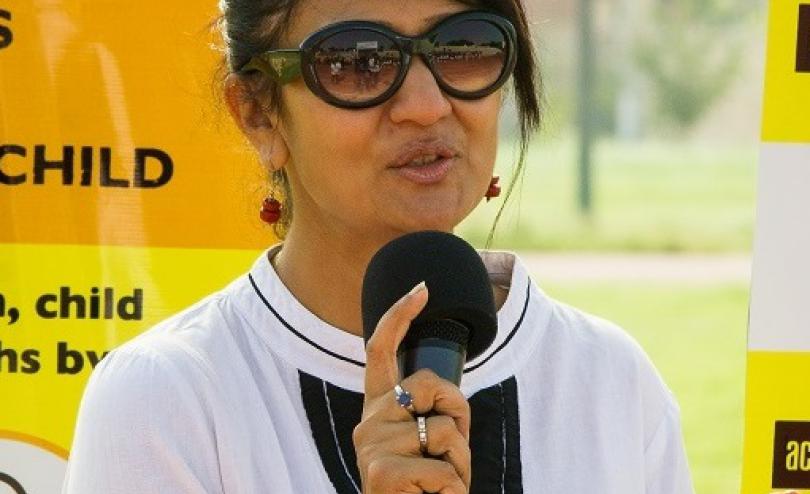 The National Commission for Protection of Child Rights (NCPCR) in India has, on the basis of our advocacy, developed a Standard Operating Procedure (SOP) for street children. We spoke to Bidisha Pillai, Save the Children India's Advocacy, Campaign and Communications Director to understand what this win means for our campaign for street working children in India.
Congratulations! Tell us about this win?
It has indeed been a heartening early win for the children living on the streets of India. There is still a long way to go.
As you're aware the Every Last Child campaign in India is focussed on the urban poor street child. We recently conducted a study in five cities across India, which shows that over 80% of children living in street situations have no form of identity, which leads to them being amongst the most marginalised children, unable to claim their basic rights to education, health and nutrition.
The National Commission for Protection of Child Rights (NCPCR)), has recently, on the basis of our advocacy, developed Standard Operating Procedure (SOP) for street children. The Chairperson has written to senior government officials in all the states of India asking them to do three things for street children:
Provide them with an Aadhar registration (a Unique Identification Number provided by the Government of India) so they have an identity
Provide them with a bank account as per the Reserve Bank of India guidelines
Provide them with Health Insurance
The Commission, set up by the Ministry of Women and Child Development, is mandated to deal with education, child development, care of neglected and marginalised children, elimination of child labour, child psychology and other laws related to children. If the states comply with these asks, it will be a huge first step towards ensuring that children on the streets gain access to their rights, including their basic right of identity as a citizen of this country.
Tell us how this Standard Operating Procedure will help a child on the streets?
One of our youth advocates, Salmaan (15 yrs), is from Khajuri Khas in North Delhi. He was living on the streets before being rehabilitated by one of our partner organisations and is now an aspiring actor. He addressed the crowd at the launch of Every Last Child campaign and left the audience awestruck with his moving personal experience of surviving the streets.
He said there are many like him and their childhood is fading in to the oblivion – spending their life outside cars at a red light, picking up waste from the streets or clearing our plates at small eateries.
He added that the apathy toward street children is starkly visible. They are denied even the most basic identity which is their name, most people don't even bother calling these children by their real names. They become chhotu (short child), kale (dark skinned) or gudiya (doll).
He exhorted each one of us to think, "Why are children like me neglected by the society and the government alike? Don't we have the right to dream and aspire for a better life like other children." However, despite such odds children like Salmaan are hopeful & are waiting for someone to step forward and hear their silent call.
What was our role in the delivery of this and why did we think this is important?
Save the Children led the development of the Standard Operating Procedure along with the NCPCR. Based on an analysis of policies and programmes available for street children last year, we came to the conclusion that whilst some provisions for children in street situations exist in a scattered manner across different schemes and policies, there is no overarching comprehensive framework to cater to their needs and ensure their access to rights. Our Policy analysis therefore, recommended the need to create this framework, and the Chairperson of NCPCR asked us to develop this document for them. While we took on the bulk of the task of drafting the document based on the needs analysis and existing rules and policies, we did not do this in isolation.
Save the Children conducted four regional workshops jointly with NCPCR, including participants from the government (social welfare departments, state commissions for protection of child rights and the police), civil society organisations and children themselves, to develop this overarching framework. The document incorporated the recommendations which emerged from all four consultations.
In our attempt to reach every last child we found that the section of children living on the street stands close to 2 million. It would not be wrong to say that they are 'invisible' since they are not even counted as legit citizens of the country, living outside the margins of our society in abject deprivation of their rights.
I can say that this is an example of a policy influencing process, where based on our analysis of the existing policy framework, schemes and programmes, we realised that these children were simply falling through the cracks. Thus, we first created the demand for this SOP with the relevant department through consistent advocacy, and offered our technical expertise to help them develop it.
Were there any challenges you faced and if yes, how did you overcome them?
In the initial stages there was a bit of scepticism about the need for this within the NCPCR, and our ability to help develop it. Over a period of six months, with constant engagement, discussion, field visits and sharing examples of the body of work we have done, we were able to win the confidence of the NCPCR and help them understand the importance of doing this. Timing was a huge challenge as well; once the demand had been created, the Chairperson wanted quick delivery. While we got on board an expert consultant to do the bulk of the writing, a lot of our own time went into organising the four regional workshops, and also shaping and co-writing the document with her.
In terms of the Every Last Child campaign in India, what other plans are in the pipeline to push for similar advocacy wins?
The final document is now with the Ministry of Women and Child Development for approval and adoption. Meanwhile the Chairperson of NCPCR has asked that we support the pilot testing of the SOP in five states – Andhra Pradesh/Telangana, Bihar, UP, Delhi, Maharashtra and Tamil Nadu. So our advocacy efforts will now also intensify in these states, including capacity building of various stakeholders. We will campaign with youths and citizens, key influencers and partners like Youth Ki Awaaz. All of this will help us make substantive progress towards our target number of helping 500,000 'invisible' children living in the streets.
Based on some of our other recommendations, the NCPCR has also asked us to support them in devising a programme that addresses the issues of rights of the child in rural areas. This will look at child protection, and how we can prevent children and families from leaving their homes and ending up on the streets in the first place.
Related articles
6 December 2023

- Türkiye
4 December 2023

- occupied Palestinian territory