Rohingya crisis: On anniversary of deadliest cyclone on record, thousands of lives at risk during Bangladesh storm season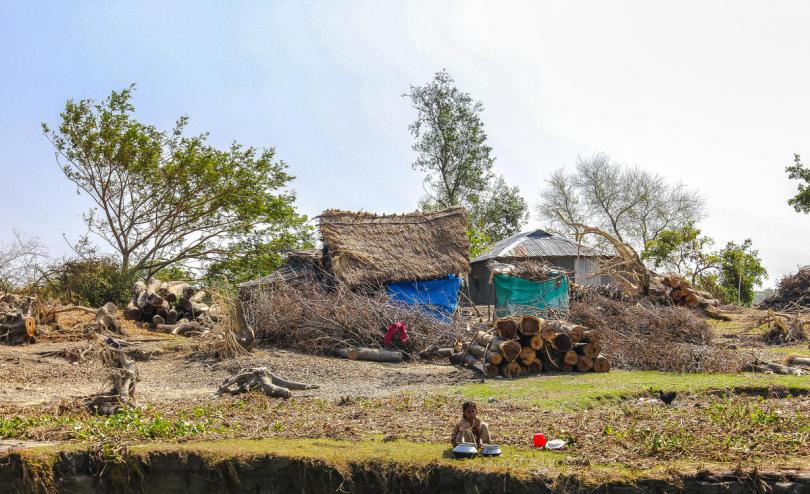 Save the Children is warning of potential large-scale damage and loss of life among Rohingya refugees this cyclone season as they continue to languish in makeshift camps in southern Bangladesh.
The warning comes as the world marks 48 years since the deadliest cyclone on record ripped through the Bay of Bengal, killing more than 500,000 people with winds of up to 240 km/h. Currently, only five percent of Rohingya shelters can resist winds up to 80km/h, with the remaining 95 percent only able to withstand lower wind speeds.
Save the Children's Country Director in Bangladesh, Mark Pierce, said the anniversary of Cyclone Bhola should serve as a reminder of the dangers faced by Rohingya refugees living in basic shelters in the camps, as well as host communities.
"While relief efforts in Cox's Bazar have succeeded in limiting the damage of the recent monsoon season, the reinforced shelters most refugees are living in are simply not equipped to withstand a cyclone, should one strike," Mr Pierce said.
"We've seen some major storms hit this part of Bangladesh in November, bringing powerful winds, massive storm surge, and enormous amounts of rain. In another deadly November just over a decade ago, Cyclone Sidr smashed into Bangladesh, killing up to 10,000 people.
"We fear if a major cyclone came through the camps now, no matter how much preparation work has been done, Rohingya homes will be torn apart and lives will be lost.
"I'm particularly worried about the risks faced by children, who by virtue of their smaller size, are extremely vulnerable to severe weather. During natural disasters, as in any emergency, children are at great risk of separation from their families and caregivers. Last year we were relatively fortunate as there wasn't a major storm. This year we might not be so lucky."
In the past 15 months, more than 725,000 Rohingya have arrived in Cox's Bazar, including 400,000 children, after a brutal military crackdown following attacks on Myanmar police border posts.
Mr Pierce said storm season preparation works had been significant in the camps, but investment in cyclone shelters in Cox's Bazar was urgently needed, along with more funding for the Joint Response Plan, which is currently only just over 70 percent funded.
"Aid agencies, government bodies and the UN have all been stepping up preparation work. Save the Children has developed a cyclone response plan, as well as deploying pre-positioned stocks to key parts of the camps and conducting awareness raising activities with families so they know the immediate steps they must follow in such an emergency," Mr Pierce said.
"However, there is only so much you can do in a situation like this. It's critical that more cyclone shelters are built in the Cox's Bazar area, while more funding is needed to ensure the UN, aid agencies and the Government of Bangladesh can respond appropriately in the lead up to and following a major cyclone.
Save the Children has reached more than 600,000 Rohingya refugees in Cox's Bazar since August 2017, including 350,000 children. The aid agency has done this by distributing food, hygiene, shelter and household items to hundreds of thousands of Rohingya.
Notes to editor: